Last night was one of those nights where it was not a good one, sleep wise. I woke up, could not go back to sleep, then turned the laptop on and watched X-factor audition on Youtube. Started sobbing my heart out watching a moving story about a girl who's been bullied a lot before and now standing strong in front of everybody sharing her God-given talent. Yeah! I was like really crying and because of YouTube I realized it was almost five in the morning and I am still wide awake, my eyes are swollen, then I decided to go to bed.
When I went to bed trying to get some sleep, I had a bad dream and I was crying and I woke up and noticed I was crying for real in my sleep. It was such a bad dream and horrible one that I had to say a pray and asked God to keep all my love ones safe and all of you. Oh dear! I didn't eat too much chocolate, but I know I ate way too much salty foods yesterday so I had to drink plenty of water, then that meant trips to the bathroom at night. I know! Didn't sound like a good night sleep to you, did it? If this post doesn't sound quite right or like way out there, that's probably because I need a good night sleep. With that said, I can't show you my face so I had to pull off that pose again looking down on the ground like I was counting ants or something. *LOL* I hope you all had a great sleep last night.
I have to be somewhere today and I am not that inspired to dress up so I thought I should try chambray shirt and black jeans together and floral shoes. I am not even sure if it goes well or am I confused, but I know I am comfy enough and I want to wear it. Tied my dirty hair up into a bun, which I have been doing lately, because I am not so cool yet and doesn't know much about doing fancy things on my hair. Or I just don't have that much time. Anyway, I'll be back later and another product review is coming up!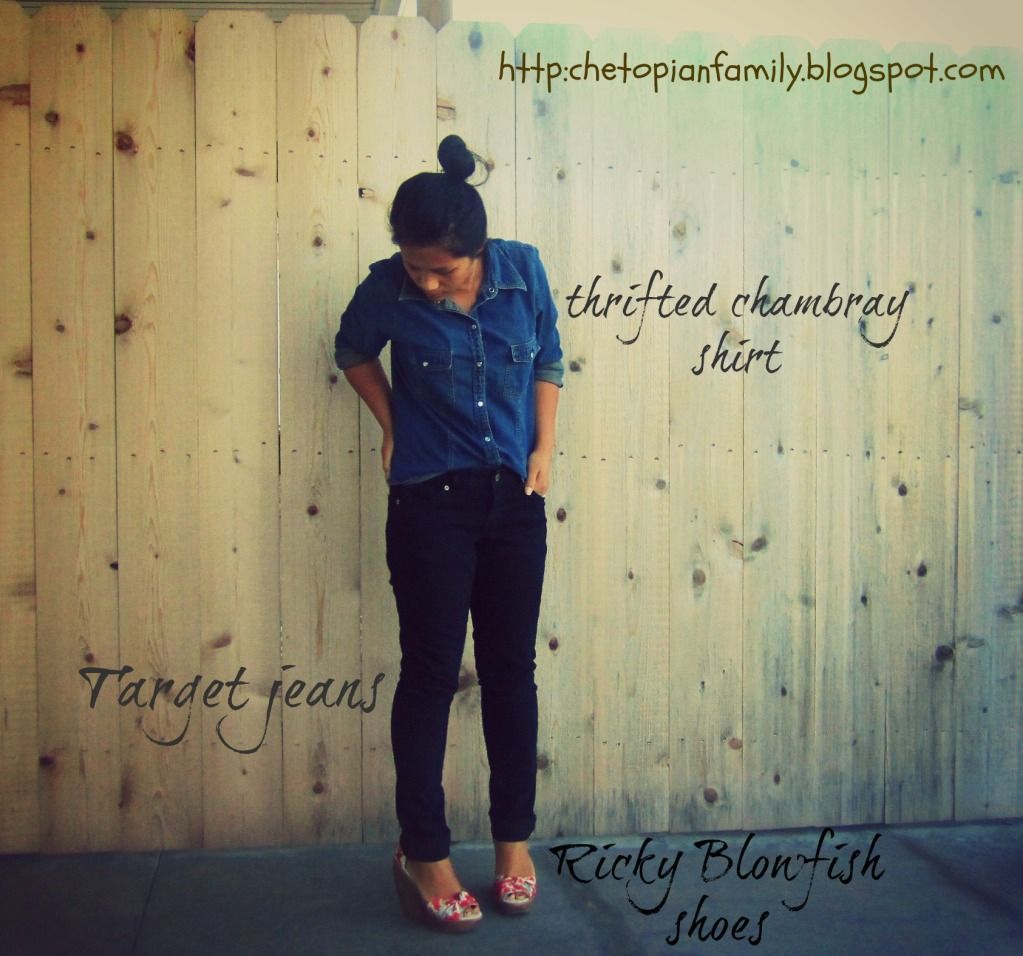 I thrifted this Chambray shirt this summer and it was large and I had to alter it. I still have to finish altering it on the sides though. The shirt is a bit big or maybe I should leave it alone. I don't know. See, I am not thinking well right now. I need some sleep! Did I just say that already? Sleep is very important because if you are deprived from it, you start talking to a green basket like someone else I know.