We may not be much of a pretzel lover people, but we would eat it once in a while especially when the pretzel is deliciously made. Just like the ones that we received in the mail the other day and it was a package full of
PRETZEL CRISPS
. We have never had these before and it was our first sample of the product. These pretzels are not your ordinary pretzels. They are made thin and come in different flavors for you to choose from, and I am sure there will be one that you will truly love to munch. You may have not noticed, but two of them are already open. We were too excited to try out some of the crisps. Like what I do with most of my product reviews, I want to start with a little bit of a product background before moving on.
2004 – A New Brand Is Born
After the sale of New York Style Bagel and Pita Chips and Funnel Cake Factory, the Wilsons didn't rest on their laurels, as th itch to get back into snack foods was too hard to resist. In 2004, armed with a U.S. Patent for a flat pretzel cracker, the Wilsons created a product called Pretzel Crisps® and voila, a new brand was born!
2010 – A New Look And A New Line Taking the brand's 'Rethink Your Pretzel' tagline to heart, we decided to rethink the packaging too, with brighter colors, an updated logo and sparkling new photography. 2010 also marked the introduction of the Modern Classics line, created with the natural foods consumer in mind. Tuscan Three Cheese, Supreme, Cinnamon Toast and Classic flavors are classing up natural food stores nationwide.
2012 – New Jersey Entrepreneur Of The Year With more than 18 registered patents and several successful brands under their belts, Snack Factory's founding visionaries, Sara and Warren Wilson were awarded the prestigious Ernst & Young Master Entrepreneur Of The Year® 2012 New Jersey Award!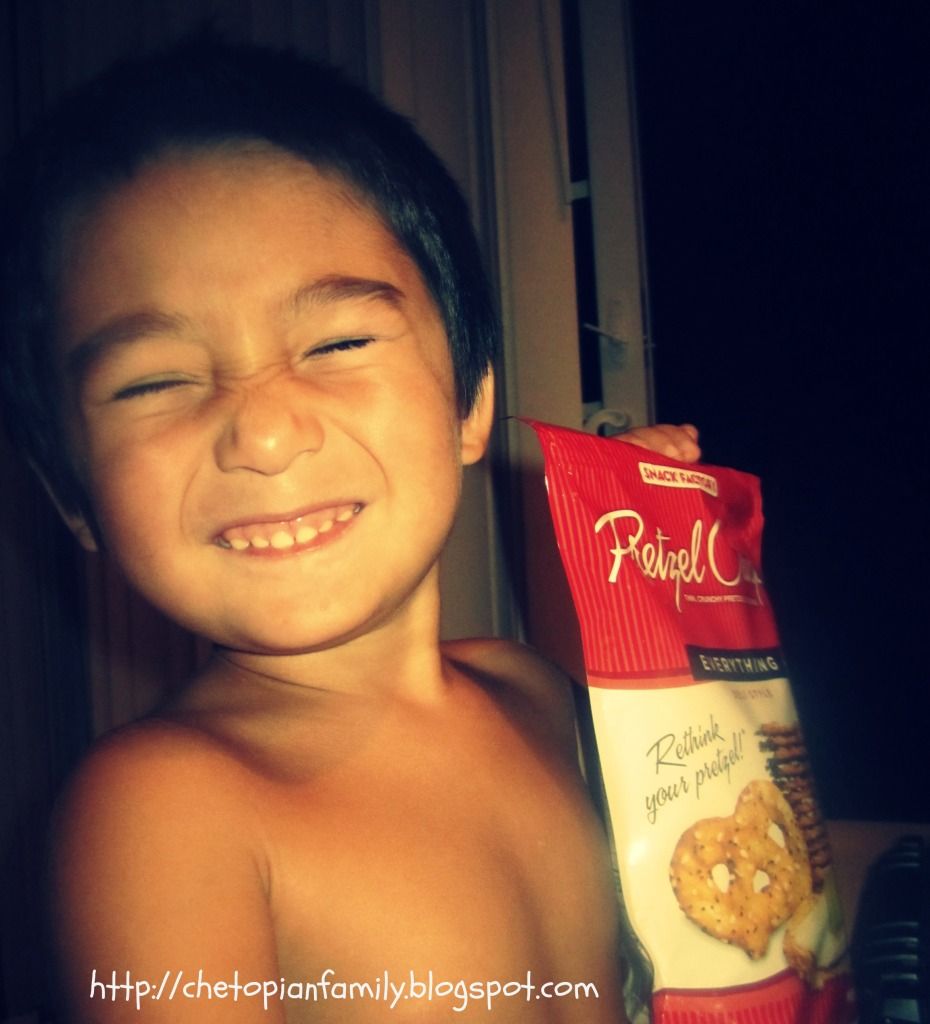 The package that I got came in with seven bags of Pretzels in different flavors for my family to sample. It also came with three Pretzel Crisps coupons, and a reusable bag. How wonderful! Here are the Deli style flavors that we got.
2.
Deli Style (Chipotle Cheddar)
4.
Deli Style (Garlic Parmesan)
5. Deli Style (Jalapeño Jack)
6.
Deli Style (Everything)
7.
Deli Style (Buffalo Wing)
Buffalo wing and Parmesan Garlic are my two favorites of all since I have always been into hot spicy food, then Parmesan cheese (the mother-of-all cheeses is what I call it) is my favorite and along with garlic, it's a party in my mouth! It has that right amount of saltiness, and you get the exact flavor that the bag says. When it says Buffalo wing, you get that spicy hot flavor that you would get when eating Buffalo wing chicken. And it is the same with other flavors. You get what the bag says on what the flavor is. I love that crispiness when you bite into eat. Great stuff!
There are also a lot of things that you can do with Pretzel Crisps instead of eating eat by itself (although it is good that way). You can find tons of recipe or snack ideas on their website using the different flavors of the crisps.
I am really excited to try some of the recipes and get to tastes some really yummy treats. If you have not tried it before, go get some and give Pretzel Crisps a try and you might find yourself crisp crazy over it! Thank you, Pretzel Crisps!
For more updates:
Like on Facebook:
https://www.facebook.com/PretzelCrisps