(All dressed up ready for roaming around town in a cool weather.)
If you read my blog, then you have seen a photo similar to this with my little man. But lately, I have not been taking photos with me in it and with my son, so I want to share you the other photos that we took a few days ago.
Our little man was so squirmy and he wanted to be the one to take photos. It turned out to be a funny photo of him with his hands up while daddy's hanging on to him trying to get a nice picture. This is my wonderful family!
Have a great Monday, everyone!
***********************************************
One quick post though!
Like I said on my earlier post, I am thinking of having a segment about Stay-At-Home-Mommy style and will feature fabulous mommies in their fabulous outfits here on my blog. So if you are a SAHM with style and are interested to participate, then please don't hesitate to email me at myholypondhill (at) yahoo (dot) com, along with your photos and with details about your outfit. Please put the title "SAHM STYLE" on your email. Thank you!
Hope to hear from you!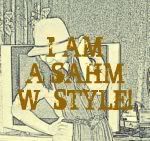 Grab this button if you are interested!