I am blessed and thankful for the Real Kids Shades company for sending us two (2) sunglasses from their collection for my little ones to use. My kids love the outdoors especially now that the weather is warming where it is perfect to be outside playing and exploring. But while they are outside enjoying the beautiful weather, they not only need the sunscreen to protect their skin from the harmful UV rays, but their precious eyes need protection too.
Yes, we did buy some cheap sunglasses for them to wear, but we were uncertain about how much are they really protecting our kids' eyes. We all know that the harsh bright sun can pose damage to our eyesight and to our kids so protecting their precious eyes is essential. But it takes a certain type of sunglasses for protecting their precious eyesight. Recently, I learned about the Real Kids Shades and the kind of sunglasses they make, and how is it different from any other shades out there that are mostly sold as toy sunglasses.
Did you know that those types of sunglasses that are mostly sold as toys can actually do some damage to your kid's eyes? You would think you are saving some money by buying the cheap ones, but think again! Here is a little bit of an information I learned from the Real Kids Shades.
Toy Sunglasses Can Do More Harm Than Good
Most children's sunglasses are sold
 as toys. Toys are great fun, but not so great at protecting something as vital as your child's eyesight. In fact, most children's sunglasses do not protect children's eyes from harmful UV radiation. Don't confuse the dark shading of lenses with their ability to filter out these harmful rays. Colored lenses on most toy sunglasses – no matter how dark – will not protect your child's eyes.
The truth is, wearing cheap toy sunglasses can actually do more harm to a child's eyes than not wearing anything at all. Shaded lenses without 100% UV-A/UV-B protection will relax pupils, causing them to dilate and let MORE harmful radiation into children's eyes. What's more, not all sunglasses with "100% UV" protection labels pass the test.
I would say that buying the Real Kids Shades is an investment for your kid's future and worth every penny when you buy them. For my own review, I would like to share to you the things we like about their sunglasses.
- We like the wrap style of the frame and the band on both glasses because our kids are very active so their sunglasses won't come off easily. Easy to strap on and the glasses are securely in place. My little man loves to ride his scooter so the Real Kids Shades sunglasses are perfect to wear for such an activity.
- It is lightweight and comfortable. It doesn't have any type of metal or screws that can possibly harm kids.
- It doesn't break easily. Durable.
- The colors are fun and perfect for the kids. The Real Kids Shades sunglasses come in variety of colors, styles and sizes for ages 0 to 12 years old.
- Real Kids Shades glasses are especially made to fit kids' faces, they are shatterproof, impact-resistant and adaptable to sports and active lifestyle.
They are real shades for real kids and not a toy.
- It includes a microfiber bag that is also a cleaning cloth. How awesome!
- Read below to learn more about the products and don't forget to visit the Real Kids Shades today.
Doctor Recommended
Real Kids Shades are the doctor recommended sunblock you can apply directly to your kids' eyes. They're made with shatterproof, impact-resistant polycarbonate lenses because it's the best stuff kids' sunglasses can be made from. Our Xylex frames are super light and durable while our TPE frames are extremely flexible and bendable. Our wrap-around frames minimize exposure to harmful peripheral light. Opticians can even fit some of our styles with prescription lenses. These are just a few of the reasons why doctors like Real Kids Shades.
Made Just for Kids
Real Kids Shades are specifically constructed to fit kids' faces and their lifestyles. Our My First Shades line was designed with the help of a pediatric ophthalmologist for optimal fit, comfort and safety. All our sunglasses are made exclusively for infants and children in kid-approved styles that are shatterproof, impact-resistant and adaptable to sports and active lifestyles.
Kids need to be active, outdoors and in their sunglasses. Made to be worn year-round, our banded frames fit just as well under ski helmets as they do bike helmets. Our patented neoprene bands with Velcro® adjustable closures keep them secure and in place on the court or in the yard. And they're tough. Real Kids Shades are made to be outgrown before worn out.
Comfortable, Durable and Good-Looking
All Real Kids shades are comfortable (so kids will wear them), durable (so they stand up to kid life), and good-looking 
(so they get used). They're serious sunglasses fabricated with the same high-quality materials and to the same exacting standards as adult shades. We don't believe your kids deserve anything less.
My little man cracks me up because his glasses are all crooked, but still giving it for the photo shoot. Thanks, my little sweeties!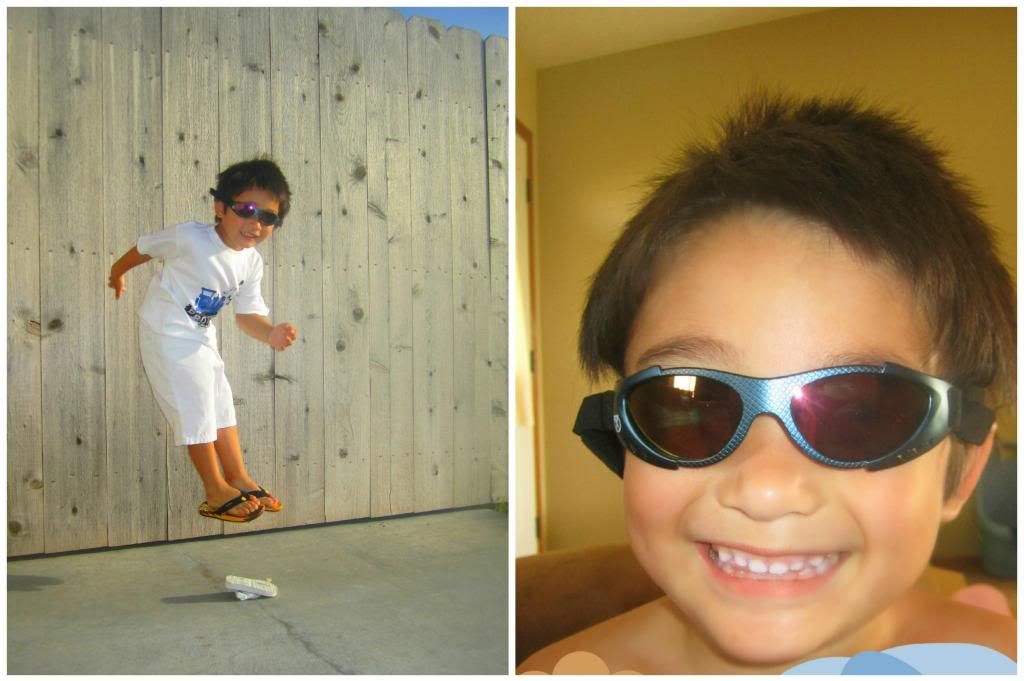 Xtreme Sports- Black Blue
Description:
- 100% UV protection (UVA & UVB) to 400 nanometers clearly indicated on each individual package
- Stay Put Power
- Professional grade polycarbonate frames and lenses
- Shatterproof and Impact Resistant
- Anti-fog vents prevent moisture build-up on lenses
- Comfortable foam padding
- Wrap style design for a close fit that minimizes peripheral light
- Adjustable neoprene® band that comfortably and securely keeps the glasses in place
- No pointy temple arms or metal hinges
- Waterproof Rustproof
- Includes Microfiber bag which is also a cleaning cloth
- Fun to wear! Our sunglasses come in a variety of fashionable colors. Kids just love to wear them and parents can feel good about putting them on their kids
Sun Hat Combo Pack- Pink
What's so great about these:
Our sunglasses and Sun Hat deliver the best head, eye and face UV protection from the sun's harmful rays.
Sunglasses have soft, adjustable neoprene bands that provide a comfortable fit that babies will wear happily.
Sun Hat has a Velcro® closure chin strap, a wide brim that shades the entire face and is made with soft polyester and cotton that offers UPF 50 protection from the sun.
Sunglasses and hat available in pink & blue for boys and girls.
For infants 0 - 24 months.
Want to win a pair of sunglasses of your choice for your little one?
All you have to do is enter the Rafflecopter below.
Thank you and Good luck, everyone!!!
Open to US and Canada Only
http://www.rafflecopter.com/rafl/share-code/ZTU5OGU2MjA5MGQ3YTk0MjQ5NWJjZDU3Y2MzNTNlOjE2/