I know I am not the only mom who has a kid that is a particular-eater. At first I thought he was a picky-eater, but now I think he is just a particular-eater because my boy would not eat other food beside the one he likes. I guess it still is the same way as picky-eater? I don't know, but anyway he likes rice, pasta, bread, noodles, chicken, fish and banana. He does not like to try some new things anymore and he did not used to be this way when he was little. He used to eat well and as he got older, he is more particular. I am sad to say though he longer eats veggies except when I puree' it and mix it in with soup, sauces, pancakes and even bread and he doesn't know. I really wanted him to try some new things.
When I heard about
FunBites
, I thought I should give it a go, and see if it works for him. I thought that maybe when he sees the food in little fun bite-sized pieces, that it would make him interested and entices him to eat. I got one in the mail the other week and I was excited to try. At first well, I really wanted this product to work, but he just would not eat other food beside the one he likes. Although he was curious enough to try to use the FunBites cutter as you see in the photos. He thought that was awesome.
Don't worry, my son was safe while using the FunBites with my supervision.
I have been thinking of making the food that he likes that I can use the product, and I thought of rice and I made some rice blocks. I used the Jasmine rice for this one and not the sticky rice. What I did was pressing down some rice into the little squares, get them all sticking together and compacted, and once I got all the little squares filled with rice, I then used the popper top and slowly popped out the rice. Voila! It turned into blocks of rice. Isn't that cute? It reminds me of sushi, except there is no raw fish or meat. My boy liked that one because it was rice, so the product worked in that sense. On the other hand, my little girl enjoys eating just about anything. I don't worry about her.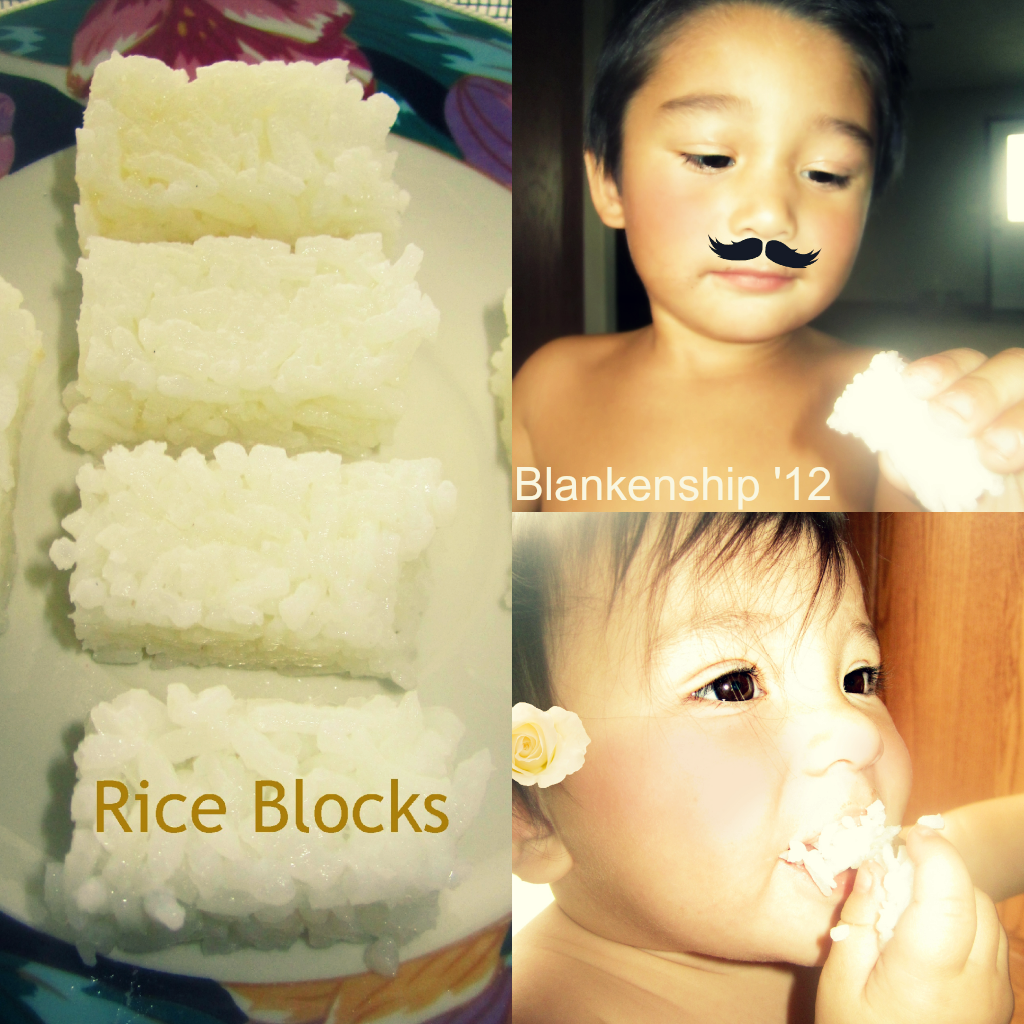 FunBites really does turn food into fun bite-sized pieces and are perfect for little ones like my little girl. I can use FunBites to cut up food into tiny pieces without messing with a knife, it is safer, quick and easy to use and clean up. Because her foods are cut up into tiny pieces, she can now eat on her own (she is very independent, she likes to take over) and it is good for her motor skills as she is learning how to use her little fingers when picking up her food.
We had some watermelon the other night after supper and my little girl wanted to sample some. I also cut up some papaya last night for my supper and it was perfect for making cubed pieces of fruits and turn them into fruit salad. Yummy! Cleaning up the tool is easy for me though since I soak it in water with a bit of soap right after using it so the food would not harden, and it is dishwasher safe.
I wanted to thank FunBites for giving me this opportunity to try their product. It is a good concept, good idea, and it is an awesome tool to make food look fun to eat. At first I thought this would not work on my boy, but it kind of did. When he saw the food cut up into squares he said, "Squares?" Then he started laughing thinking that was cute that the food was cut into squares. The product does work for us a little bit. A little bit because it still does not make my boy explores other food, but he eats the food that he likes cut up into cute pieces. But it works really well for my little girl though and that's good. In the end, I am still a happy mama and once again thankful for this chance.
I know I will enjoy using the product creating more fun bite-sized treats in the future. I would say this would be awesome to have on a birthday party, where kids (with the help of a responsible adult) get to cut up their own favorite food into bite-sized pieces using this tool and eat them. Don't you think? If you haven't tried this product before, you should give it a try. It might work really well with your kids and you never know, you might love the fun of using the FunBites!
Anyway, before I end this review, here is a little bit of info on how to use the product.
FUNBITES cuts kids' food into fun-shaped bite-sized pieces.
Try on pancakes, sandwiches, cheese, melons and more!
Step 1: Place FunBites cutter on top of food. Remove popper top and place to the side.
Step 2: Grab handles on both sides of the cutter. Press down, and firmly rock back and forth 5-6 times to cut all the way through the food. Press hard; FunBites can take it!
Step 3: Insert popper top. Lift cutter up from food and push down popper to pop! Out fun-shaped bite-sized pieces.
Step 4: Time to clean up! Prefer hand wash or dishwasher safe.
FunBites comes in two different colors and shapes- the Green squares and the Pink hearts. It is BPA Free, Mom Invented, Hand wash or Dishwasher safe, and 100% Made In The USA.
Don't forget to visit the website at
http://www.funbites.com/
.
Note: The product was given to me for free, but my thoughts and opinion are 100% mine. I did not receive any money for this post.