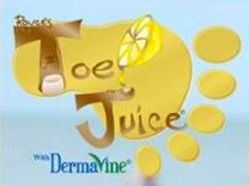 Toe Juice and Hogwash? What in the world are those things? Exactly the same question I asked when I heard about these products. It sounds really weird yet very intriguing that it makes you want to check out what their products are. If you have not heard of these products before, then you might want to stick around and read some more.
Here is an information about Toe Juice with Dermavine before I go on with my review.
"In 1970, Royce Garner, a high school science teacher in Boise, Idaho, produced his first batch of Toe Juice®. His endeavor began when his infant son had flaking, dry, cracked feet. The many lotions and creams were ineffective and messy. So Royce did some research, went to his lab, and came out with a revolutionary new product. Not only did it fix and prevent further complications with his son's feet, but over the years many friends, family, and acquaintances have benefited from the strength of Royce's Toe Juice®. Those who benefited from the fast drying liquid, often encouraged Royce to take it public.
DermaVine® is a blend of plant-based extracts that enhance the skin's natural repairing ability. It contains willow bark, lemon peel, and Cinnamonum extracts."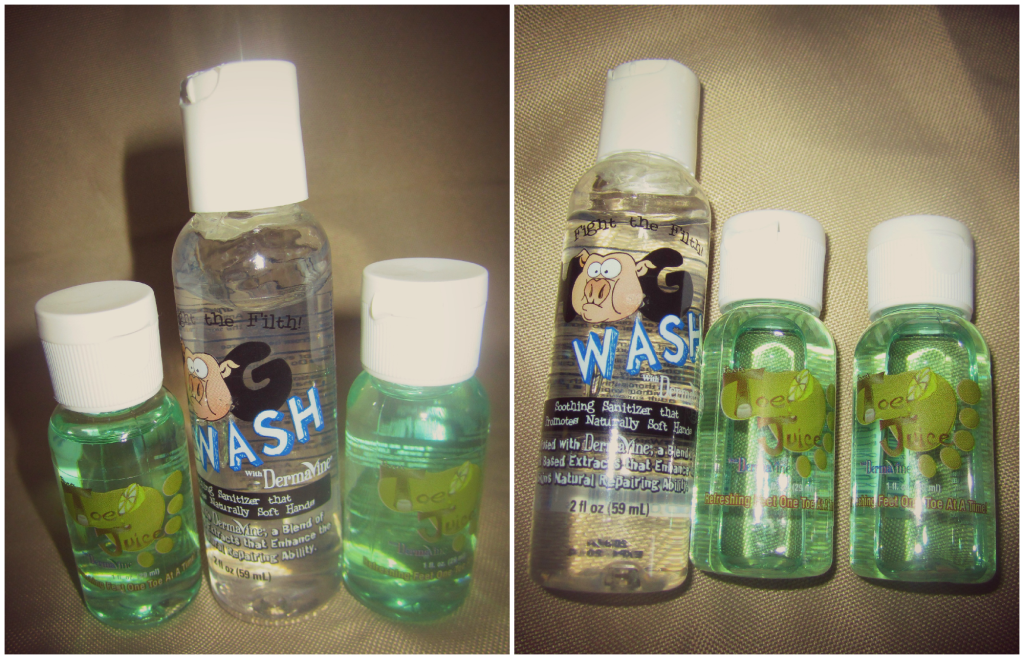 When I was given the opportunity to sample their products, I was sent three items for free in exchange for my fair and honest review. I got two (2) 1 fl oz of Toe Juice bottles and one (1) 2 fl oz of Hog Wash Hand Sanitizer. I wanted to have more time to really use these products so I can have a thorough review about what it can do. I have had these for about a month now and I am glad I have them. I looked up on their website and saw all the testimonial videos and the list of things that Toe Juice might be able to help us with any skin problems, and it is amazing what it can do. In my experience, I am not claiming anything, but I am glad I have these products.
One morning I woke up and noticed that my legs were so itchy and I started scratching, and the more I scratched it, the worse it got. I noticed that little red bumps started showing up on my legs and I thought, "oh dear, here comes another allergic reaction to something I don't even know". It got bad, and so itchy and I didn't know what to do, then I remembered I got the Toe Juice products and I thought of using it. When I applied it on my skin, it felt so soothing, although it didn't really make all the flare ups gone, but the annoying itch was gone.
I wish I had taken photos of my legs at that time, but I haven't even thought of anything at that point, but to get rid of the itchy red bumps. It was so itchy, irritating, annoying and no fun at all. I really need to see a dermatologist though and figure out about these flare ups I have been having.
Anyway, back to the Toe Juice. I am still glad I had these products because every time it is itchy again, I would immediately apply it to my irritated skin and it goes away for few hours, then I just keep re applying it. I have tried other products before like cream and even alcohol, but it didn't really work. With the cream it gets messy when applying it on my skin, then when I use alcohol it dries up my skin, and I have to put on lotion. With the Toe Juice, it is not messy nor oily, and it dries up quickly. It doesn't leave my skin dry like what the alcohol does. Right now my legs are okay and so far I haven't had any flare ups lately.
Sometimes when I am not using the other product on my baby's eczema, I would apply Toe Juice on her skin as well. I think with more application, it might clear up her skin. She has it on her knees or a little bit of her legs, but not that worse of an eczema. I have to keep using this product and see what it does. At first I really thought Toe Juice was just for athlete's foot or for any foot problems (because of the name), but it is surprising that you can use it on a lot of things.
I don't know about you, but I love to take with me a travel size bottle of hand sanitizer in my purse. Whenever there is no access to water to clean up my hands or my family's hands, we have the hand sanitizer with us. I feel comfortable whenever I have the hand sanitizer with me especially when we go to public places and you already know the story. But as much as I love hand sanitizer, I hate it when my hands get really dry. It just seeps out the moisture off of my skin and it is so uncomfortable and irritating when my hands are dry. Who would love that? I have to keep applying lotion on my hands to avoid dryness, but with the Hog Wash I was really surprised and happy that I don't have to worry about dry skin at all and that's the truth. In fact, just a while ago I was applying the hand sanitizer and my hands can still type well and not stiff and dry. If you are like me who has the same concern, Hog Wash is worth the try.
Honestly, when I ran out of these products, I want to buy more because it is working for me and my family. I hope it works for you too. Check out Toe Juice's website to find out more about the other uses of the product.
Thank you, Toe Juice!


You can check out their website and get a free bottle of Toe Juice, but you must pay for the shipping and handling for $4.25. USA only. Not a bad deal!
or, Win It.
Enter the Rafflecopter Giveaway below.
Open to US and Canada only.
Opens today the 16th of November, and ends on the 25th of November, 2012.
I will announce the winner on the 26th of November, Monday.
a Rafflecopter giveaway
Rafflecopter Link:
http://www.rafflecopter.com/rafl/share-code/ZTU5OGU2MjA5MGQ3YTk0MjQ5NWJjZDU3Y2MzNTNlOjM=/