I must admit, I almost gave up my hope that one day Fairy HobMother would visit my blog bearing good news and granting my one wish for my little man or basically for my kids. Alas! Fairy HobMother visited me the other day and letting me know that the fairy is still out there sprinkling some fairy dusts of love.
My little man has always been fascinated with those battery-operated ride on vehicles since he first rode one from our visit to a Filipina friend's house. He would not get off the toy vehicle and still wanted to drive around the yard until the battery gave up. I felt so sad for him and wanted to buy him one, but those things are expensive. I decided to save up a little bit and wanted to buy one for Christmas, but it so happened that I needed the money for something else. With that said, I am saving up again to hopefully buy one for him before his birthday next year in August. I was thinking of getting him the Power Wheels Kawasaki on amazon.com since it is in the lower price and with good reviews online. Even though Fairy Hobmother's gift can only pay part of my little man's wish, but it already is a big help in saving up some money. I am excited for my boy because I know he will absolutely love it. It will be perfect for him to drive around our yard since we have the place for it and he will be safe. I can just see his face of excitement.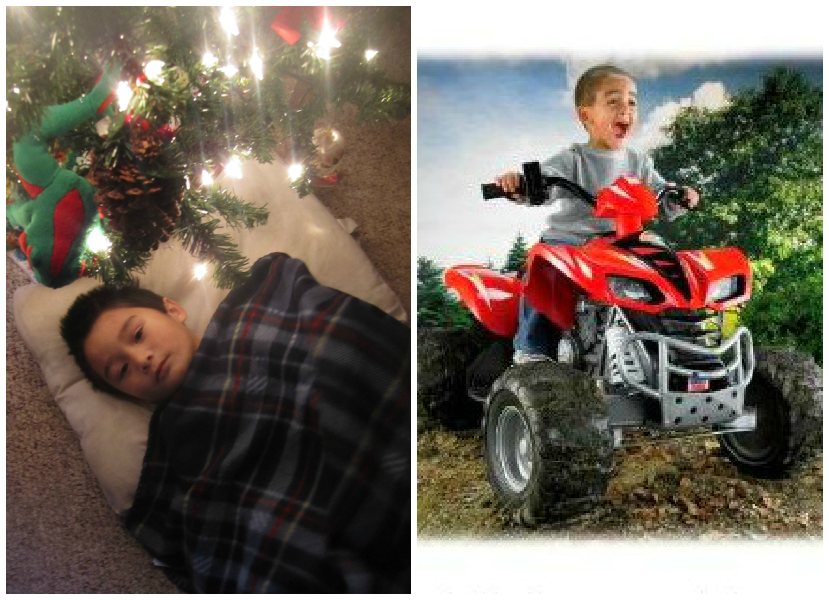 (Here is our little man (on the left) sleeping under the Christmas tree wishing and hoping dadda & mama would buy him his fave toy.)
Although, I do have another wish not just for me, but for all of us. We are in need of a new refrigerator just like the LG American Fridge Freezer with a lot of room to store our food, because our other one is really old. This LG Fridge Freezer would surely be an awesome gift, but I am willing to set that wish aside for now and maybe get one late next summer, just as long as our little boy gets his long time wish first.
To the Fairy HobMother, we thank you for your generosity. There is now a possibility of purchasing the toy in the future! If you wish for a fairy to come and visit you, you might fancy leaving a comment here or two and you will never know Fairy HobMother will come visit you next and continue to sprinkle more fairy dusts of generosity. Or, you could also follow him on Twitter here. Good luck!