Another garden and yard update from the Blankenship Family. We hope you enjoy! We have been blessed at the chance of enjoying our garden this year and eating a lot of fresh veggies and fresh fruits that we planted. It is a great reward to be able to enjoy something that you know you worked hard for. Thank you so much dear God! Nothing beats fresh and homemade. Here are some photos!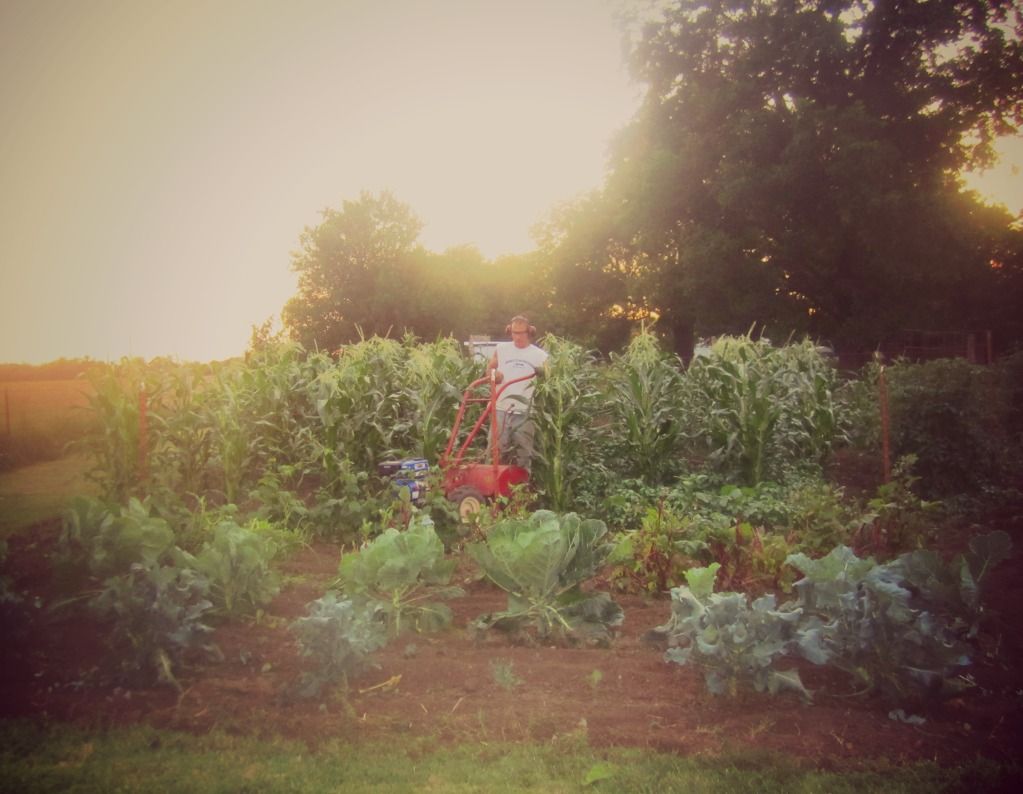 Here is my wonderful man working hard at tilling our garden. Thank you, sweetie!
One huge cauliflower. We planted four this year just to see how it turns out and it did pretty well. We were able to enjoy some fresh cauliflower and I also made baby food out of it as well. I even gave two to a good friend of ours who watched our place for us while we were gone for a few days. We are definitely planting more next year when we get back here in Chetopa for the summer. One thing or I should say two things I missed planting this year was my kohlrabi (German turnip) and eggplants. Oh! My string beans as well as I ran out of seeds, so I guess that makes it three things. Well, I am sure there are other things I wanted to plant this year, but didn't get to doing it and could not think of what it is at the moment. Anyway, I thought I stashed some string beans seeds in the freezer last year, but turned out I didn't. Ops! Better luck next year. We also have some fresh sweet corn and man I am talking really sweet corn. My husband enjoys eating eat raw fresh from the garden every morning. Absolutely sweet! This year is by far the best we have in terms of planting corn and actually getting to enjoy them because usually we are gone for the summer and we don't get to take care of our garden that much. We are definitely enjoying our fresh produce this year. Now if only we could get these two chickens to lay some fresh eggs. Hmmm.... Can't wait for our Brussels sprouts as well! How about you? What kinds of things did you plant in your garden or pots this year?I would love to know.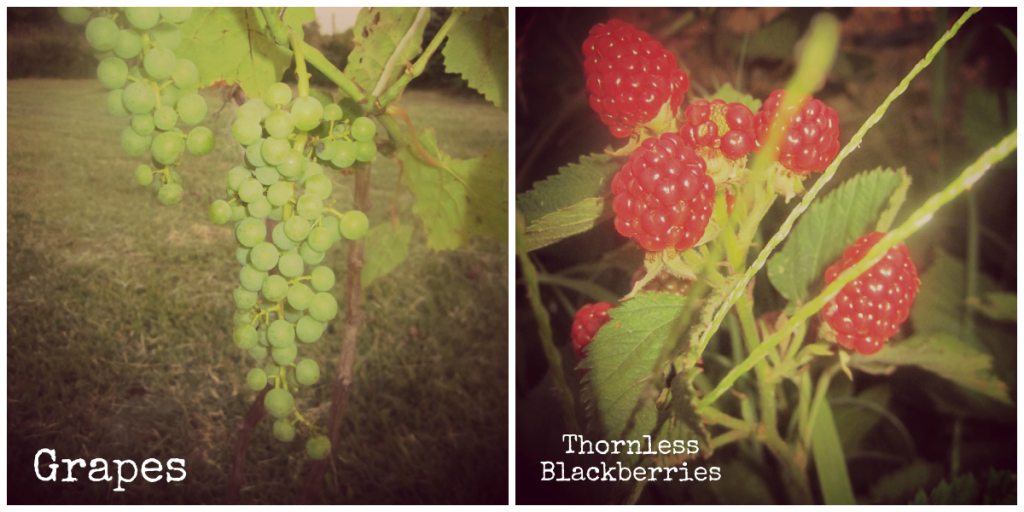 Maybe someday my husband will start making his own wine or grape juice? I don't know what's he is going to do with all of these grapes. I know the blackberries don't look black at all, but that is because it is an unripe berries and once they are ready and sweet they turn dark and it's a treat! They are the thorn less kind and big. Thanks to my Filipina friend who gave it to us for free.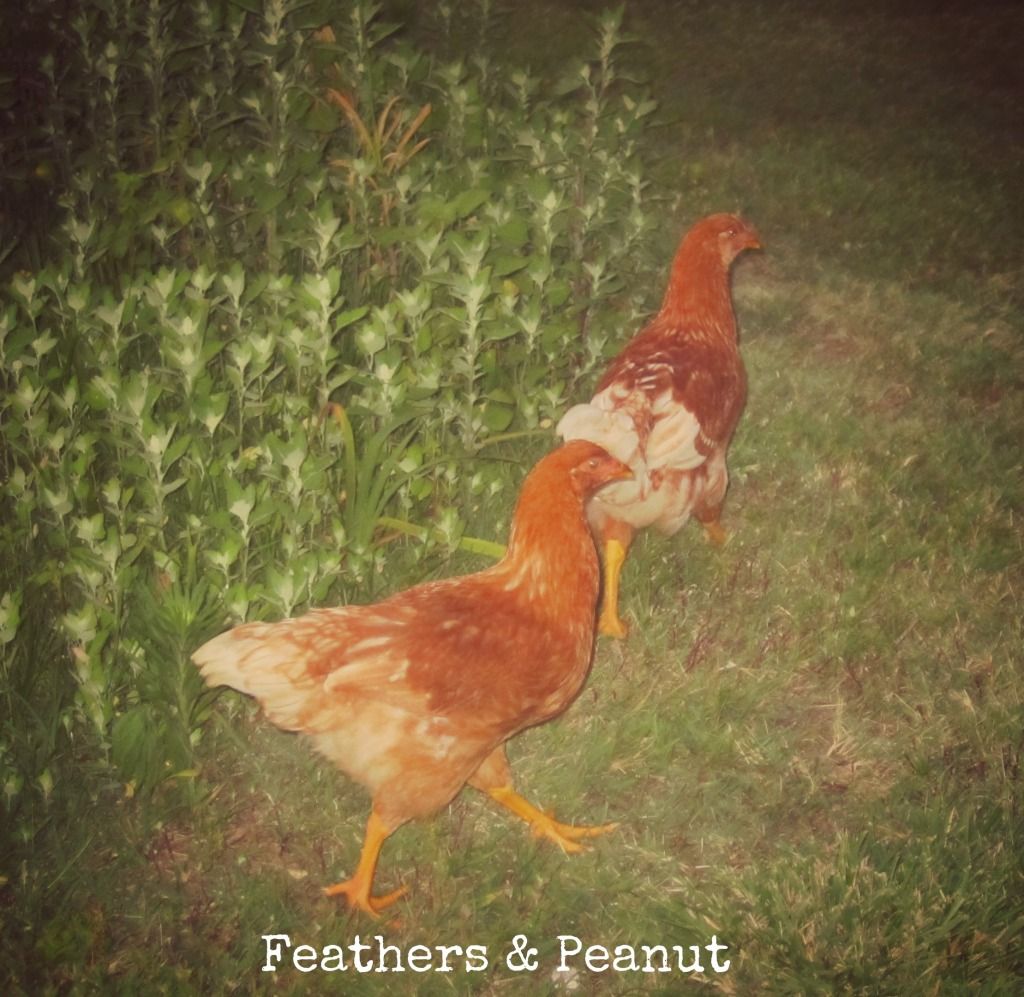 Our two survivors happily exploring our yard and hopefully we get some fresh eggs in the near future. Our neighbor girls named them Feathers and Peanut, so we went with it. It's cute! Feathers is the one with light colored feathers and Peanut is the one a bit darker. That would be Feathers on the front.
I picked up some fresh veggies early in the morning and had some really good veggie soup. What a way to start the day.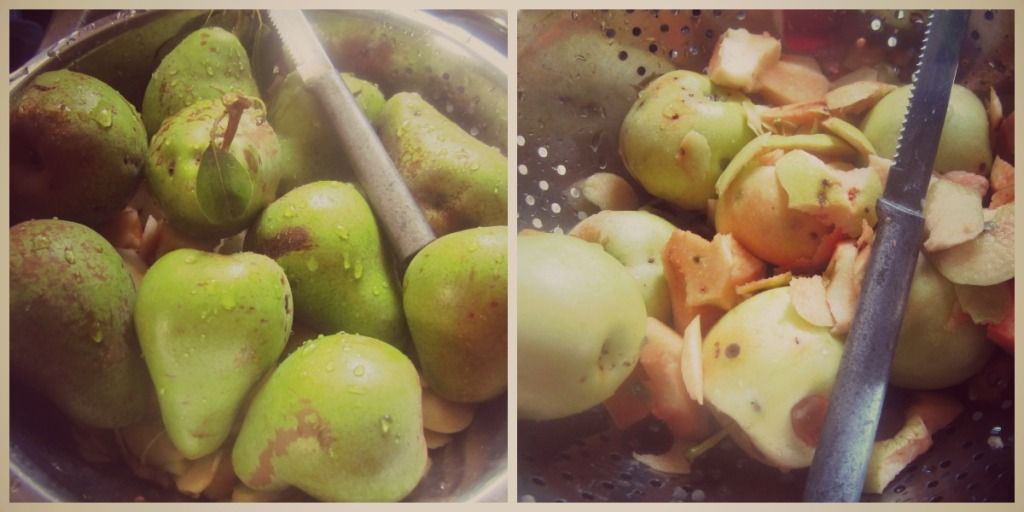 Preparing some fresh fruits to make some baby food. I know they don't look all pretty and shiny like the ones you buy at the regular store, but trust me it is the best. It is not sprayed with any harsh chemicals at all and it is as organic as it can get. Delicious!
One of the beautiful flowers I have in our yard. Easy to take care of, it comes up every year, and it blooms beautifully in the afternoon at 4. Hence the name 4 o'clock. So beautiful!