For me it is a bit challenging wearing a dress when the weather changes into chilly and windy. Wind and dress sometimes don't go well together especially like the one I am wearing. You could easily flash and shock people at times, but thank goodness to the black tights. At least it is not all the way revealing. I am not going to tell you details about some of my embarrassing moments with dresses, but honey I had some of those moments where it cringes me just thinking about it.
Anyway, I thrifted this vintage blue dress a long while back and it used to be a bit longer and it has an elastic waist with belt loop, but with no belt. It has buttons on the front and two front-pockets. Because of the former length of the dress, I felt like it was a bit heavy and it would not hold its shape on the waist so it was dragging it. I don't know if I make sense, but I didn't like the look and feel when wearing the dress so I decided to chop off a good portion of fabric on the bottom of the dress and I re hemmed it. I was a bit nervous and intimidated because of the pleats and I didn't want to ruin the dress after. Even so, I crossed my fingers and toes, and I went cutting, sewing, re hemming and ironed the bottom of the dress and each pleat, being careful not to ruin it. After I sewed and ironed the clothes, I took another look at it and I thought I did a good job altering the dress. I was also afraid that I might not cut it straight and it would be off, where on the other side it is long and the other side is not, but I guess it turned out good.
Trench Coat: Old Navy for $30ish (old)
Infinity Scarf in Burgundy or Oxblood: I crocheted it myself.
Dress: 50 cents Vintage and altered
Navajo Print Belt: Thrifted for 10cents
(it was part of my thrift haul
here
)
Black tights: Walmart $10ish
Shoes: Type Z via 6pm
Another windy day in Kansas.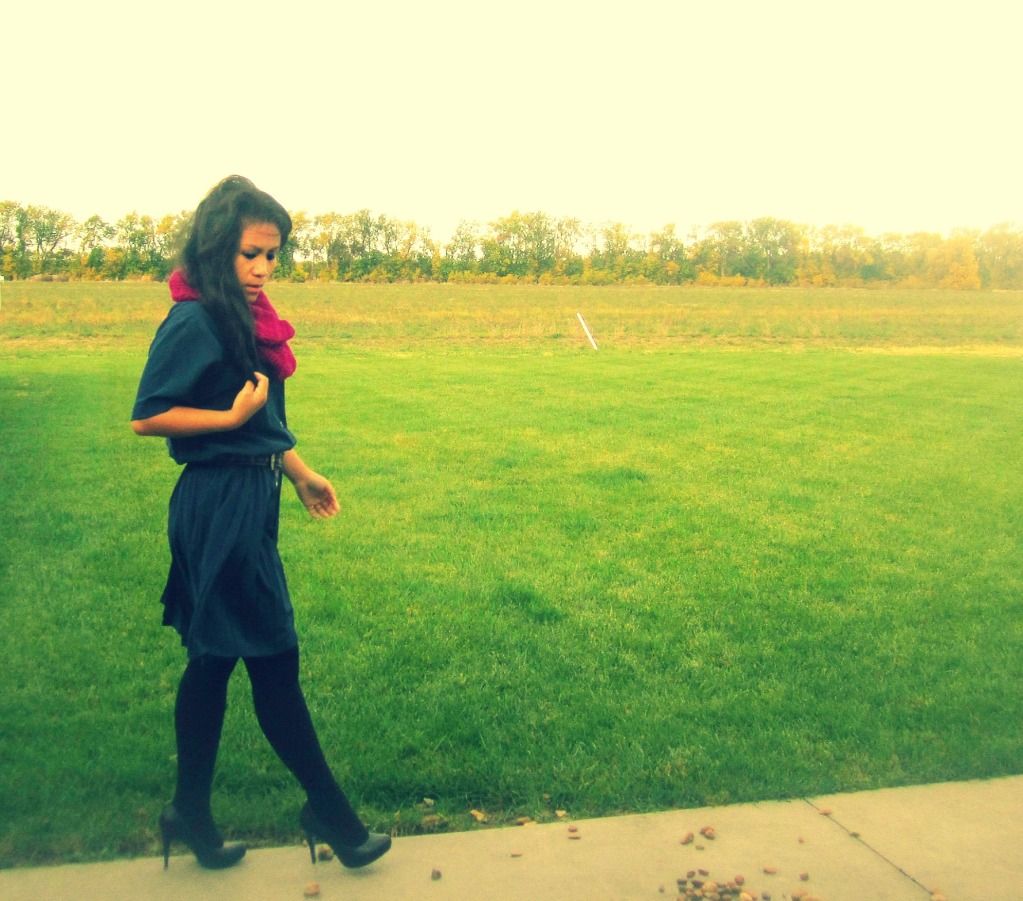 I am loving this dress now. It reminds me of a dress I saw online from ModCloth, except I did not have to pay that much money for my dress. I paid 50cents for it compare to the $157.99. As a stay-at-home-mom, I don't have the budget to buy a dress in that amount and even if I do, I still want to go thrifty. Even though my dress is vintage, it still is in great condition, and I can wear it again and again, and style it in so many different ways.
That is a nice thing about thrifting though. You can go online and browse for some clothing and style inspiration, then you go to thrift shops and shop for a certain piece of clothing that has the similar feel and look to it. And if you don't like second hand or pre-owned items (however you call it), wait for it until it goes on sale and the price is within your budget. And if you can afford it, good for you. *wink*
How about you. Have you thrifted lately?