The pasta lover in us were so happy when we received a
Mara's Pasta
gift box about a month ago. The Mara's Pasta gift box contains three kinds of pasta like Fettuccine, Macaroni and Spaghetti. You can also choose other gift boxes with other pasta in it. The pasta box is so nice that you don't have to wrap it up if you fancy giving it as a gift to someone you know who enjoys eating pasta. It also has a handle for easy carrying and it is a perfect Christmas stocking stuffer for this Christmas which is only about six days away. Can you believe it?
We absolutely love Mara's Pasta and I am happy to serve it to my family because it is made of 100% Whole Wheat, which is not only good for our body, but it is also good for our tummy. When it comes to pasta, we don't like to buy the plain white ones, but we always love to buy the whole wheat or whole grain kind. Mara's whole wheat pasta has its own kind of like nutty flavor and has a wonderful texture to it. I am really glad though that my kids enjoy eating pasta.
Mara's Pasta is easy and quick to prepare when you don't have a lot of time to be in the kitchen. All you do is follow the cooking instructions on the box and it will cook your pasta just right- Al dente!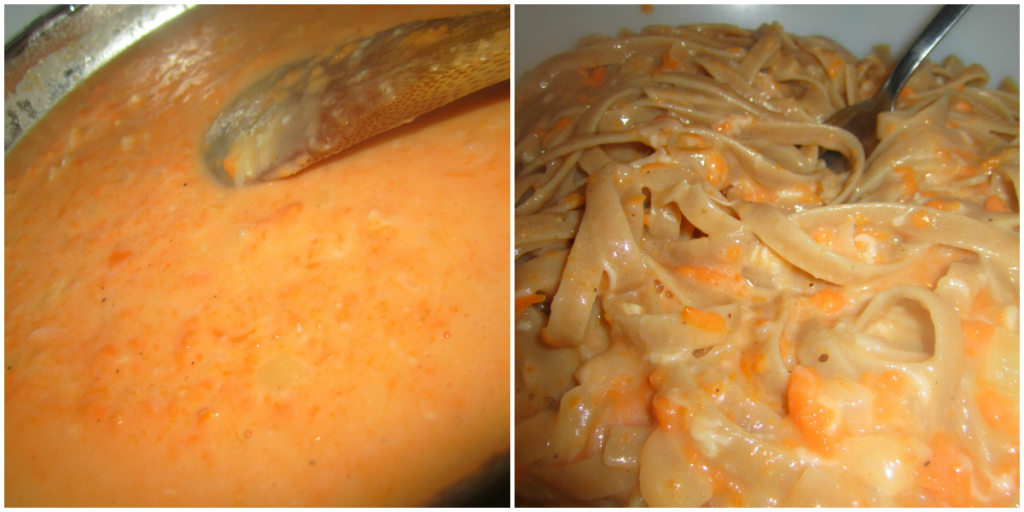 (My pasta with creamy sauce mixed with pureed Sweet Potato. We need more Sweet Potato in our diet.)
Cooking pasta is my opportunity to add vegetables into my kids' diet especially my little man because he has become very picky. I can add pureed vegetables in the sauce and my little man won't even know. I have no problem with my little girl so I always have to think of ways to cook healthy food that my little man would eat as well.
I didn't have any fresh basil or any fresh herbs at all to add more color to the dish, but the pasta was absolutely delicious. This spaghetti sauce has pureed carrots in it as well. You can even add other pureed vegetables in the sauce if you desire.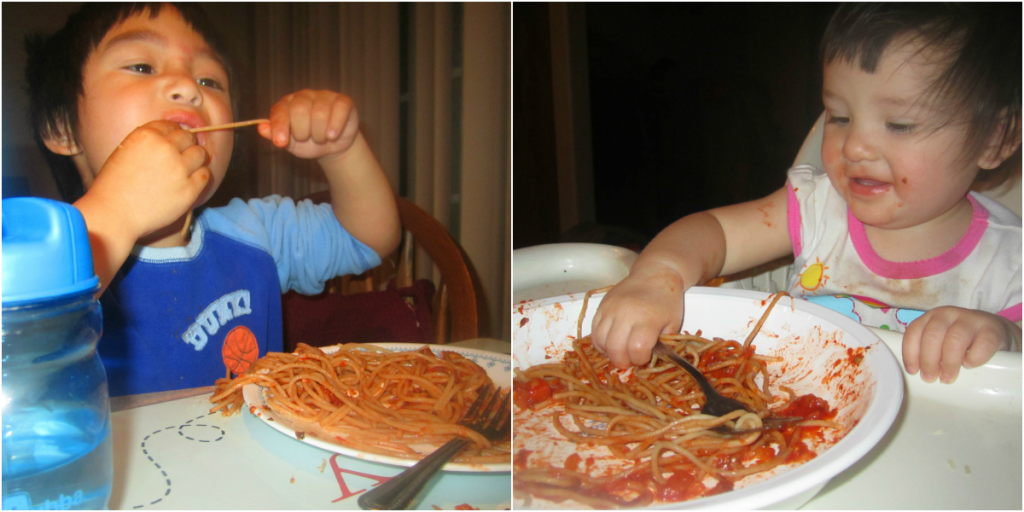 My kids enjoyed their spaghetti and that made me one happy mama.
Thank you very much, Mara's Pasta!
We love it so much that we even bought two gift boxes as our Christmas gifts this year to two people, and we hope they will enjoy it as much as we did.
Win It. Enter below.
Open to US residents only.
For the giveaway:
Mandatory. This must be done first before the other entries or your entries won't be counted.
other entries:
Like Mara's Pasta on Facebook.
Follow Chetopian Family via GFC (Google Friend Connect) or
NetworkedBlogs on the right side bar.
That's it! Simple steps to winning a sample of Mara's Pasta.
Just leave me a comment telling me you did the entries.
Don't forget to leave your name and your email add or other contact info just in case you win.
Good luck!

Note: Chetopian Family is not responsible for the sponsor prize shipping.


Our winner: