A few weeks ago I received a complimentary sample packet of Utensil Wipes for me and my family to sample.
Utensil Wipes Information
- Is the only All- Natural wipe made exclusively to clean surfaces that touch your mouth!
- Utensils, plates, glasses, water bottles, and more.
- Utensil Wipes has natural Lemongrass formulation that cleans and eliminates potentially harmful germs.
- Natural Wipes are developed in the USA in believing that safe eating, drinking and childcare is critical.
- A $60 value of 12 packs, 120 wipes is now $36 includes shipping and handling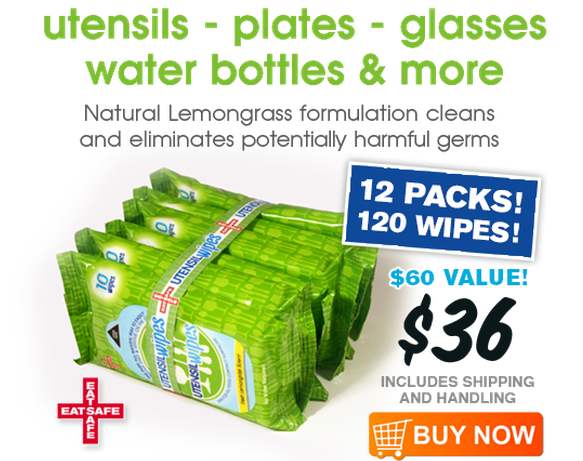 Natural Wipes Active Ingredients:
How can Utensil Wipes help you?
- If you travel or fly frequently, then you already know the types of problems you deal with when you are on the go. And one of those problems is during eating or drinking time. Every time you travel, you are exposed to all types of germs/bacteria and the possibility of getting sick. Using utensils or drinking glasses can also be a possibility of getting in contact with some harmful bacteria. Therefore, you want to use a type of product that will help clean and sanitize any surfaces that comes in contact with your mouth, and that is where Utensil Wipes come in. Although it says that using Utensil Wipes does not mean you can eliminate all exposures , but by exercising the saying that goes "Prevention Is Better Than Cure", it helps reduce the chance of getting sick when in contact with unclean environment, water systems and risky locations. Somehow, it also gives you that sense of security knowing you cleaned and sanitized your things before using it.
- Utensil Wipes are also useful when you travel or out and about with kids. When are you in an area where clean water is limited and your kids end up dropping their plates, utensils, or drinking bottles (because you know, kids are that way. Things always end up on the floor or ground), Utensil wipes can do the job.
My Review:
What DO we like about it?
- The Utensil Wipes has a lift and seal packaging so when you are done using it, you can seal it back so it won't dry out and store it away.
- It comes in a small package that can be easily stored in your pocket, purses, backpack, or any kind of bags, and it won't take up a lot of space.
- The wipes have the lemongrass smell and taste to it. Personally, I love lemongrass and I mix it with my soup so when I learned that Utensil Wipes uses lemongrass oil, I was pleased.
- At first when using the wipe, it turns into like a soapy form, then it slowly dissipates as you rub the wipe on to your utensils, then you let it dry.
-

By following the instructions on how to use the wipes, I couldn't taste anything soapy to the spoon or glasses, but a little hint of the lemongrass oil. It didn't bother me at all.
What we DON'T like about it?
- I really don't have anything negative to say about this product, but hopefully it will be available widely at any stores so we don't have to order them online. It may be cheaper that way?
Note:
- The Utensil Wipes only comes in with the Lemongrass Formulation.
Conclusion:
-

I like the idea of being able to clean up your utensils or drinking vessel when clean water is not available. Yes, it is convenient.
- Would I buy it for my family? If I see it at the store and we are going on a trip or camping, yes I would. But for everyday use, I won't. For me, I would prefer to use it while traveling, which was intended when creating this product.
- At a price of $36 for 12 packs, 120 wipes includes shipping and handling, I think I won't buy it online, but I will wait until I see it at the store and it might be cheaper that way.
Thank you so much, Utensil Wipes for the complimentary pack that we got!
Do you want to win Utensil Wipes samples? Enter the Rafflecopter below.
Please read the Giveaway Rules and Regulations. Thank you and Good Luck!
Open to US Residents Only
a Rafflecopter giveaway
Rafflecopter Code:
http://www.rafflecopter.com/rafl/share-code/ZTU5OGU2MjA5MGQ3YTk0MjQ5NWJjZDU3Y2MzNTNlOjI0/