Yes, I know I realize it is already the second (2nd) of October and here I am sharing you a Starlooks May Starbox make-up kit. It may be the fall now, but it is never too late to share with you the make-up I got from Starlooks. Their May Starbox make-up collection consisted of Brow shader, Silk Rose Blush Compact and the "Cinnamon Toss" Eye Pigment. I love this collection, a lot!
Look how fancy looking the Starlooks box is. I love it!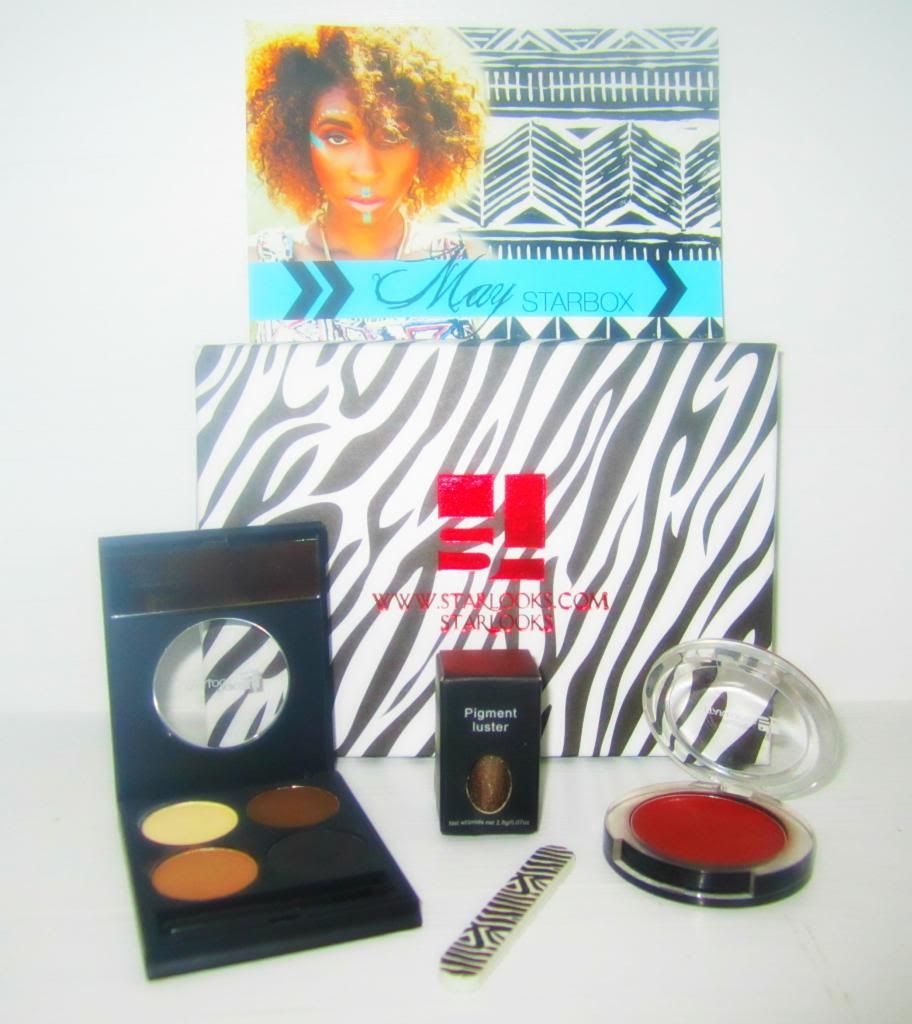 May Starbox
Includes our "Emphasize" Cream Blusher, our "BS443" Brow Shader, and our "Cinnamon Toss" Eye Pigment!

May - Tribal
Our May Starbox Look is all about accessorizing… but with makeup! We're all comfortable with neutrals and wear them on a daily basis.
Facts about Starlooks:
-
Certain Starlooks color cosmetics are custom-created for Starlooks by revising and improving existing ingredients such as content, colors, polymers, etc., based on our and the chemist's recommendations. Starlooks decides when to change the names of the lab's stock products or components for these products as a secondary priority – based on cost. Our brushes – which are NOT custom manufactured - are chosen carefully by our manufacturer. However Starlooks provides input as to the quality of these tools, making sure that they are manufactured to our satisfaction before we sell them. Our opinion is that these tools FAR surpass most others sold.
To be honest, I have been using my May Starbox make-up a lot ever since I got it. It's been four (4) months since I got this in the mail and to me, it is a perfect make-up for on-the-go or traveling moms. It is light and compact that I don't have to lug in a huge make-up kit with me because this is all I need. I am a SAHM to two kids so I don't have a huge amount of time to be fixing myself so a quick make-up session will do. And I can achieve that look with the help of this kit.


Since I am blessed with no-full brows, I have to shape my brows first before I get out of the house or else I won't feel like my my make-up is complete (which I don't really put on a whole lot). My
"BS442" Brow Shader that I got from Starlooks does the job for me. It also came in with its own little brow brush. How handy!
- I use two shades when I shape my brows. First is the darker brown for the inside corner of my brows, then I work my way up to the outside corner of my brows with the black shade. I like to sport a fuller looking brow because as they say, fuller brows can help you look younger. You know why? Because just like babies, they don't pluck their brows. You know what I mean?
- The lighter shade to the top left I use to highlight my brow bone and it also helps me after I shape my brows to clean up some messes and you get that nicely shaped brows.)
- Starlooks May Starbox make-up is not only for daytime use, but you can also use it to create a night time look, which is a wonderful thing to have such a versatile make-up kit.
- I love the Starlooks Silk Rose blush because once I put it on my cheeks, it doesn't dry up my skin, instead it gives me that nice glow healthy looking skin. It's a must-try!
- Don't forget to visit their website today and subscribe to get your own Starbox of the month! Get your star looks on with Starlooks!
Thank you,
Starlooks!
Like on Facebook:
https://www.facebook.com/starlooksmd
Follow on Twitter:
https://twitter.com/starlooksmd
Follow on Pinterest:
http://www.pinterest.com/starlooks/