When you are a girl, you can never have way too many bags, right? For us girls, our bags are not just for utility purposes, but also for accessorizing. Although, I am doing really well with getting rid of some of my things, but hey, if you get an opportunity to get another bag, why not?
Anyway, I would like to say thank you to Tmart.com for my new Map Pattern Handbag that I got for free for a product review.
A little information about Tmart.com
Tmart.com provides a majority of well-known products for individuals and businesses of all size. With a wide selection of products at a low price, we have been universally recognized for our honesty, high efficiency and comprehensive service and built long-termed relationship with many companies. Meanwhile, Tmart.com is the best source for everything you want. Tmart.com store provides cool gadgets, cell phones, consumer electronics, LED flashlight, car accessories, phones accessories, computer accessories, games accessories, holiday gifts and security camera.
With low price, worldwide free shipping and superior customer service, Tmart.com is determined to exceed the expectations of every customer that visits its website.
These are the handbags you′re looking for!
With unique design, the women handbag will make you be the star shining bright and sparking among people. The color of women handbag is classic and will never go out of time. Let your boy stand out in the crowd and show your fashion style. Fashion handbags are the necessary item in your wardrobe. You will catch everyone′s eyeballs with the women handbag.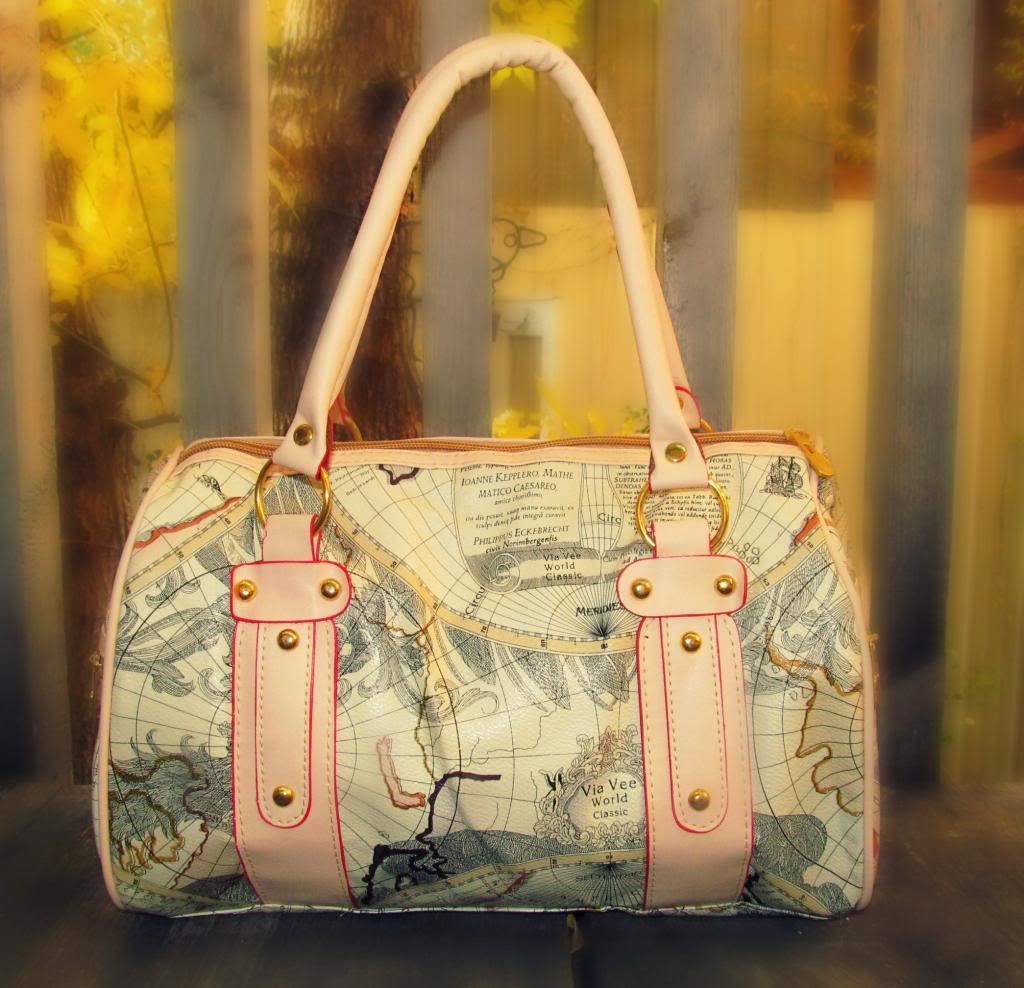 My Review:
- The color of this handbag on their website is the same color in personal. One fancy bag that doesn't break the bank!
- The quality of the bag is actually well made. I actually thought that the material of the bag would be thin considering the price of the bag, but I am really surprised.
-
It has a little pocket on the inside and two side pockets on the outside.
- The stitching is good. I don't see any signs that the bag would fall apart at any time. It has a good lining inside, and the lining on the side pockets are soft and it has a tiny bit of cushioning.
- It is a good size bag that would carry your stuff and what not. But if you plan on using it as a double diaper bag (if you are a mom like me), it's not that big. Although, I can fit in one diaper and a some wipes. Just in case you want to know.
- I love the little details on the bag, the map design, and how well the colors go together.
- So far I have no problems with the zipper closure, it is easy to zip open or close.
- I had a wonderful service at Tmart.com and fast shipping.
If you are in the mood to shop today, don't forget to check out
Tmart Shoulder bags and Handbags
and browse around and see if you can find something you like. Or, love. They have tons of fashionable bag and handbags at affordable prices. But that's not the only thing they sell at their store online so make sure to visit them today! I also have another favorite bag from their store that I wish I had. I know it is just a simple brown bag, but it goes so well with (almost) everything you have in your wardrobe. And perfect for fall, too! Like I said, I love my vintage and this bag has that vibe to it.
For latest news and update:
Like Tmart.com on Facebook::
https://www.facebook.com/TmartShopping
Follow on Twitter:
https://twitter.com/TmartShopping#
Follow on Pinterest:
http://pinterest.com/tmartpin