I mentioned earlier to my husband that all I wanted for my birthday gift or for my Christmas gift is anything that I can use in the kitchen and that we all can benefit and not just me. I have few things on my list that I would love to have in the kitchen and one of that is a new roasting pan. Instead of surprising me with a gift, he wanted to make sure that I get exactly what I wanted (and since I won't get my Kitchen Aid Stand Mixer yet). so I asked for a new roaster or roasting pan.

I searched for pans with racks online and saw something I like, but the brand that I like that was on sale had a lot of bad reviews. I guess it is the reason why it is on sale. Anyway, upon researching and looking through different online stores, I stumbled upon this one. A Rachael Ray roasting pan with a rack. It was on sale and it had some good reviews so far, so I decided to order it. Plus, the price had something to do with it. I paid under $25 for this roasting pan since I had store credits. How awesome is that! The shipping was very fast as well. Great job on that as well. The pan looks really good and has some weight to it, and the rack is sturdy. Now the real test would be is when I get to roast my first turkey or chicken on this and I can't wait. I love this! Thank you so much my dear husband. I love you! I told you, I am not that hard to please. Just give me something I can use in the kitchen or some pots and pans and I am one happy mama. Really!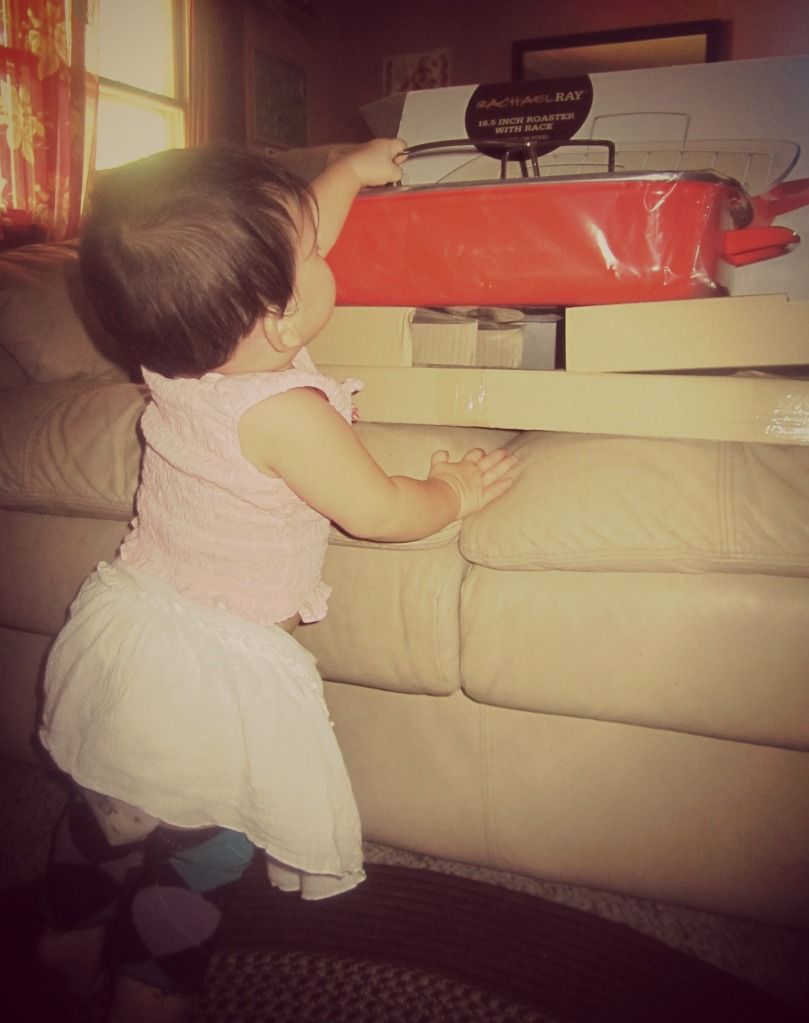 Look who's interested in checking it out as well. The orange color made it so attractive to this little bee that she wanted to check it out herself and sat on the rack first. Anyway, I am turning 28 this 2nd of August and sometimes I stop myself and just look at my life now and my family. I have two wonderful kids, and a wonderful husband and life is still good even for some tough times. God is good! Thank you dear God for giving me another year, another chapter of life to look forward to. We ask your guidance and blessings to be with us as we ride this new journey of life. I am so blessed and thankful that I get to celebrate life with my family because 19 years ago, I was struggling for life when I had a dengue fever. God saved me and gave me another chance to live and now I know why. Thank you so much!!!
Sorry you guys, I am getting a little bit emotional here because every time I celebrate my birthday, it is always an emotional one for me and I always think back of those times that I could have died. Life is fragile. Life is special. We must celebrate life. Happy Birthday to me!!!