Oh my dear heavens! I went to bed last night (or I should say early this morning) at almost five o'clock. I don't know what's going on with me, but I could not go back to sleep last night, so I went online and chatted with some folks and I also got to talk to my cousin back in the Philippines. I woke up this morning feeling groggy and like I am coming up with something, so even though I normally don't drink coffee every morning, I felt like I needed something warm and keeps me awake. Thank goodness for Blanchard's coffee that I had this morning and I am definitely awake now. I really needed that cup of coffee this morning. Now I can go on and finally write a product review about this coffee.
I received one 12oz of 100% ground up Arabica Coffee from Blanchard's a few weeks ago, and the one I got is the medium Breakfast Blend. This morning wasn't the only time that I had a cup of Blanchard's coffee. In fact, I had a few cups of it since I received the product. Originally I got it for my husband who loves to drink coffee in the morning, and I thought it would be perfect for him. Like I said I am no frequent coffee drinker, but in order for me to know how this product tastes like, I had to taste it for myself. Honestly, the aroma of the Blanchard's coffee is wonderful. The smell of the coffee brewing early in the morning already wakes me up. Whenever I do drink coffee, I don't like to drink it straight dark, but I took a few sips just plain with no sugar and cream, and it was good and smooth. And because I didn't want to just rely on my thought about the product, I asked my husband about it who drinks coffee the most. He said that the Blanchard's coffee tastes really good, and is strong enough to help him get on with his day at work. In fact, he said it tastes way better than the coffee (in which name won't be mentioned) he was drinking for a lot of years now.
Blanchard's coffee came at the right time where the weather is starting to cool off and whenever I want something warm to drink, but does not want to drink hot chocolate with marshmallows on top all the time (although that sounds wonderful right now), this coffee does the job. If I am going to want to drink a cup of coffee, it better be good. Thank you Blanchard's coffee for the free sample we got. My husband and I absolutely enjoy it.
Below are some information about the Breakfast Blend coffee and the company.
Breakfast Blend
Our classic, semi-bold Latin American breakfast blend. Strong enough to help you handle a groggy morning without kicking you halfway down the street.
About the Company
Blanchard's Coffee Co. is a family owned, Richmond based, and community oriented. Even better than that, this is the best coffee you will ever taste. We are so confident in our coffee that we put our name on it.
Blanchard's Coffee Co. is committed to providing coffee that is organic, fair trade and sustainable.
Blanchard's Coffee ranges from different varieties in Breakfast Blend, Dark as Dark, Ethiopian Yirgacheffe, and more.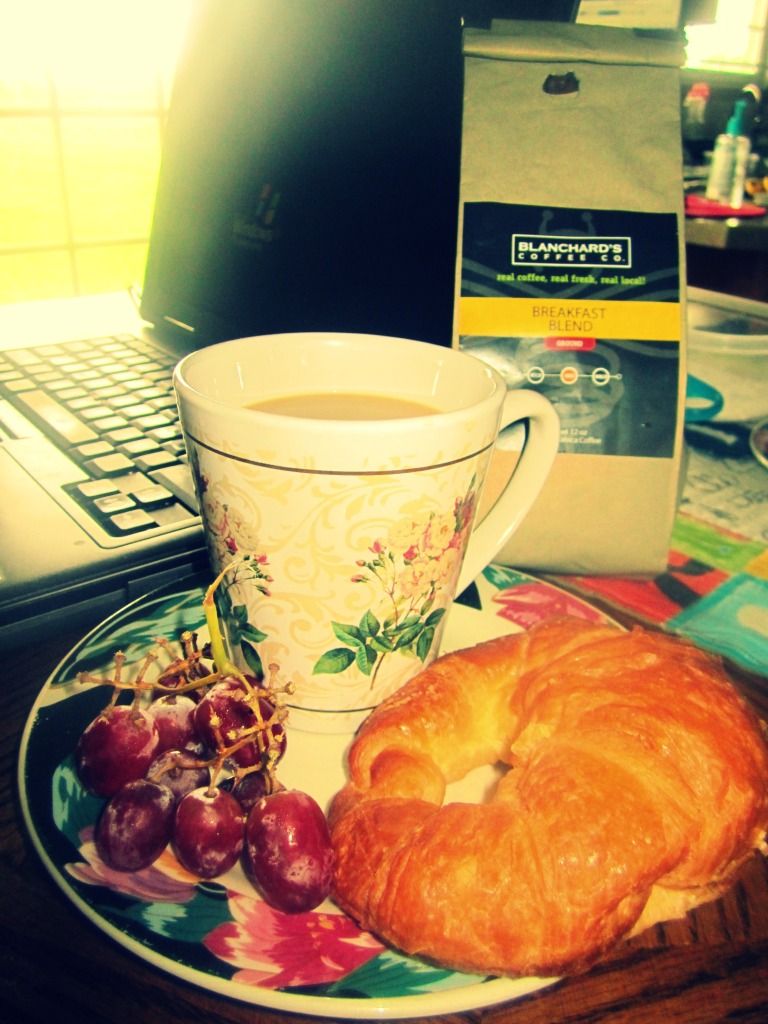 If you are one coffeeholic person or can't start the day without it, you might want to try Blanchard's Coffee and taste it for yourself. You might just find the right blend that is perfect for you. You never know! Check out the rest of their products on their website at
http://www.blanchardscoffee.com/
.
LIKE them on Facebook:
https://www.facebook.com/blanchardscoffee
Follow them on Twitter:
https://twitter.com/drinkblanchards