Char Crust
sent me two of their dry-rub seasonings from their nine (9) dry-rub seasoning collection in the mail for me and my family to sample. Within weeks of using Char Crust, I can finally write my own product review. The two flavors I requested were the
Char Crust
Roasted Garlic Peppercorn
and the Char Crust
Ginger Teriyaki
. Like I said before, I am a Garlic and Peppercorn kind of person and I love the combination of both mixed in with my food. Also, being a Filipina or Asian, there is the love for Ginger and the Teriyaki flavor and when those two are combined together, it makes for a delicious Asian inspired dish. My husband on the other hand was not so thrilled when he saw I requested for the Ginger Teriyaki because he is not a fan of ginger, but I am. I used to drink ginger tea that my grandparents would make every morning for breakfast back in the Philippines, and it was like clearing-up-your-sinusitis kind of drink, but hey I love it. Why? Because I grow up using ginger as part of our Filipino Cuisine. But honey, when I feel like cooking a Filipino-inspired soup that needs ginger in it, there's no stopping me. All I have to do is grate up some ginger into the soup, in that way he does not have to eat a whole chunk of ginger because he hates it. I thought Char Crust Ginger Teriyaki Dry-Rub would be wonderful to try since it has that hint of ginger, it's already ground up mixed with other spices, and nothing too overpowering that according to my husband it ruins the whole meal.
As you can see in my photos, I used the Roasted Garlic Peppercorn a lot. And that's true. Because with this seasoning, I can use it on everything and it just compliments well with the dish. I love that in just one pack of seasoning, it already has a lot of the spices that I like to use when cooking. It has roasted garlic, wheat, spices, salt, onion, sugar, Worcestershire sauce powder, soy sauce powder, tamarind (I love this sweet and sour fruit), etc. It is convenient to use. Thank you Char Crust for letting me and my family sample your products. We love these! Check out below for photos of the dishes using the Char Crust and for more information about the products.
Roasted Garlic Peppercorn
Now our best seller! Savory roasted garlic and fresh cracked peppercorns make music in your mouth. With added lilt of worcestershire and lavender, this symphonic sensation creates a crescendo of flavor with steak, lamb, fish (especially salmon), and roasted potatoes.
Ginger Teriyaki
Savor the harmony and balance of sweet teriyaki and fragrant shoga (ginger). Renowned for centuries for its tingly flavor and mythic love-enhancing quality, ginger lends exotic taste to this modern teriyaki interpretation. Most auspicious (and delicious) on chicken, shrimp, and steak.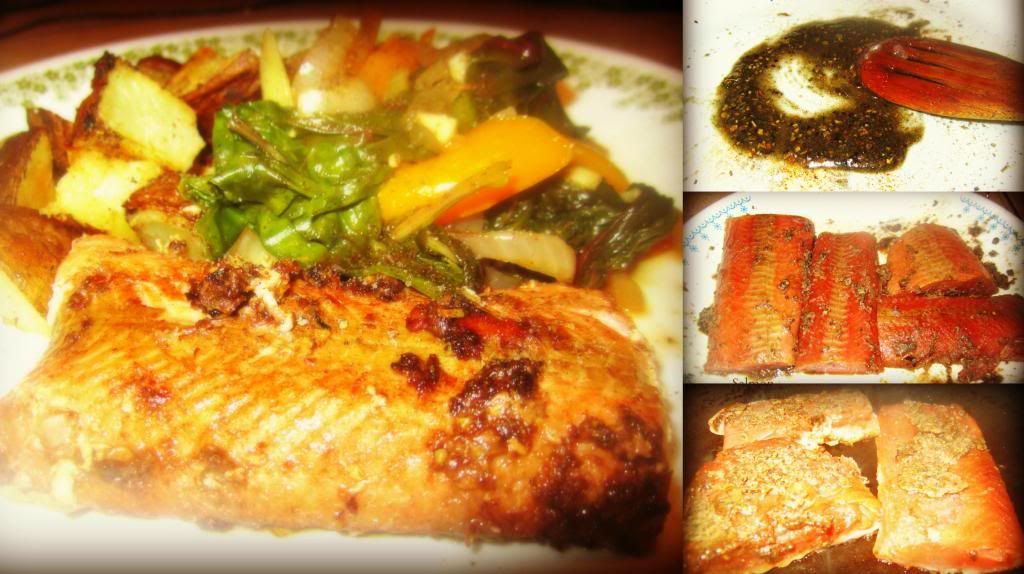 With my Salmon I poured a little bit of oil on a plate, mixed in with some Roasted Garlic and Peppercorn seasoning until it turns into like a paste, then I smothered it all over the salmon to coat. You can let it sit for a little while so the flavors are absorbed, then pan sear it or bake it. Whichever you like, it still turns into one delicious meal. It has the perfect amount of seasoning and it already has salt in it so you need not to add anymore. It smells wonderful too! Whenever I am cooking with Char Crust, it makes me feel like a great chef and that I know everybody will love the food.

Whenever I am making chicken and vegetable soup, I like to brown up the chicken first and I thought seasoning the chicken with the Char Crust Roasted Garlic Peppercorn was perfect. It gave the soup more depth of flavor, and the chicken were seasoned well.
I don't have any photos of me using the Char Crust Ginger Teriyaki seasoning, but we do use it when grilling meat. Wonderful seasoning! If you are a fan of dry rubs and love to grill a lot or just love to cook, Char Crust is absolutely worth the try. It is one wonderful seasoning to use, and trust me when I say I even sprinkle it on my sunny-side up eggs.
Here's a little information about Char Crust:
How Char Crust® (the seasoning) became Char Crust® (the company)
My dad's legendary Chicago steakhouse, Al Farber's, is where it all started in 1957. Thick prime steaks with sizzling charred crusts, bursting with juicy flavor, were the signature of our restaurant. When diners would literally beg to take our seasonings home, we knew we had a winner! That time and those flavors are captured in our two original dry rubs: Original Hickory Grilled (originally called just Char Crust®) and Roto Roast.
Follow on Twitter:
https://twitter.com/CharCrust
Follow on Facebook:
https://www.facebook.com/pages/Char-Crust-dry-rub-seasonings/95719717086?fref=ts
And because my family love Char Crust so much, I wanted for you all to have the chance to try some for yourself. And by that it means come back here next time because Char Crust is so generous that they want to
offer a kit of 3 packages (Original Hickory Grilled, Roasted Garlic Peppercorn, Ginger Teriyaki) of Char Crust. Sounds good enough to you? Well, you better not miss it because Char Crust giveaway is coming up soon!