For some people, this time around is the time where the houses are all decked out with nothing, but Halloween themed decors. People are shopping for costumes for when the night of Halloween comes, you have something to wear for trick or treating or Halloween costume parties. This is also special for some little ones who are very excited about dressing up and be they want to be. Some costumes can be homemade, unique, and some can be very lavish and expensive costumes. It depends on what people prefer just as long as they get to celebrate the Halloween in costumes they want.
We may not celebrate Halloween, but my little girl's birthday is coming up (next month) and I have been thinking of what to do for her birthday so I thought maybe something like a costume party. When I was given the chance to pick out a costume that I want from
CostumeDiscounters
, I thought that the Precious Pink Wabbit costume would be perfect for my little girl to wear so I requested that one in a size 6-12 months.
When it came in the mail, I could not wait to open it up and try it on my little girl, and sure enough she looked really cute and cuddly. Just precious! I think I did a great job picking up a costume for her. The Precious Pink Wabbit is soft and good enough that it can last for one wear or twice. They are meant to be costumes so expect for it to be a bit thin, but soft and nothing itchy on this one. This would have been perfect for Easter. Here are the features to the Pink Wabbit costume.
Includes:
- Jumpsuit with nonskid soles
- Headpiece with ears
- Carrot Rattle
- Chenille and Flannel
What do you think? Doesn't she look adorable? I like the costume so much and all I want to do is just hug her and squeeze her. So adorable!
If you are looking for costumes for whatever purposes you may have, like for Halloween costume, costume themed parties, an early Easter costume shopping, check out Costume Discounters online. They have a wide variety of costumes to choose from like for men and women, toddler boys and girls, and
costumes for babies
. Costume Discounters store seems like they have it all. Shop now while great deals are happening! You might just find the right costume you have been looking for. It is better to shop early than to go on a last minute shopping, right? It will save you tons of stress. Good luck shopping!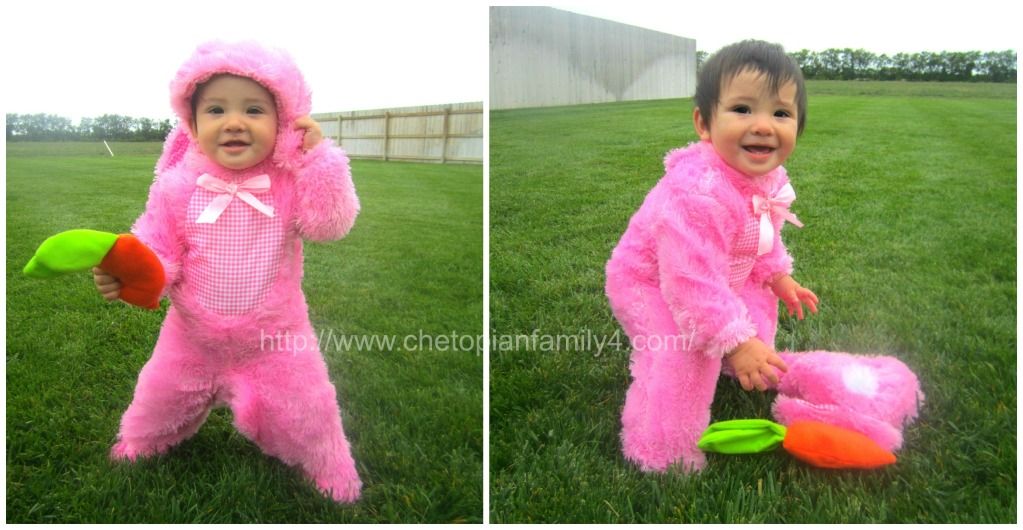 Thank you, Costume Discounters!