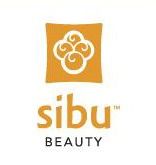 My blog has been a little bit quiet lately as I took a short break off of the blogging world and also I suffered from hives last weekend. I am not going to share you the whole details, but let's just say my legs looked like an elephant's leg. I know! Horrible experience that I hope none of you will ever encounter. I am doing a little bit okay now and looking forward to seeing a doctor and find out what triggers my hives. I think the last time I had hives was the night we came home from the hospital after giving birth to my second baby, and that was last year. This would be the first time this year that I had flare ups, if I remember it right.
Anyway, today I want to share you two products that I have been using for over a month now. I don't know if you have ever heard of the company called SIBU, but in case you haven't let me introduce you.
About SIBU
The journey to create a successful company can be as arduous as scaling a Tibetan mountainside, but well worth the view from the top. Bruce McMullin founded Sibu in 2003 after series of events led him to Calcutta, India where he crossed paths with an ayurvedic specialist in Chinese plants and herbs. In passing, this expert mentioned a powerful holy fruit, the Sea Buckthorn berry.
If you have been on my blog before, then perhaps you might have seen my first review on two of the SIBU products. I was fortunate enough they sent me another two of their wonderful products to sample. These are the items I got.
- Sea Buckthorn Cellular Support
- Sea Buckthorn Seed Oil
I have already mentioned before on my first review that I do love SIBU's products. In fact, I am still using the first two products I got from them. The Sea Buckthorn Seed Oil is wonderful. My husband even uses this oil. Every time he wants to be pampered, he always asks me to give him a face massage using the Seed Oil. It is smooth, yet it is nothing too greasy. It has that orange with a little bit of yellow color to it and the smell is not offensive. It smells like an oil. It's funny because when I first tried it, I told my husband it smells like the fish oil that I used to take when I was in college, but it is not an offensive smell though. I don't know why I thought of that, but anyway I use this during the evening after washing my face and before I go to bed. I also mix it in with my foundation when I need to use one because it gives my dry skin some needed moisture.
One time I also had a pimple on my chin, and didn't have my Aloe Vera plant with me when we moved to this new house, so I thought of using the Seed Oil. I was surprised that the next day my pimple went down. I am not claiming anything here, but that was my experience. Because I have been sleeping late at night lately, I don't miss the chance of applying the Sea Buckthorn Seed Oil on my face in hope that it will prevent some breakouts.
So far my face has been pimple free. When you apply the oil on your face, it doesn't stay greasy. In fact it seeps into your skin and leaves your face smooth and moisturized. My night time routine would be cleaning my face with the SIBU facial cleanser, then apply the serum, then the seed oil. I just slowly massage it on my face.
To find out more about the product, below is the information about the Sea Buckthorn Seed Oil.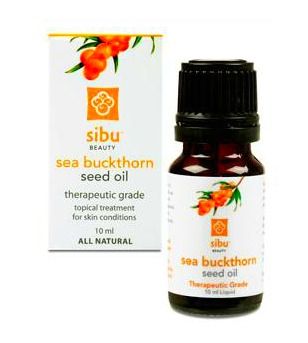 Sea Buckthorn Seed Oil
Sea buckthorn seed oil has long been used as a traditional beauty treatment to preserve youthful skin tone and texture. It is a secret remedy to fight wrinkles and age spots so you may (or may not) want to share it with your friends.
Our therapeutic grade seed oil will help restore damaged skin to its natural beautiful state.
Quick acting/readily absorbed
For all skin-types
Helps diminish wrinkles/age-spots
Promotes skin recovery and healing
10 ml bottle w/ dropper tip
100% therapeutic-grade Sea Buckthorn Seed Oil for topical use on ailments.

********************


The other product I got is the Sea Buckthorn Cellular Support that comes in 60 soft gels that said to be packed with Omega 7 fatty acids that are really good for your body and your skin. I have been taking this since I got the product and I can't say anything yet, but maybe if I continue taking the capsules for months, then maybe I can tell some significant changes. Not only I take the gel, but I also snip off the other end and squeeze out the oil inside the gel so I can apply it directly to my skin. It leaves me with soft and shiny skin. It has this blood orange color to it and it smells like oil. I love it! Every time my skin feels really dry because this cold weather really takes out the moisture from your skin, I would use the gel or the seed oil.
Below is the information about the product.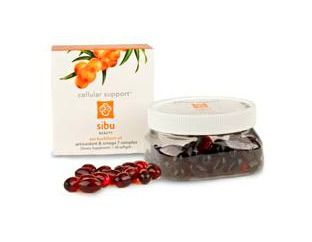 Sea Buckthorn Cellular Support
True beauty begins on the inside. So, we've created a soft gel supplement to nourish and protect the body plus promote healthy hair, and skin from the inside out.
Super-dose of Omega 7 fatty acids
Sea buckthorn oil antioxidant
Repairs and rejuvenates damaged cells*
Powerful free radical scavenger*
Soothes and repairs linings of digestive and uro-genital tracts
Increases vitality*
100% natural
May help prevent weight gain
60 softgels
Sea buckthorn is known as nature's most balanced fruit. This "Holy Fruit of the Himalayas" has been cherished by native Tibetans for centuries for its incredible nutritive qualities. Over 120 specific studies on sea buckthorn have shown that this little berry promotes health. From sea buckthorn's rare abundance of some of the most powerful antioxidants to being the only plant in the world known to contain essential fatty acids 3, 6, 7 and 9 - sea buckthorn has earned its title of super fruit.
As a mama to two kids, I need some pampering and I need to take really good care of myself. Because for me, if I can take good care and pamper myself, then I can be of a better mama to my kids. With the SIBU products I got, I am able to take care of my skin and my body. Thank you, SIBU Beauty!
All in all, I love all the four products I got from SIBU Beauty. From the facial cleanser, to serum, to the seed oil and down to cellular support. Now I am interested in trying out their other products. Maybe the night cream, eye cream and the body bar would be wonderful to try. Take note though. The products may have worked well for me, but because we all are different, the products may or may not work for you. It's just a matter of finding that right product for us, but SIBU is worth the try. To check out the rest of SIBU products, visit the website at
http://www.sibubeauty.com/
.
Follow on Facebook:
https://www.facebook.com/adin.blankenship.3#!/sibubeauty?fref=ts
Follow on Twitter:
https://twitter.com/Sibu_Beauty
Follow on Pinterest:
http://www.pinterest.com/sibubeauty/