To pluck or to shave? It's the question I used to ask myself when growing up and wanted to landscape my not-so-blessed-with-perfect-arched-brows. You would think men are the only ones that shave or groom themselves, but we women do have a lot of things to take care of when it comes to beauty.
I mentioned this before, but when I started to take notice or take conscious of how ugly my brows were, I was in my third year high school. I remember I asked my friend to shape it for me by shaving. I was really nervous and afraid that it might get too thin and I would look like a cartoon character or something. Sure enough it got too thin and when I got back home for the weekend, my mom and dad was so surprised and was not happy about it. Since then, I started to grow my brows back and would use the tweezers to shape it and pluck the ones that have grown wild.
The only hassle about plucking though is when you use the wrong tweezers. You actually have to find the right tweezers for it. Sounds kind of silly, but it is true. For me, the tweezers have to be easy to handle or to grip, it has to be sharp and pointy on the ends (so I can really get a hold of that wild hair), and it has to be slanted to contour your brow when shaping it. I don't know if I make sense or if you get my point, but if you pluck your brows a lot, you know what I mean.
Luckily, I received a package from SLICE after they approved me to review their products. In the mail I got two lovely items, one is the Cosmetic Sharpener and the Slanted Tweezers. To be honest, I was really excited about using the tweezers and it did not disappoint. I love how easy it is to use when maintaining my brows. The shape and the way they designed the tweezers works really well and not to mention the color is beautiful.
I am throwing away my other tweezers because this is the only tweezers I am ever going to need. I carry it with me in my beauty bag so I have it everywhere and every time I need it. You have to find it out for yourself to really know what I am talking about. You should try and get one for yourself or as a perfect gift for this holiday season! And while you are there, make sure to browse around and see more of the SLICE's chic and stylish products.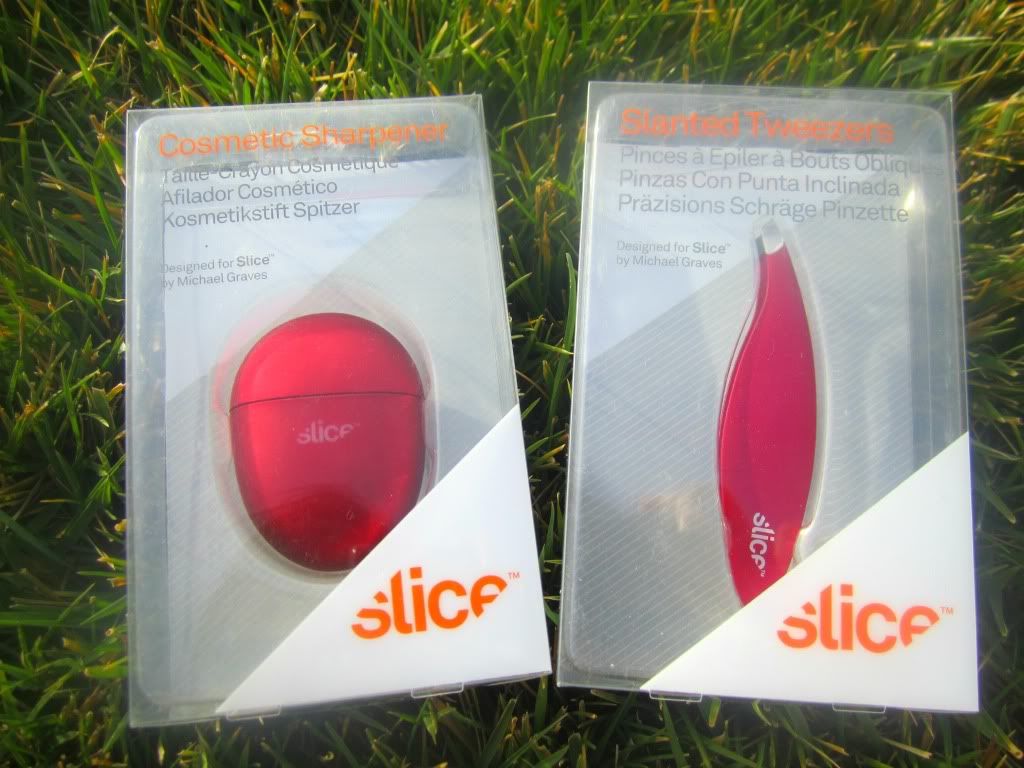 Here are the features about the SLICE Slanted Tweezers.
What do you get when you combine the design skills of famed architect Michael Graves, two years of testing and development, and collaboration with top beauty professionals, stylists and estheticians? The result is a tweezer experience like you've never had before. Perfectly aligned, hand-filed combination pointed + slanted tips plus a wide, comfortable grip for expert precision, every time. Also available in 100% stainless steel. Designed for Slice by Michael Graves. SKU#10457.
- Combination slanted + pointed tips
- Hand-filed and perfectly aligned
- Ideal for brow and general precision tweezing
- Great for coarse hair and short stubs
- Professional grade stainless steel
- Soft-touch red rubberized finish
- Wide comfort grip
- For home or salon
- Autoc
lave-friendly and 100% sanitizable
The other item I got from SLICE is this cute Cosmetic Sharpener that sharpens your eyebrow pencil really well. It is sharp, it contains all the shavings in this oval-shaped compartment, and it comes apart for easy cleaning. I love that it is small and lightweight that it doesn't take up a lot of space in my bag so I can carry it with me all the time. A girl has got to be ready all the time.
Here are the features of the SLICE Cosmetic Sharpener.
Treat your high-end cosmetic pencils with tender-loving care. Dual German blades sharpen 8mm to 12mm cosmetic pencils and crayons. Compact design catches shavings and houses a handy cleaning-pick. Soft-touch rubberized finish is easy and comfortable to hold. Designed for Slice by Michael Graves. SKU#10430.
- Sharpens thin to thick pencils : 8/10/12 mm
- Removable adapter ring for cosmetic crayons
- Built-in blade-cleaning pick
- Catches shavings
- Dual German stainless steel blades
- Soft-touch rubberized finish
- Compact design
All in all, I am happy and satisfied with the two SLICE products I got. It is designed and built to work well and to last to help us women stay beautiful.
And one important thing to know. When you buy any SLICE products, they donate 1% of their corporate worldwide sales to various autism research programs that have global ramifications for families and individuals that live with autism on a daily basis. Not only you are helping yourselves, but you are helping others as well. To check out the rest of the collection, visit the website at
http://www.sliceproducts.com/
.
Follow SLICE on Facebook:
http://www.facebook.com/SliceInc
Follow on Twitter:
https://twitter.com/slicetweet