I think I was more excited when I found out that Kickboard USA agreed to work with me by sending me a new Mini-Micro Scooter for free for a product review. When I showed my little boy a photo of the Mini Red scooter, he asked me if I could buy him one for his birthday this August. When he found out that he was actually going to get one before his birthday, he was so happy and excited. Thank you so much, Kickboard USA! You made one young man's wish come true. I know it has taken me so long to post this review, but life has gotten so busy lately for our family. We took a trip to Wyoming last month (we took the scooter with us), then my oldie laptop gave up on me and until now I still don't have a new one. I am just glad I got to borrow my husband's laptop for tonight. Anyway, onward to my review.
The Mini-Micro Scooter is so easy to install. All it took was to attach the handle bar part of the scooter onto the board and when you hear it snap, the scooter is good to go. I made sure to check up on some loose screws and what not, and my little man was one happy scooting boy. Installing the scooter didn't really break up a sweat. I was so impressed at how easy it was to put together. I also thought that it would come in such a huge box, but it didn't. The Kickboard USA Mini-Micro scooter is nothing too heavy nor too light, but just enough weight that can also support a kid's weight.
Product Features:
- The Red Mini Kick is the quality scooter for young children. Its unique 'lean-and-steer' design allows children to direct the scooter by using their body weight to curve from side to side. This design puts the rider in control as they enjoy the feeling of 'surfing the sidewalks'!
- The Mini kickboard is constructed with 3 wheels for greater stability and control, allowing children to ride with confidence. The polyurethane wheels also create a wonderfully smooth glide — and a quiet ride (a joy for both parents and children!) The rear 'spoon' brake provides additional control for the rider.
- The Mini kickboard is low-to-the-ground and large enough for two feet, making it easy for riders to hop on and off or to switch from pushing to simply enjoying the ride. Its light weight makes it easy for parents or kids to pick up and carry when necessary.
- The Red Mini kick scooter makes scooting fun for young children as well as helping to develop their balance, coordination and motor skills.


"All products manufactured with the highest standard of quality control at an ISO-certified manufacturing plant in China. Our products meet all of the worldwide quality standards including EN, ANSI, and TUV. The factory is accredited with ISO 9002 international quality standard and has a professional tooling section, plastic injection shop and production facilities. Coupled with an extremely competent R&D team, the factory is always poised to produce the best and most innovative Micro/Kickboard products. source: Kickboard USA" source: Kickboard USA
We also took the scooter with us on our trip back to our old house the other week and I finally got to take a few photos of my son on board his new favorite ride. It was a beautiful day to be outside so I told him to gear up so he and I can spend time together while the husband was babysitting little sister. If only little sister had her own scooter, she would have gone with us as well. I sure would love to have one of those
Mini 3in1 scooters for my one year old girl. She would have a blast riding on it.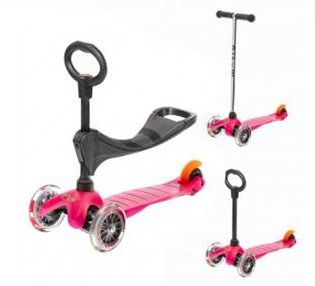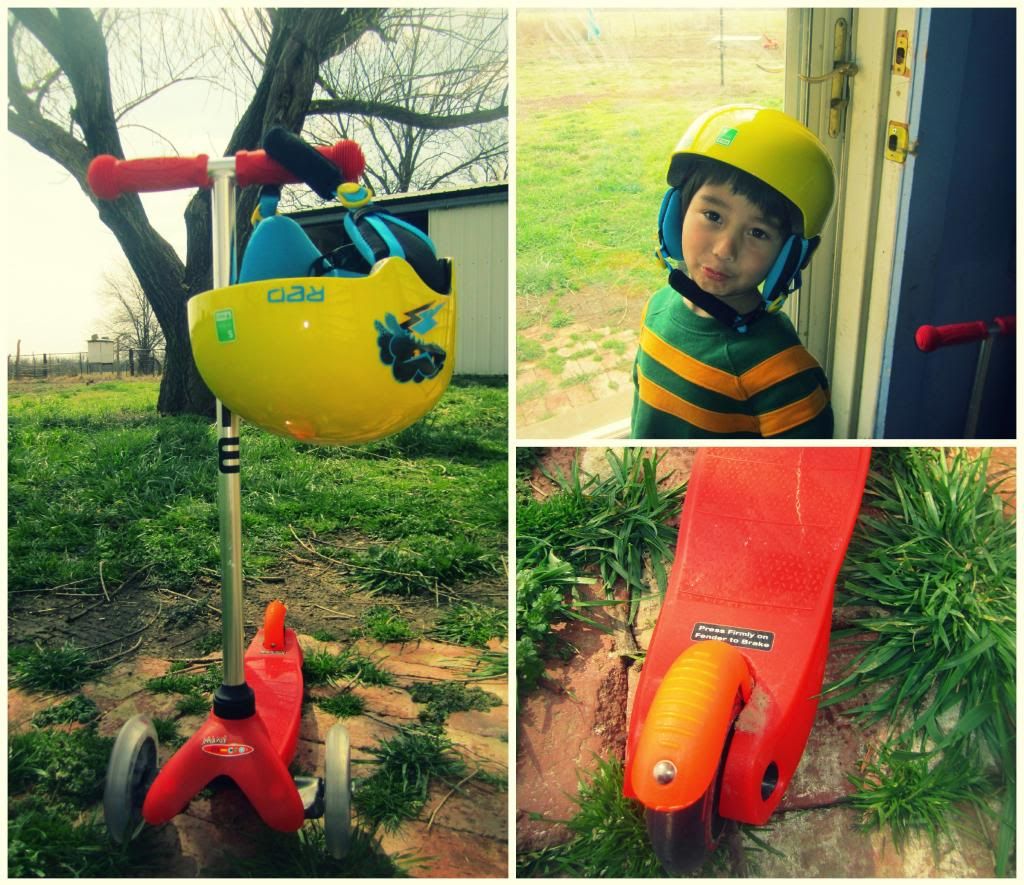 Judging by how many times he cruises by me on that thing in our duplex, it is safe to say that my little man Harley loves his new scooter. He has been wanting one for a long time and now he finally has a scooter. We have seen a few kids on their scooters around the area lately as well so whenever we get to go to the park, Harley doesn't feel left out. And because he loves the scooter so much, he already learned a few tricks and last month he already had scraped knees. Part of the learning process just as long as he is not seriously injured. Since taking the video below, he has already learned a few more.
Kickboard USA offers a wide variety of scooters for different age groups from one (1) year old to Teens & Up. I mean, adults can even ride their scooters and not just the little ones anymore. They even have a Micro Luggage scooter available for people who are always on-the-go (or I should say on-the-fly) and perfect for taking with you to the airport. How amazing ! To know more about Kickboard USA and their awesome scooters, visit the website at
http://www.microkickboard.com/
.
Like Kickboard USA on
Facebook:
https://www.facebook.com/microkickboard
Follow on
Twitter:
https://twitter.com/kickboardusa