Today I wanted to take a short break from sharing with you some products that can help us get ready for the summer, get in shape, be healthy, fit and strong. I want to share with you today a type of product that can help us with cleaning. We all know that part of living a healthy lifestyle is also having a clean home. Although, sometimes cleaning the house can be a daunting task especially if you have little ones living under the same roof. And you know how they can be messy. Same thing with cleaning our bathroom or shower room. It can be a daunting task having to scrub and wipe those built up soap scum, grime, oil, mold, and mildew stains. Gross! But how about if I tell you that you don't have to do any kind of scrubbing and wiping anymore while cleaning your shower? Sounds too good to be true, right? Oh it is so true! I happened to receive a 64 oz of Wet & Forget Shower Cleaner that was sent to me for free for a review, and I couldn't be more excited about it. I wanted to see if this product is really worth the hype and it didn't disappoint.
When I read that you don't have to do any scrubbing, I said sign me up! I am glad the company agreed to send me a sample of their product to test out and so far I am loving it. I have been very sensitive to strong chemicals lately and to know that this shower cleaner is made of non-aggressive ingredients, and has a gentle vanilla scent to it, I was really happy. It is really easy to use, all you have to do is attach the sprayer and spray away. I use the Wet & Forget Shower Sprayer once a week, then I just rinse it off once your shower is clean. Sometimes I even forget about rinsing it off until I shower. I have been using this product for a month now and still impressed at how well it works. You can watch the video on their website to learn more about Wet & Forget and how much money do you really save by choosing this product against any other products. Scroll down to read the product features.
Before trying the Wet & Forget Cleaner, I used one of those daily shower cleaner, and that takes up a lot of time. I am a stay-at-home mom to two kids and you know how they can be very demanding at times when you are very busy working with something. With this product, it makes it a lot easier to clean up the shower and I have more time with my kids.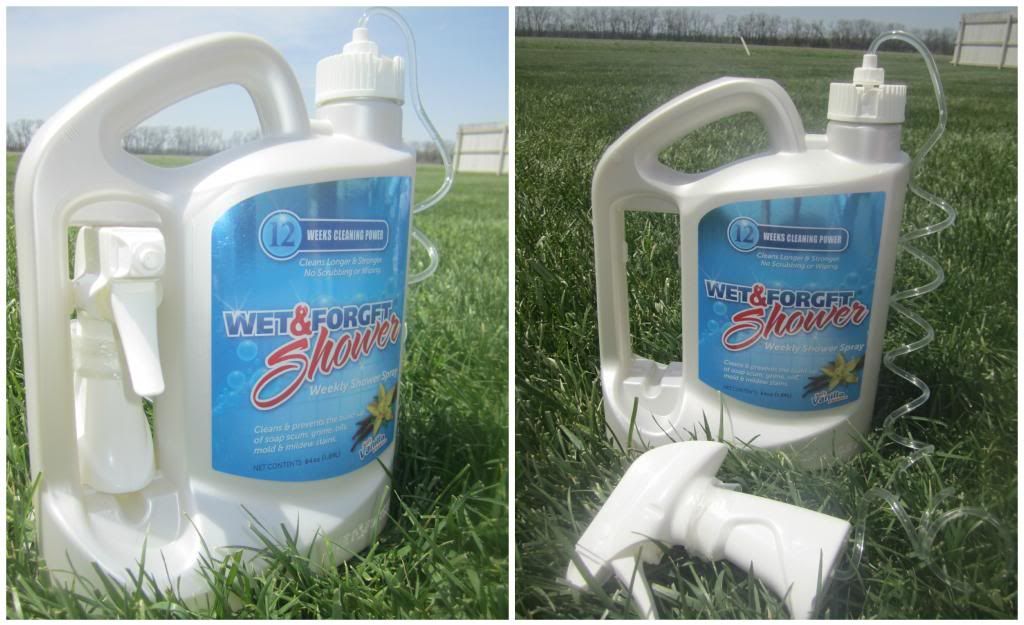 Clean & easy, vanilla breezy.
Wet & Forget Shower no-scrub weekly shower spray takes the work out of cleaning your shower. Simply spray Wet & Forget Shower once a week to clean and prevent the build-up of soap scum, grime, oils, mold & mildew stains. No more scrubbing, no more having to spray every day like with other spray-on shower cleaners, and no more harsh chemical odors. After you spray Wet & Forget Shower, instead of an eye-stinging cloud of bleach or ammonia odors, you will be left with a sparkling clean shower and a bathroom that smells like it's just been kissed by a soothing vanilla breeze.
+ Easy, once-a-week application.
+ No scrubbing or wiping
.
+ High efficiency sprayer.
+ 12 weeks cleaning power in one bottle.
+ Soft Vanilla essence.
+ No bleach, ammonia, dyes or irritating fumes.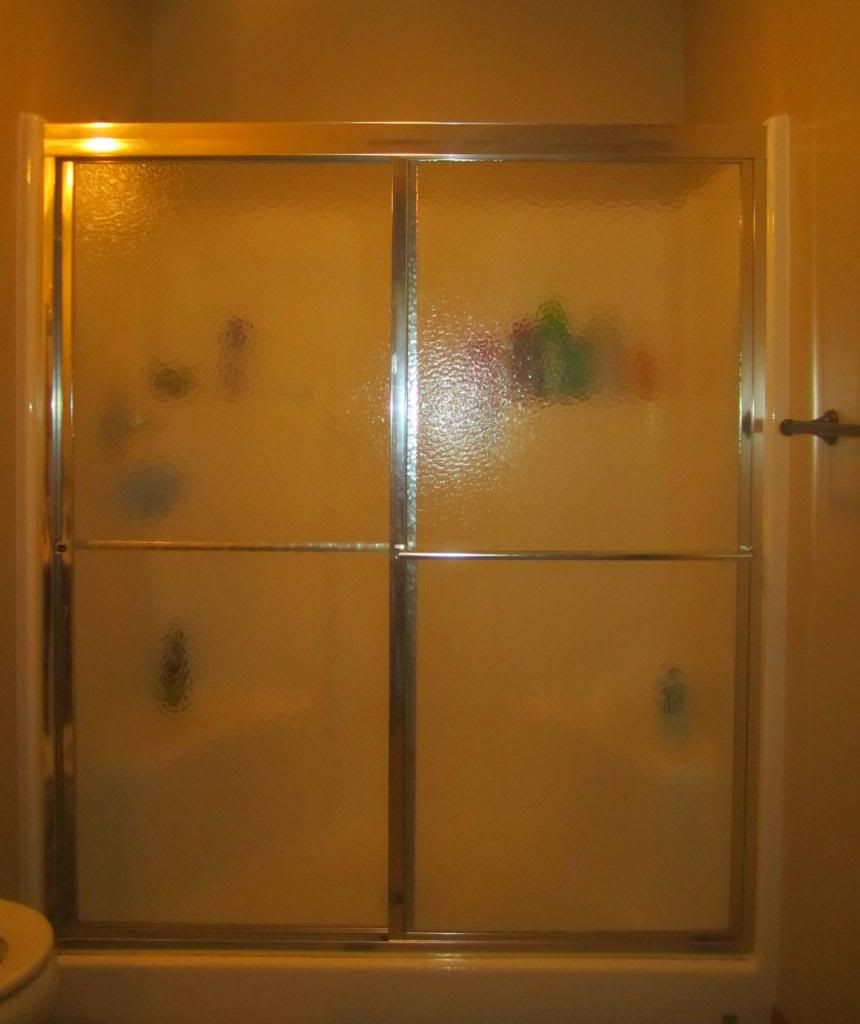 I purposely didn't clean up our shower (gross) so I could show you a before and after photo. As you can see, while I was spraying the sliding glass doors and the walls, it dripped down all over to the floor. The part that got in contact with the Wet & Forget Product turned while and clean. I didn't even have to scrub it or wipe it off. Amazing!
"Wet & Forget Shower takes the hard work out of cleaning. No scrubbing or wiping needed—just spray on fixtures, shower curtains, enclosures, shower glass, tiles and tubs, once a week, after the last shower of the day. The next day, simply rinse the surfaces before or during your shower.

Wet & Forget Shower's remote trigger sprayer makes your job even easier. Each squeeze of the trigger releases 65% more product than the average sprayer, and gets you out of the bathroom and back to your life faster than those weekly sprayers. Our remote sprayer allows you to get those hard-to-reach spots, and even sprays upside-down."

My first spray and didn't have to scrub it. I just rinsed it off. I use the spray once a week according to the direction and it will last up to 12 weeks in that 64 ounce bottle. Unbelievable! Not only does it make your shower cleaner a lot easier and faster, it saves you some money as well.
Like on Facebook:
https://www.facebook.com/WetandForget
Follow on Twitter:
http://twitter.com/wetandforget
Follow on Pinterest:
http://pinterest.com/wetandforget