Have you ever heard of Karma Wellness Water before? It is a type of a Vitamin Infused beverage that not only is good for us adults, but is also safe for kids to drink. Safe because Karma Wellness Water is sweetened naturally by the use of Stevia and Pure Cane Sugar. And it is infused with seven (7) essential vitamins that our body needs unlike any other vitamin infused drinks. But what makes it so different from any other products? It says that vitamins deteriorate in water, causing pre-mixed vitamin drink to lose strength over time. But with the Karma's product, the vitamins and nutrients are stored in a patented Karma cap, until you release them assuring maximum potency and maximum freshness. Plus, each bottle only have 20 calories.
I don't give my kids any types of sodas not even store bought juice so they only know about drinking water. But when it comes to Karma, honestly, I don't worry about them drinking this type of beverage. In fact, my little girl loves this drink. She would open the refrigerator door and grabs herself a bottle of Karma Wellness Water and drink away. My boy on the other hand, he only knows about drinking water and that's the only thing he wants to drink. If it doesn't look like water, he won't take it. And that is good! The next time we are out for a grocery shopping, I am going to get more of these products.
Both me and my husband agreed that the Karma Wellness Water tastes really good and refreshing. Even minutes after opening the bottle and infusing all the vitamins and nutrients in the water, no doubt you can still taste it. I would say that this product is a best
substitute for those people who want to switch from drinking unhealthy flavored beverage into something filled with nothing but wonderful things that's good for our body, mind, soul, balance and vitality. The water itself you can tell it is crisp and clean and it comes from fresh springs in Vermont.
Karma is available in five varieties that have been meticulously formulated to deliver their own distinct wellness benefits through a precise combination of vitamins and nutrients. With Karma, there is always a good choice. Ultimately, we hope that you'll try them all!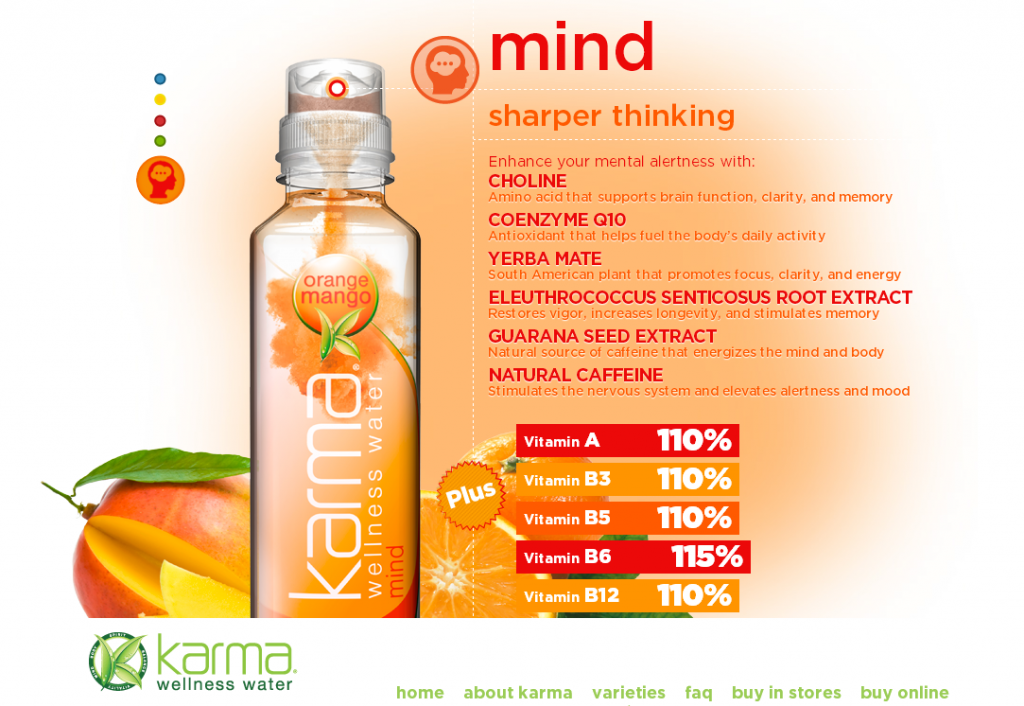 (If I had to choose one drink, Orange Mango would be my flavor, but no doubt I do like them all.)
"Balance"

(Acai Pomberry) is an immunity booster, providing 1,000 mg of vitamin C (which is 1,667 percent of your recommended daily dose), as well as zinc, berry extracts, and tea polyphenols. Combined with other ingredients, this formula serves to enhance the immune system and promote overall health and well-being.

"Body"

(Raspberry Guava Jackfruit) includes a fitness accelerator, offering sodium and potassium, as well as chondroitin sulfate, calcium, and vitamin D. This mix works to replenish essential electrolytes, combat the risk of osteoarthritis, and maintain healthy bones.

"Spirit"

(Passionfruit Green Tea) )is a mood elevator that contains ginseng and L-theanine. These ingredients and others help you to recover from stress and encourage relaxation.

"Mind"

(Orange Mango) is specially formulated for mental alertness, providing yerba mate, choline, and coenzyme Q10. Choline and yerba mate support clarity and stimulate focus, while coenzyme Q10 is an antioxidant that helps fuel the body's daily activity.

"Vitality"

(Pineapple Coconut) offers healthy hydration, with ingredients that include trans-resveratrol, magnesium, and potassium—all of which have biological, physiological, and anti-aging effects. Other natural ingredients such as green tea, ribose, and maca abstract impact alertness and replenish energy.
And, don't forget: every bottle of Karma contains 110 percent (or more) of the recommended daily allowance of seven essential vitamins, including vitamins A, B3-Niacin, B5-Pantothenic Acid, B6, B12, Niacin, D, and E.
Patented Karma Cap where all the vitamins and nutrients are stored. By pressing the cap down, it releases it therefore infusing the water with all the good things our body needs.
Product Description
Karma Wellness Water is a truly enlightened product, born out of the idea that what goes around comes around. A product based on the simple belief that if you do something positive—for others, or for yourself—you'll get something positive back in return. When you think about it, it just makes sense: make good choices, and you'll see and feel the benefits. Like choosing a drink that transforms pristine spring water into wellness water, creating positive effects for your mind, body, spirit, balance, and vitality.


Product Details:
Brand: Karma Culture
Published on: 2012-03-12
Number of items: 1

Features:
Three to six times the active ingredients of competing brands.


110% (or more) of the recommended daily allowance of seven essential vitamins: A, B3-Niacin, B5, B6, B12, D, and E.


A variety of superfruits, antioxidants, and nutraceuticals gathered from around the globe.


Powerful and natural ingredients including everything from Acai Extract, Yerba Mate and Siberian Ginseng, to Zinc, Glucosamine, and Green Tea
Vitamins and nutrients delivered at maximum potency and peak freshness thanks to our patented, one-of-a-kind KarmaCap
The Verdict:
PROS:


Would I buy and drink the Karma Wellness Water again?
- Absolutely! I have to find what store around our area I can buy their products and I want some.
Does the Karma Wellness Water really retain the potency and freshness of the drink?
- Yes it does. Because of the patented cap of the Karma bottle, the vitamins and nutrients are not yet infused with the water until you are ready to drink it. I love drinking Karma nice and cold. Refreshing!
The suggested retail price for an 18-ounce Karma ranges from $2.39 to $2.89. Is it worth it?
- Well, considering the health benefits you get from drinking Karma Wellness Water, it is worth than buying a can of soda. Don't you agree? Not only Karma is a Vitamin-Infused drink, it also tastes good and refreshing. At the end of the day, you will feel better and not groggy. What a fun healthy way to hydrate yourself. Yes, it is worth it.
- I have heard some people who don't like to drink water because it is plain and boring. Well, I don't hate water and I absolutely love drinking water. Thank goodness we have water! But, if you are someone who just doesn't want to drink plain water all the time, this is the best way to infuse your drink without adding those nasty flavors that can potentially harm your body. Yes, you may be able to save some money buying other products, but consider what it can do to you in the long run.
- Karma Wellness Water is wonderful for people who are on a specific Lactose-Free and Gluten-Free Diet.
CONS:
- There was one bottle that I had problem opening. When I tried pushing the lids after peeling the top off, the vitamins that are stored in the cap did not come out. I tried getting it all out and very little amount of vitamins came out. I tried shaking the bottle thinking I could mix it all up, but didn't work. You know what I did? I ended up cutting a hole in the pump (which was messy) to get the vitamins out. With that said, I wasn't able to mix up all the vitamins that were in a cap and it affected the flavor of the drink, which was not as sweet. Other than that bit of a problem with the bottle, I still love it.
Note: The wonderful people of the Karma Wellness Water company learned about the problem with the bottle that I mentioned above and the lady that I have been in contact with explained to me about the issue.
Karma Wellness Water was launched only one year ago, and since then they have made some corrections in the design of their bottles. Their newest caps are now much easier to peel and push so hopefully there won't be any issue with that. If you have any questions or would like to find out where to purchase their product, the Karma Crew is ready to help. You can contact them at info@drinkkarma.com.
Also, she mentioned that because it's been only been a year ago since Karma was launched, Karma Wellness Water is not available in Kansas for now.
For more update:
Follow Karma on Facebook:
https://www.facebook.com/drinkkarma
Follow on Twitter:
https://twitter.com/drinkkarma