When I first learned about Hello Company, I was interested in trying out their products because I always look forward to trying out new things. The things that really made me interested are the fact that their products are made of 99% natural ingredients and made in the USA. Hello is a brand of seriously friendly Oral care products, which their line currently includes natural toothpaste, mouthwashes, breath spray and a toothbrush that is made with biodegradable corn resin with recycled plastic. If that doesn't interest you in trying out their products, I don't know what. But I sure was and I am glad that they agreed to work with me for a review and they sent me a few items from their line.
These are the following items I got from Hello.
- Sweet Cinnamon Mouthwash
- Pink Grapefruit Mint Toothpaste
- Toothbrush
- Super mint Breath Spray
- Flash Drive (Cute)
Things to know about Hello:
YES
99% Natural
Freshens
Delicious
Improves Dates
NO
Alcohol Artificial colors
Harsh chemicals
Ouch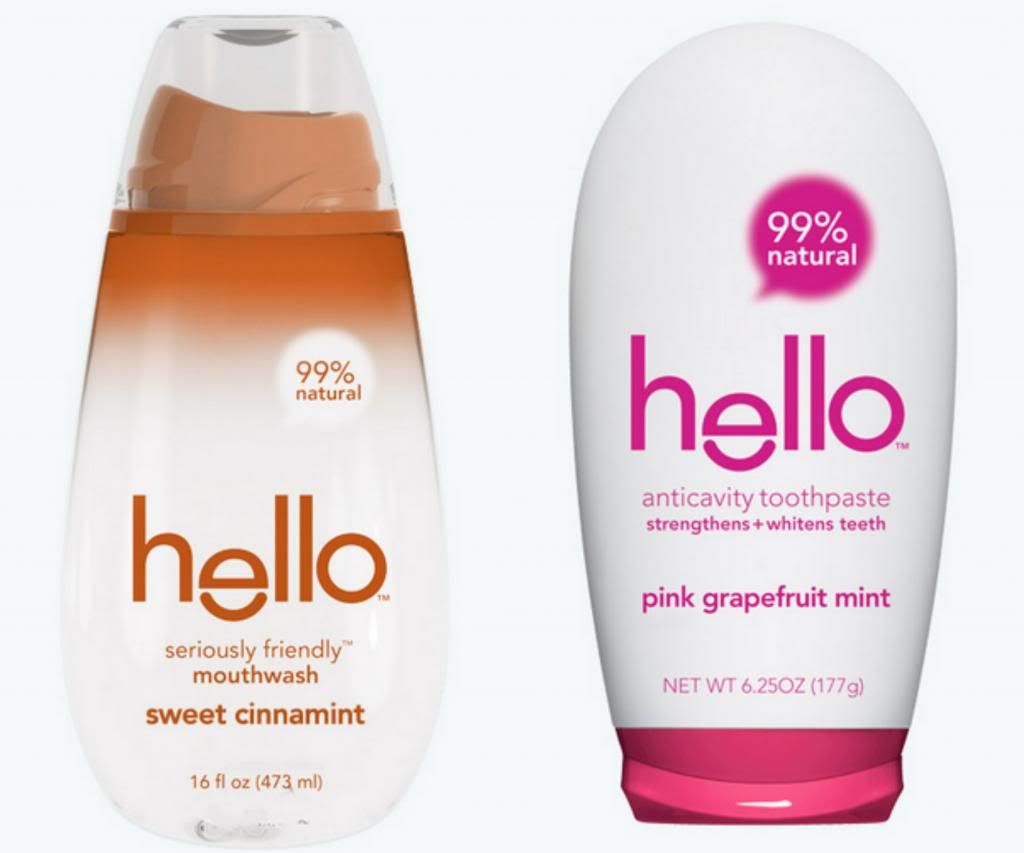 HELLO Mouthwash
- Hello's mouthwash cleans and refreshes without stinging. And it tastes so incredible, you won't want to spit it out. Another friendly difference? You won't want to hide it under your sink.
Directions: Rinse + Greet Freely
HELLO Toothpaste
- Our anti-cavity flouride toothpaste strengthens and whitens teeth, and reduces tartar build up. What you'll probably notice is that it tastes incredible, and the package looks beautiful from start to finish.
Directions: Brush + Greet Freely.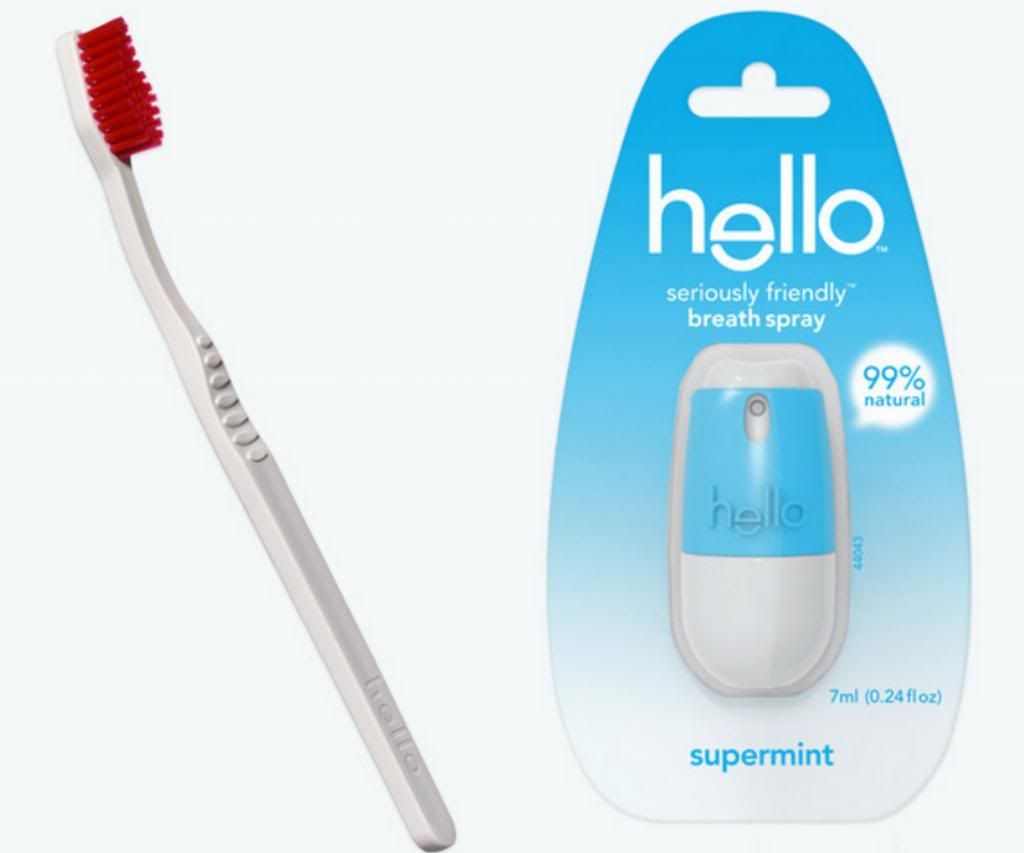 HELLO Toothbrush
- Hello toothbrushes are made with biodegradable corn resin and recycled consumer plastic, because that's friendly for the environment.
Directions: Brush + Gree Freely.
HELLO Breath Spray
- With Hello's breath spray you can get the perfect dose of freshness when you're out and about. No alcohol, no ouch, and no worries.
Directions: Spray + Greet Freely.
Our Review:
Before I go on with our own product review, I just want to share a little story about one of the products we got from Hello. When we got it in the mail, we were so excited to try it out so my husband opened up the box and grabbed the Sweet Cinnamint Mouthwash first. He puts it back in the box and to my mistake, I put the box up on top of the ladder because I was working in the house painting our walls at that time. My little girl found the box and accidentally dropped it on the floor and spilled the Sweet Cinnamint all over the floor and my kids' toys. I managed to saved up enough that I was able to try their mouthwash. I was so sad, but glad at the same time that my husband and I got to try it. Now on to our review.
- When we first saw the products, we thought they were pretty neat looking. The design and the color of their packaging is pretty fancy like fashionable looking oral care products. And then we thought, does it really work?
- When my husband first tried the mouthwash, he instantly loved it. He said it feels cool, refreshing, it tastes good, and it works. For me, I love it. I said this to my husband when I first tried it, that the mouthwash tastes like candy. It was sweet because Hello uses natural sweeteners like Xylitol and Stevia. I love the combination of sweet with cinnamon, then the mint gives your mouth that fresh and cool feeling. You can really taste and feel the difference when you use the Hello mouthwash.
- The thing about Hello mouthwash is that it has no alcohol unlike other mouthwashes on the market. You would probably question if the product really works or not because it has no alcohol, right? But it does work. The thing that I don't like about other mouthwashes that do have alcohol is that it burns and stings. It tends to dry out my mouth and limits the flow of saliva. Not a good feeling. And I also learned that saliva is designed to wash away the bacteria that causes bad breath. And if we limit the flow of saliva in our mouth, then that doesn't good. We are very impressed with the product and we hope you are too.
- The only thing I would suggest about the mouthwash packaging is their cap. I mean I wish it would have been tightly sealed and also something portable where you can store it in your luggage and take with you on a trip without worrying about leakage. You can't really seal it tight, but I love the design of the bottle though. It makes you want to display in the bathroom and not hide it in the cabinet.
- For the toothpaste, we also love it. My little man loves it too. Yes, it is safe for kids because is made from natural ingredients; no artificial colors, no artificial sweeteners, dyes and it is alcohol-free. I make sure that he won't swallow it though, but he knows and he is pretty good at brushing his teeth on his own. You can feel your teeth and mouth clean after brushing.
Hello toothpaste has SLS or Sodium Laurel
Sulfate, which is a cleaning agent derive from coconut and palm oils. It's the stuff that makes Hello toothpaste foam just a touch.
- The breath spray is also of the same way. I love that you can carry the breath spray with you in your purse or in your pocket because it is small and you'll have something to freshen up your breath when the situation requires it. So refreshing and tastes good. I am telling you it tastes like candy.
- We really are very impressed by the Hello products that we got including the toothpaste, breath spray, the toothbrush and the flash drive. These are the items that we do use at home and we are glad we had the opportunity to try them. Would we buy it again? Yes, we would. I just have to find which store near us carries their products. It says they are available at Target and we love shopping there so I will be looking for Hello products.
- Thank you so much, Hello! We love your products and yes, we do recommend it to others. It is a must try! Hello products are available in four (4) different flavors like Super Mint, Mojito Mint, Sweet Cinnamint, and Pink Grapefruit Mint. Hope you will try them!
- Hello products are available at Walgreens, DuaneReade, and Target. Or check out Hello's website to find out where you can buy their products around your area. Go check out their website today at
http://hello-products.com/
.
Like Hello on Facebook:
https://www.facebook.com/HelloProducts
Follow on Pinterest:
http://pinterest.com/helloproducts/