As a mom to two kids, I am all about searching for products that can possibly make my mama life a bit easier especially when I am on the go. Just like when you are looking for high chairs because you do need it when you are out and about and high chairs are not available, but you don't want to lug around one that's heavy. I have had a few experiences before where we went out and certain restaurants ran out of high chairs and I have no safe place for me to strap my little kid in. I actually made my own fabric high chair before when I had my first child, but that didn't work so well.
I like the idea of a fabric highchair and I found this shop online that sells fabric travel highchair called My Little Seat, founded by a mom who has the love for fashion design and sewing. In fact, I like it so much that I asked the people from My Little Seat if I could do a little review of their product, and they sent me one. But before I go on, let's go to a quick product overview of the My Little Seat in Seaside Stripe that I got for my little girl.
History:
Stephanie Collins, at the time a mother of a 1 year old with another new addition soon expected.
Her love of fashion design and sewing took her overseas to London, England in 1998 where she achieved an honours degree in Women's wear in Fashion Design and Technology from the London Institute (University of the Arts London) in 2005.
Determined not to "go back to work" as a result of the love affair that comes with having a baby she set about finding something creative to do from home-preferably only during nap time.
Being new parents who travel quite often, and overwhelmed with all the additional baggage necessary while traveling with an infant, Stephanie and her husband would often secure their baby to a seat for meals with whatever was on hand (initially using a sarong while in a coffee shop at the airport). With inspiration from her grandmother who used to secure her children to adult chairs using towels, she made multiple trial versions of a compact, fabric, baby sling style harness that secures an infant to an adult chair - and after lots of trials and experimentation, mylittleseat was born!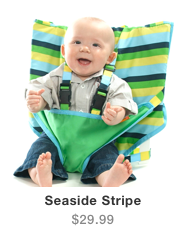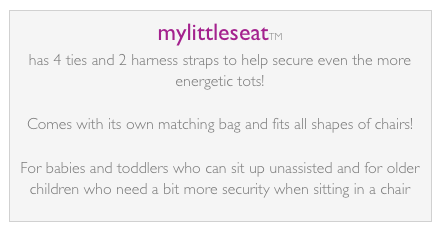 Watch the video below and learn how My Little Seat works.
My Own Review:
- The product is well-made, sturdy, and the material is of thicker durable quality.
- I love that it has four (4) ties and two (2) harness straps to really keep my kid secure especially she's an active little girl. It works!
- It has its own bag that is easy to store, with drawstring closure and it makes it easy to tote around while you are out and about. It doesn't take up a lot of space in your purse.
- It is nice because I can use it wherever and whenever I want to, not just in restaurants, but in any situation where highchair is needed.
- My little girl is 20 months old and it still works for her.
- Because it is fabric, I can wash it clean.
- My Little Seat comes in different colors and designs for both boys and girls.
- And the price is pretty reasonable compared to the other fabric travel high chair out there.
- Yes, I would recommend it to all the moms or expectant moms out there. This would be wonderful as a baby shower gift too!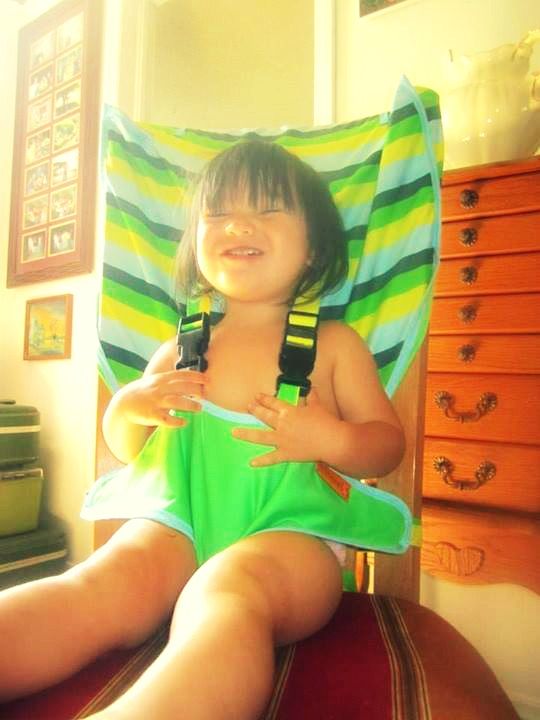 Don't forget to check out My Little Seat's website at
http://www.mylittleseat.com/
.
Thank you,
My Little Seat!
For more update:
Like me on Facebook:
https://www.facebook.com/mylittleseat
Follow on Twitter:
https://twitter.com/mylittleseat