Hey, Chetopian readers! Let's have another "indulge yourself" kind of moment, shall we? Only this time, I am talking about a Gluten-free, Nut-free, or Allergen-free ooey-gooey goodness kind of Brownies! Three months ago, I received a sample package from Namaste Foods to try out for a product review. These two items are the Brownie Mix and the Perfect Flour Blend along some coupons, a Namaste reusable Grocery Bag, and some Namaste recipe cards.
If you are someone who is in a special Gluten-free diet, Nut-free diet, Allergen-free diet, or just someone who is starting to live a Gluten-free life, then Namaste Foods is the product for you. Please, read below for a little introduction about the company. And do visit their website and learn about their history. It is amazing how necessity really is the mother of invention.
- We are a small (but growing!) manufacturer of fine foods that contain no wheat, gluten, corn, soy, potato, dairy, casein, peanuts or tree nuts. In business since 2000, we continue to strive to be the best at what we do so that you can enjoy all the foods you've known and loved all your life.
- It was in the fall of 1999 that a friend approached me desperate for help in creating good gluten free and allergen free foods for herself and her preschooler son. She was frustrated at the lack of good food available to them and he was sad that he couldn't eat food the 'normal' kids could eat. In my family, good food was essential – it brought friends and family together for the best of times and nurtured the soul. I couldn't imagine missing out on one of the best things in life – good food. While I was unfamiliar with Celiac Disease at that time, I knew I loved to cook and could never resist helping a friend. So, I rolled up my sleeves and went to work. This challenge was particularly perplexing as any creation must not only be free of gluten but also free of corn, soy, potato, dairy, casein, peanuts and tree nuts in order to meet my friends' dietary restrictions. No small task indeed!
What does "Namaste" means?
"The Spirit within me honors and respects the Spirit within you."
The word 'Spirit' in this context has no particular religious connotation. You could substitute the word 'Heart' or 'Soul' if you like. The essence of the phrase is simply that the best part of me wishes you well – in every way. In seeking to offer you delicious gluten and allergen-free foods, we nourish the body. In nourishing the body, we hope to help nourish the mind and the spirit so you can enjoy optimum health.
Brownie Mix
If you love chocolate, these brownies are for you! They are ooey, gooey fudgey and oh so delicious. Absolutely guaranteed to please even the pickiest of "wheat-eaters."
This product contains no wheat, gluten, soy, corn, potato, dairy, casein, peanuts or tree nuts. Non-GMO, all natural, no preservatives.
Directions
Just add eggs, water and oil.
Perfect Flour Blend
Information
This flour blend is well, just about perfect! Substitute one cup of our Perfect Flour Blend for one cup of wheat flour in your favorite everyday recipes. Now you can make grandma's famous banana cake gluten free and no one will know!! (Because no gluten free flour can mimic wheat flour exactly in every possible recipe, some more sophisticated recipes may yield less than perfect results.) If you would like to make bread, please see our recipes for Granny's Gluten Free Bread under the recipe tab. Other bread recipes may require experimentation.
This product contains no wheat, gluten, soy, corn, potato, dairy, casein, peanuts or tree nuts. Non-GMO, all natural, no preservatives.
The other day, I was thinking of what kind of dessert I can make for my little man to take to school for lunch and I thought of Namaste Foods Brownie Mix. It was early in the morning and I had to time for any complicated recipes or making something from scratch so I made some Namaste Gluten-free brownies by following the instruction on the packaging.
I would have added some applesauce or any pureed fruits or veggies had I have some available or the time to make, but I didn't. I also wanted to see it for myself how well the brownie mix turns out just by itself, although, I did use coconut water and olive oil in the recipe, then added the eggs and my brownies turned out delicious. I couldn't be happier that I made something quick and easy yet I know I am not giving my son any kind of junk food. Namaste's products contain all-natural ingredients that are good for our body. Even though my little man is not on a specific gluten-free or nut-free diet, I still feel comfortable feeding him these types of food. Why not? I'll definitely be buying some next time we are at the store.
Delicious brownies! Not too sweet, just the right amount of sweetness even though I used coconut water. Next time, I will try mixing applesauce or maybe even pureed beets, carrots or sweet potatoes. Hmmm.. sounds good already.
Namaste Foods also offer other types of products like Pasta, Coat Mixes, Pizza Crust Mix, Bread Mix, Sugar-free items and other gluten-free, nut-free, and allergen-free products. Don't forget to check out their website at
http://www.namastefoods.com/
. Thank you, Namaste Foods!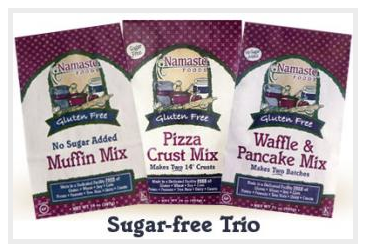 Or, if you want to win some Namaste Foods, today is your lucky day!
Because they are giving away a wonderful Namaste tote bag full of;
- One (1) Pasta Meal
- Baking Mix
- Coating Mix
- and more!
Refer to the photo below to see the sample of the Giveaway Bag that you may win if you are the lucky winner.
All you have to do is enter the Rafflecopter below.
This giveaway is open to US and Canada only.
Rafflecopter Code:
http://www.rafflecopter.com/rafl/share-code/ZTU5OGU2MjA5MGQ3YTk0MjQ5NWJjZDU3Y2MzNTNlOjIy/