It is no secret I like to cook and that I cook everyday. We rarely go out to eat, which is nice because not only we save money from dining out, but we know exactly who cooks the food. When you cook a lot like me, it is necessary to have things in your kitchen that can help your cooking experience easier. Example, when you are preparing your food, it is easier and faster when you chop fruits and vegetables with a sharp knife and not a dull one. And not just a sharp knife, but a great quality knife. For years I have been using the wrong knife for preparing food in the kitchen, which wasn't very pleasant at all. When I had the chance to try out some Ozeri Elite Chef Black Ceramic knives, I took the opportunity. Months ago, Ozeri agreed to work with me for a product review and sent me a set of Ozeri Elite Chef Black Ceramic 3-Piece Knife Set
for free. Now stay awhile and let's get to know the product well and see if it is working.
What is Ozeri?
Ozeri is a specialty manufacturer of digital lifestyle products for the modern home. Ozeri began as a supplier to the destination club market. This market spans vacation residences in the destination club industry, fractional residences, timeshares, and condo hotel apartments.
Ozeri products are found in vacation residences that span the globe, from majestic European estates, luxurious desert spa resorts, and private tropical resorts. Ozeri products are of a pedigree for ultra luxury markets we serve, were five-star residences are matched with the finest kitchen, bath, entertainment, and personal amenities. We incorporate award-winning designs, innovative materials, and durable construction for a long product satisfaction.
Ozeri is also and emerging brand in the consumer marketplace. Ozeri products are made available to the consumer through an efficient business model. Unlike competitive brands, with Ozeri products the final price borne by the consumer is not burdened by advertising, marketing and other traditional costs that support brand equity. The Ozeri brand is instead built on the relationships formed by touch-points that countless guests have with our products at vacation residences around the world.
Ozeri Elite Chef Black Ceramic 3-Piece Knife Set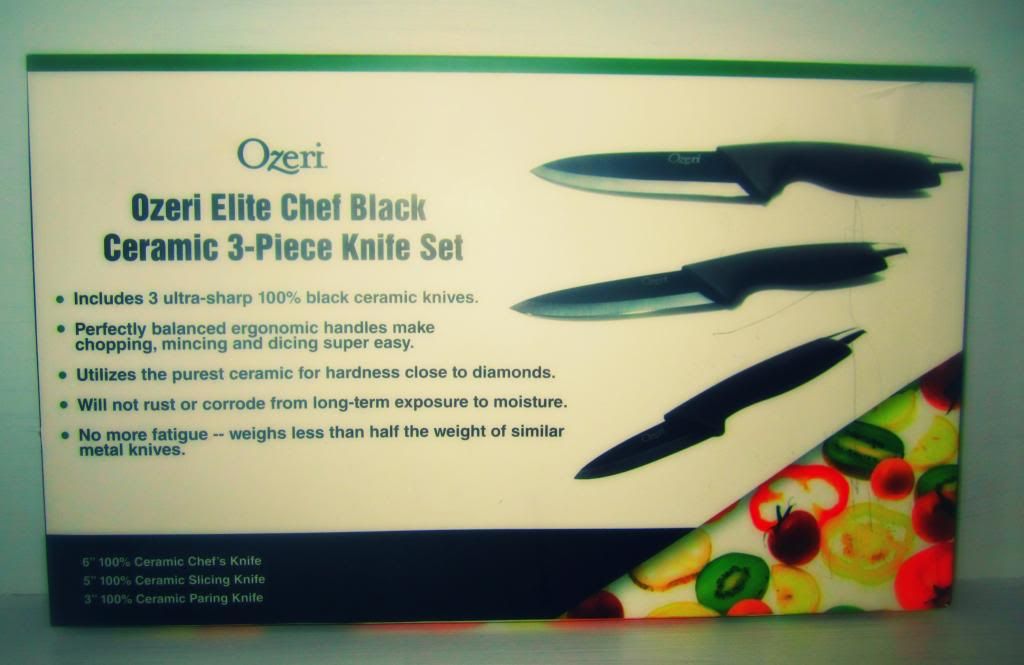 Where can you buy it? Click
Here
.
Product Features:
- Includes 3 Ultra-sharp 100% black ceramic knives.
- Perfectly balanced ergonomic handles make chopping, mincing and dicing super easy.
- Utilizes the purest ceramic for hardness close to diamonds.
- Will not rust of corrode from long-term exposure to moisture.
- No more fatigue-- weigh less than half the weight of similar metal knives.
- 6" 100% Ceramic Chef's Knife
- 5" 100% Ceramic Slicing Knife
- 3" 100% Ceramic Paring Knife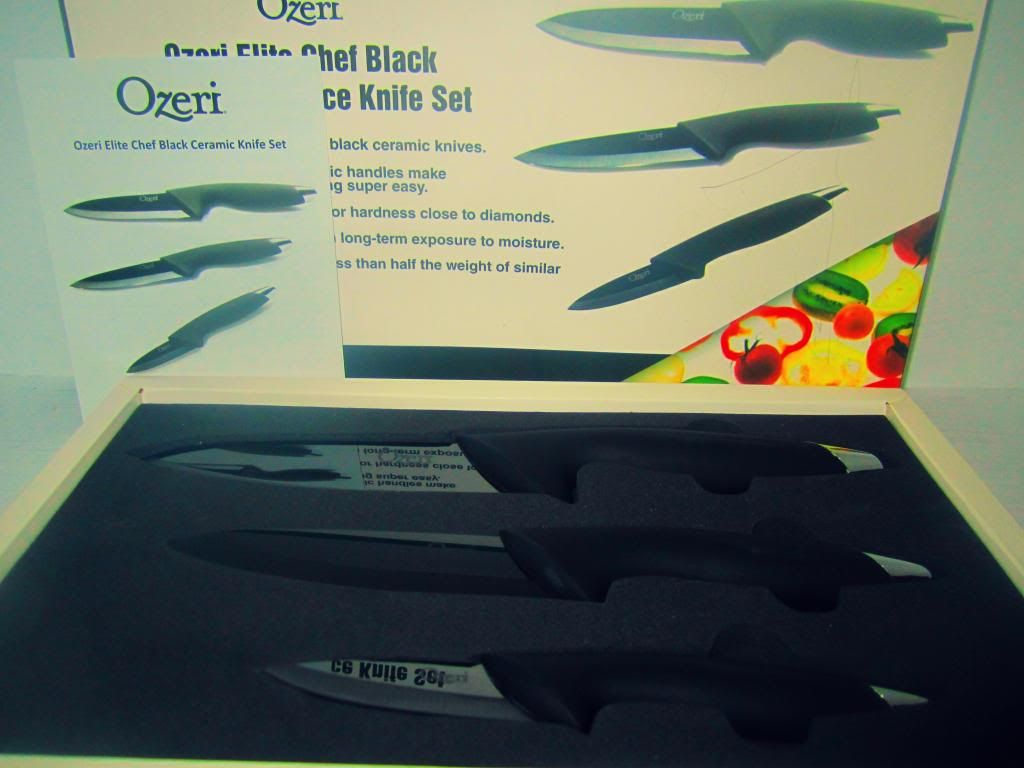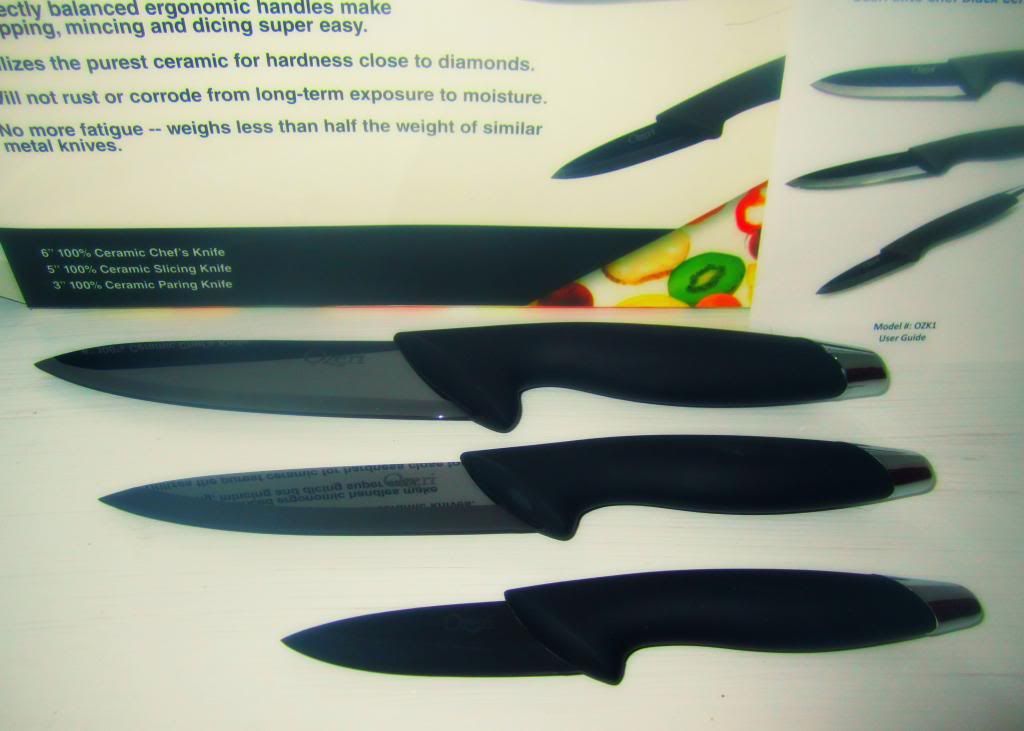 My Review:
- I like the packaging of the knives. It comes with its own owner's manual so you know how to better take care of your Ceramic Knives.
- I was amazed at how light the knives are because before I have been using a heavy knife and my arms get pretty tired from all the chopping whenever I work a lot in the kitchen. These were so easy to handle and it makes prepping faster.
- It is it really sharp? Oh yes, it is! I learned that you are more likely to cut yourself when using a dull knife, than when using a sharp one.
- The top part of the knife's handle has these little ridges for good grip.
- I have been needing a good paring knife for so long now and the Ceramic Knife-set I got has one.
- Another thing I love about these knives is that it is easy to wash. It doesn't have any rust or is corroded. I have been using these knives for a little over 5 months now and I am pleased with the product. These are honestly my favorite set of knives so far.
- My little issue with the other knife, is that sometimes when I am cutting up some of the vegetables that are a bit of a tougher to cut, I do wish to use a heavier knife because I feel like I am in control. I don't use the Ceramic for that job. These knives are good for chopping, mincing, dicing, and paring. It still does its job and it helps my food prepping much faster and easier.
- It also chips easily, which if you watch my video you can see my knife with a chip.
- Plus, you can't use the knife for whacking a clove of garlic because it can break. It is made of Ceramic and it is a little bit of a thinner side compare to my other heavy kitchen knife.
- For five months of using the Ozeri knives, I am a satisfied customer. Yes, I would recommend it to others who love to cook (or learning) and in need of great quality knives. Check out Ozeri!
Thank you, Ozeri! Visit their
website
today and check out their other luxurious Ozeri products.