Two weeks ago, my family received some complimentary products from Life Without Plastic for free in exchange for an honest review and opinion. The items we got are two (2) 3-Piece Stainless Steel dish set for my kids to enjoy.
As a mom, I am well aware of the issue about using plastic and what it can contribute to our health and environment. A few months ago, I made a decision that I am going to slowly replace all of our plastic products that are in our house. We are not 100% plastic free yet, but we are slowly getting there. One of the things that we don't do is not to use plastic when heating food or when storing warm food as we are afraid of chemicals leaching from plastic and into our food. Upon searching for some Eco-friendly kid products, I stumbled upon Life Without Plastic. I was interested in their products that I contacted the company, and I was lucky that they agreed to work with me for a product review. Thus, I chose the dish sets for my kids. I am not a perfect mom, but I love my kids so much, I always want the best for them.
If you haven't heard of Life Without Plastic and their products before, stick around and read more to learn about the company, their goal, and what I think about the products they sent me. If you are a mom or a dad who is concerned about the use of plastic, this might be for you.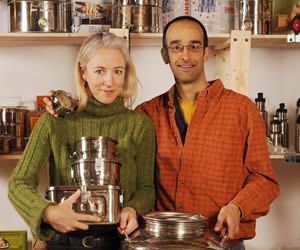 What is Life Without Plastic?
- We launched Life Without ("LWP") in 2006 after several years of daydreaming about how to make a contribution to reducing the large quantities of plastic that are consumed every second of every day around the world. We played with ideas for raising awareness about the issue. We wanted to address the environmental disaster that the consumption of plastic is causing, and the damage the leaching plastic can cause to human and animal health. We quickly realized that before we could effectively help people reduce their plastic consumption, we had to be able to point them toward non-plastic alternatives that could replace the plastic items currently used in day-to-day life. When Life Without Plastic was created, very few alternatives existed in the North American market especially for food and drink containers. Our son was born in 2003, and he was the catalyst. He made us look more actively for alternatives in North America and in other countries around the world. This is how Sanctus Mundo, our unique product brand, came into existence.
- There are now many alternatives to plastic products available thanks, for example, to the tremendous media attention on Bisphenol A over the past two years. Yet one thing we are noticing is that the quality of these alternatives varies signigicantly. There are some wonderful new products created with a real concern for quality, health, the environment, and worker condition. But there are other products out there that are unsafe and unethically manufactured. For example, not all stainless steel is created equal, and as with many things price is often an indicator of quality. Where a product is made can also provide clues about its quality, that is why we indicate the country of origin in the description of every single product we sell.
Their Goal and Mission:
- To continue to fulfill their goal of making available more and more high quality alternatives to plastic products, they are now able to begin focusing increased attention on an equally important element of their mission: raising awareness about plastics issues by providing solid science- and experience- based information and showing people, one person at a time, the beauty and simplicity of a life without plastic.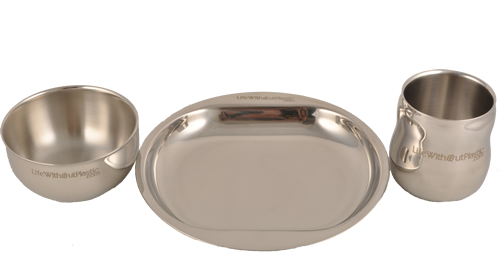 3-Piece Stainless Steel Dish Set
Children deserve the best. This dish set is it. It is made of the high quality food grade 18-8/304 stainless steel, and has been tested for lead in compliance with the U.S. Consumer Product Safety Improvement Act (2008) (CCPSA). The unbreakable set includes a good-sized plate with special flattened sides to make it easy for small hands to carry. There is also an insulated, double-walled bowl and tumbler to protect those same hands from hot foods and liquids. They keep warm things warm and cool things cool!
This plastic-free set comes in our own Eco-friendly cardboard box, and makes a stunning gift that will last for generations. Great also for camping and beach dining.
The set is not microwave safe, but it is dishwasher safe.
Shipping weight: 0.72 kg / 1.6 lbs
Dimensions:
- bowl - approx. 425 ml/ 14 oz; 11.5 cm / 4.5"
diameter; 6 cm / 2.5" height
- tumbler - approx. 350 ml 12 0z; 7.5 cm / 3"
diameter; 9 cm / 3.5" height
- plate - 21.6 cm / 8.5" diameter; 2.2 cm / 0.9" height
*** Please not that each item has the happy turtle Life Without Plastic Logo laser etched on the side.
A Life Without Plastic Product. Made in Thailand.
(Don't worry, the girl is safe. She doesn't want to sit in her high chair anymore so we better get her a new booster seat, then.)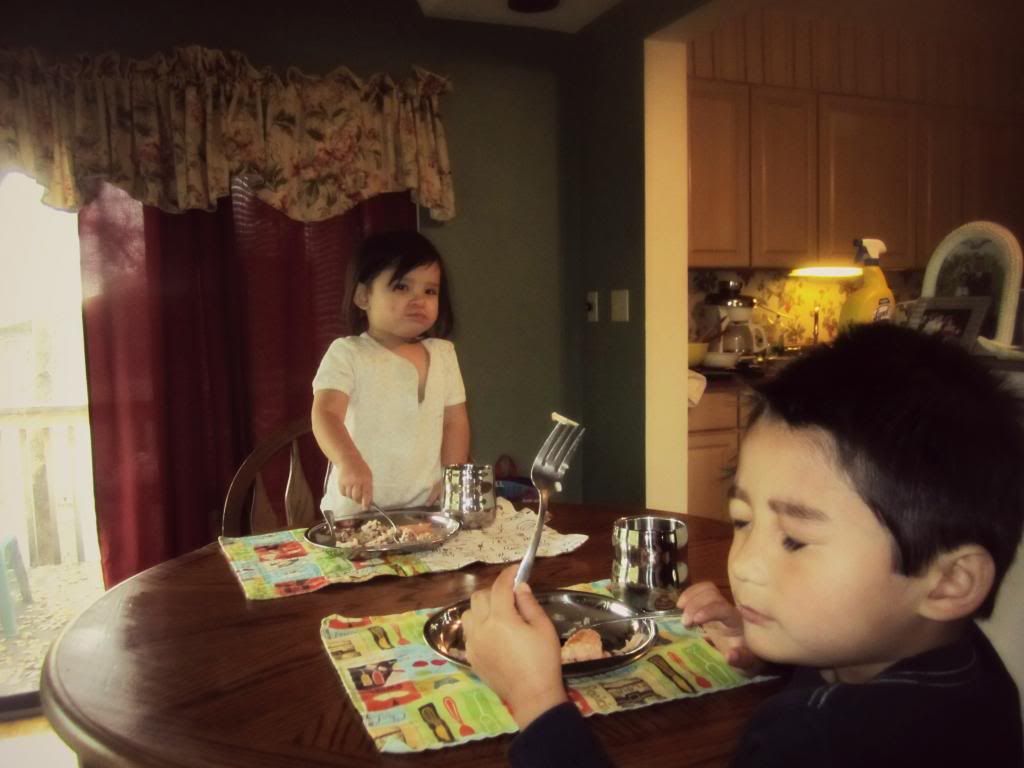 Our Review:
What We Like About It?
- The fact that they are stainless steel, safe to use, high quality, ethically made dish sets that honestly my kids love using. And I do too!
- I also love the insulated double-wall feature of the bowl and tumbler because it keeps my kids hands from possibly burning. Although you shouldn't even serve them piping hot food, but you get the point.
- I don't worry about the kids using the dishes and possibly drop it because it is unbreakable and won't hurt them.
- Easy to wash by hands and also dishwasher safe. Even with tough greases, the dishes are easy to clean and doesn't leave a funky smell.
- We like to go camping during the warmer months so these dishes are perfect to take with us. Yes, I can buy disposable plastic or paper dishes, but I don't want to spend money on that when I have this.
- We also love the design of the dishes because the name of the company and the happy turtle is etched on the dishes so no worries about painted name or the design from fading away. It has clean lines, simple, fancy looking, and functional.
- If you have noticed, some of the stainless steel products are of thinner and lighter side

(too thin and too light for some)

, but these dishes are not. They have a little bit of weight to them, but not too heavy, and kids can easily carry them around. They are not thin either. The tumblers does not tip over easily.
What We Are Not So Crazy About?
- The stainless steel tumbler is slick and my little girl has tiny hands so sometimes she has a hard time grasping on the tumblers, but so far she hasn't dropped it yet. Although it is designed to have that little groove for easy handling, it would be nice if it has a handle, too. They do have other stainless steel tumblers for kids with handles, but I am sure I am not the only one who also likes this style that has kids.
- That's it! I have nothing else to say because they are that great of a quality.
And oh, it is not microwavable safe, which isn't a big deal for us, but it might be for some.
Do I think Life Without Plastic dish sets are worth the buy?
- Absolutely! If I were to buy this with my own money, I would. Think about it, if you buy paper plates or the plastic plates for your kids, how much is that going to cost you? And think about health wise too! Sure, I can just use the dishes that we have at home that aren't plastic, but they are too big and heavy for kids and can break. Plus they deserve something special. These dishes are of high quality, durable and can last them for a long time. It is an investment piece that will grow with my kids and someday when they grow old and have their own family, they will be able to hand it down to their own kids, too.
For more information, check out Life Without Plastic's
website
today and learn more about their company and products. Hey! You might just find something you like that you want to buy your kids as a gift for Christmas! They have quite a selection of Kid Products from Bottles for Toddlers and Babies, Children's Accessories, Children's Lunchboxes, Children's Tableware to Fun Dishes For Children. Go check them out!
Like LWP on Facebook:
https://www.facebook.com/lifewithoutplastic
Follow on Twitter:
https://twitter.com/LifeWoutPlastic