This post is brought to you by Educational Toys Planet. The author maybe compensated, but the thoughts and opinion are 100% mine.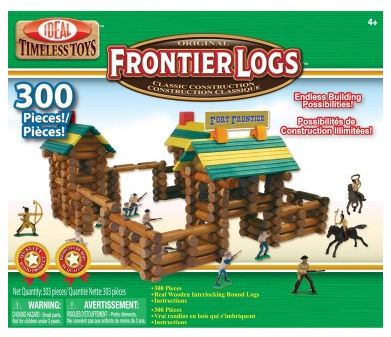 The Christmas season is coming soon and the mama in me cannot help, but to window shop for educational building toys that I would like to buy for my kids this Christmas. One site that I always love to go is the Educational Toys Planet because they have a huge selection of Educational toys that kids would absolutely love to have. We always thought of getting our kids some Building Toys because it is great for their imagination and for the little kids, it boosts hand and eye coordination. As I browse around their website, I see tons of fun building toys that would be wonderful to have, but there is one particular thing I would love to get. It is
the
Frontier Logs with 300 Wooden pieces

,
a classic construction piece
that I know my kids will enjoy it for hours. My husband had one when he was a little kid and he enjoyed that a lot so it would be nice for our kids to have that same kind of toy. No batteries required and no assembly required. Just your creativity and imagination and hours of fun building logs.
On
Educational Toys Planet
website, they have tons of toys that are under the Building Toys category like Constructions Kits, Marble Runs, Gears Toys, Model Toys, Building Blocks, Architectural Toys, to Building Toys Bestsellers. They have toys of every kind for kids of different ages. There's always something for everybody when you shop at Educational Toys Planet.
Another one of my favorites from all the toys you can find in the
Construction Kits
area within the Building Toys category is the Master Builder 62-piece Wooden Construction set. Kids love to be busy, to create and build things and this toy is something that would encourage young minds to be more creative and build whatever it is they want to build. They can be their own engineers and build towers and what not. I also like the fact it is made of wood so the toys are durable and can withstand the amount of beating that the kids do while playing and having fun. I also thought of the Build A Road X Track Construction Set because my little man loves cars or anything with wheels and building roads. But then I remembered a friend of mine bought him one on his third birthday and he really did love this toy. It provided him with lots of entertainment watching the two little cars racing its way up and down the tracks. If you have little boys who love wheels and tracks, Build A Road X Track Construction Set would make a great gift. It is easy to assemble and the kids can design however they want their tracks to look like.
A friend of mine also got her daughter the ShapeScapeS 3D Sculpture Art Building Kits For Kids and she said that at first, her daughter was overwhelmed because she didn't know what to do then. But when she saw some sample pictures of the things she can build with it, she went to town building things and had a blast. I also think it is one unique and exciting toys to have because of the idea that you can create different things with it. Toys like this can make the kids excited about playing and not get bored with it after just a few minutes of playing.
I better start saving now so I can afford getting them some educational toys for Christmas. Oh, the things we do for our kids. How about you moms and dads? What's on your kids Christmas Wish List? Do share!