What a Brrrrryyyy cold weather we have today. I think it is way beyond freezing cold, but brutal cold. When snow, cold and wind are mixed together, not a great combo. Still, my boys (husband and son) had to go to school in this weather condition. This frigid cold weather is here to stay for the week.
Early showers have become difficult for my little student to do because of how cold it is. Thank goodness to my new towel warmer that I got from Baby's Journey a few weeks ago. I mean, it really does help when my little man gets out of the shower and there is a warm towel waiting for him. I found out about this product from a product review and I thought it was something that would be very useful to have at home for my kids so I contacted the company. Lucky for me they said yes and shipped me the product right away. Let's get to know more about this baby, shall we?


About Baby's Journey
Our Journey
Although we are just an infant as a company, The Baby's Journey Team has over 15 years of history working together in the juvenile industry. We've estimated close to 20,000 diaper changes between us and as a result, we can relate to what parents go through every day. Everyone on the team brings his or her own super powers to help us create the most innovative baby products imaginable. Behind our management team there is a strong group of talented and knowledgeable employees and creative resources, all committed to developing insightful and unique parenting solutions. Read our team bios below to learn about us, our parenting tips and fun facts about what makes us tick.
What Does The Company Promise?
- Our Innovative products offer safe and insightful solutions to make everyday parenting easier so you can focus on what matters most.... your Baby!
Towel Warmer
Where to buy?
Babies R Us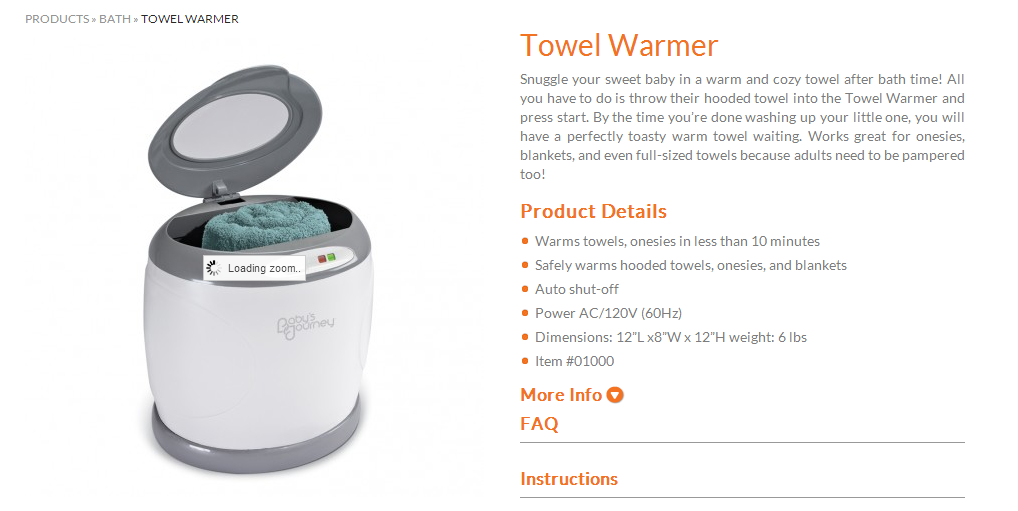 Bath
> #01000 Towel Warmer
When is the towel ready to use?
The towel can be removed after the green Temp heating light has turned off . The red "Hot Caution" light will remain on until the "cool down" cycle has been completed. Note, it is okay to remove the towel while the "cool down" cycle is in process.
Is it OK to remove the towel while the red "Hot Caution" light is still on?
The outside unit and lid will be "warm" to the touch when the "Hot Caution" light are still on and the internal chamber will be hot. Use caution when removing the towel from the towel warmer as we do not recommend putting your hand directly against the internal chamber during the cool down cycle.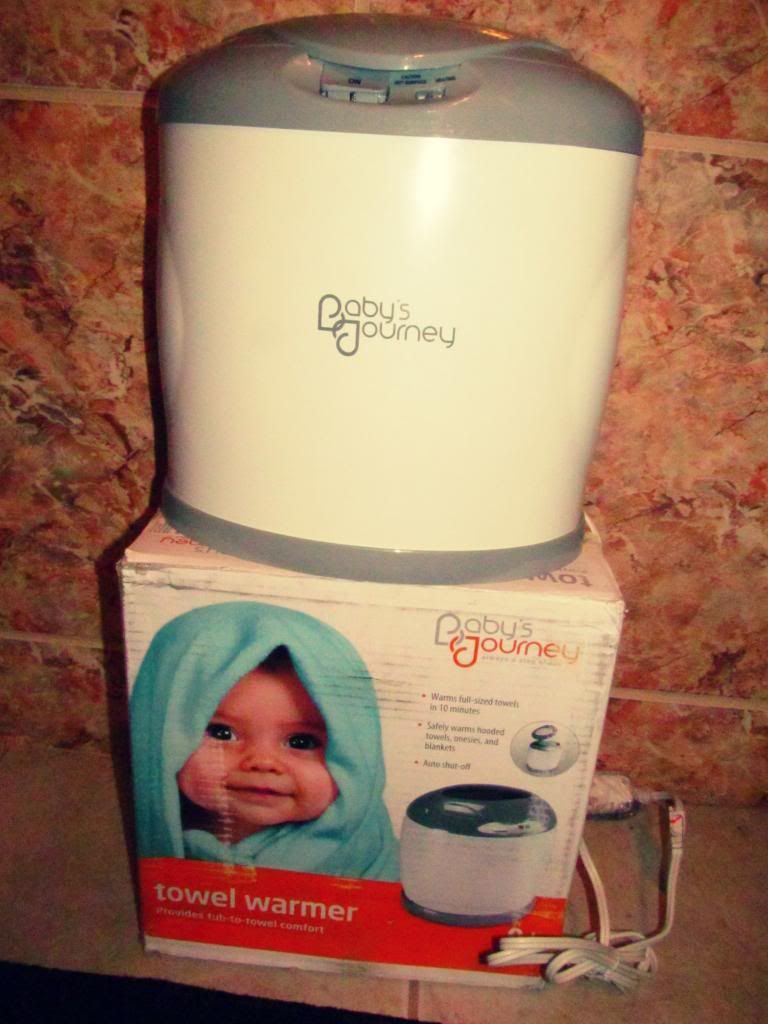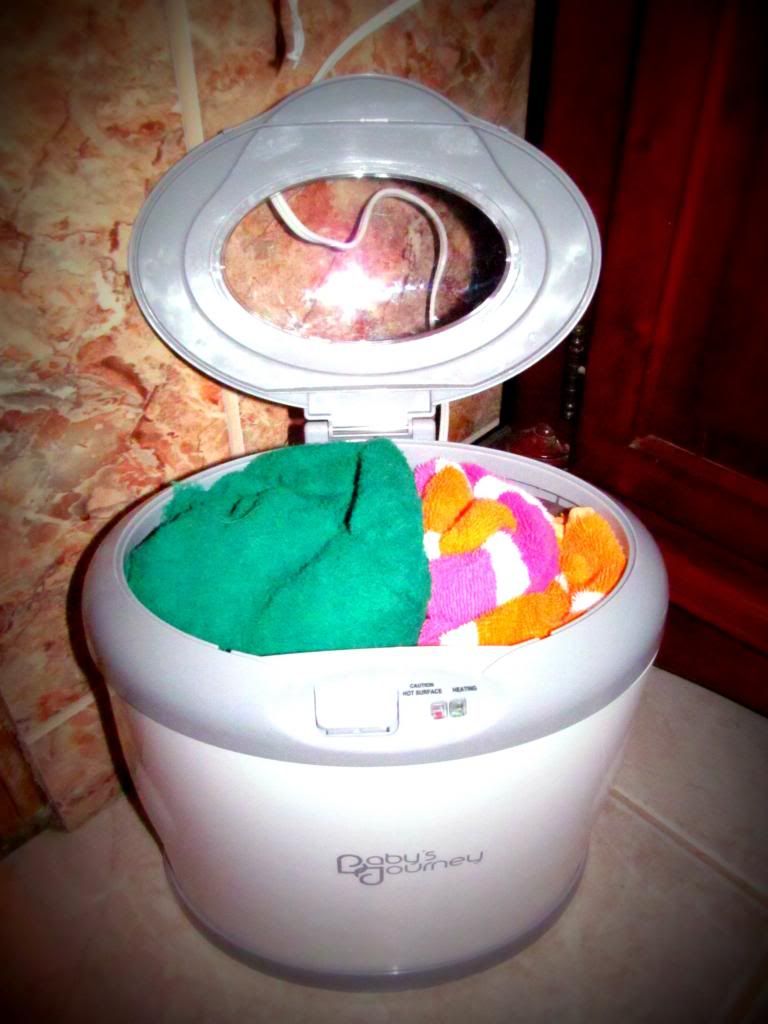 The green towel is a larger size towel compare to the one on the right and yet I am able to fit both in the warmer. You know, my kids aren't the only ones using this, me too! Perfect for warming up hats and gloves before heading outside with the kids to play in the snow.
Used by a 5-yr old boy and a 2-yr old girl. And mommy and daddy, too!
Tested for about three (3) weeks.
- I wasn't really sure if this product would work well for us, but boy was I surprised. There aren't a lot of things going on with this device and didn't have to assemble anything and no batteries needed. All I did was take it out of the box and it was ready to use.
- It is an easy device to use and all I have to do is stuff it with the towels, close the lid, and hit the button ON. Once you hit the ON button, you will see the green light meaning it is working, then when you see the red light it means it is warm/hot. It has an auto shut-off so you will notice the green is off and the red is on, which is telling you the content is hot/warm. Pretty simple device yet it works. Look at the photo below at how happy and toasty my two babies are with warm towels wrapped around them. Sweet!
- The Baby's Journey Towel Warmer isn't a heavy device, but has a good weight to it. We have been using this product since the day we got it and it still works just fine.
- I always like to warm the towels like 15 minutes before my kids take a bath or shower and the towels are at the right temperature and never too hot!
- The towel warmer is perfect for newborn/infant children to keep them warm right after bath time. Babies don't have the ability yet to quickly warm their bodies so it helps to have a warm towel nearby.
- I would recommend Baby's Journey towel warmer for moms-to-be as part of their Baby Shower Gift List because it really works. Or, you don't have to be an expectant mom to buy this. If you have wee ones at home and could surely use a warm towel after a bath or shower time especially during these colder months, the Baby's Journey towel warmer is a great one to buy.
- And you know what? I don't just use this as a towel warmer, but also a clothes warmer. I mean, when my kid goes to school and puts his clothes one, he is really spoiled (blame that to me) because he wants it nice and warm and the towel warmer does the job.
- Thank you so much for this complimentary towel warmer, Baby's Journey! We absolutely love it!


At
Baby's Journey
, their innovative and safe products range from Bath, Changing Pads, Travel Accessories to Gates. I wish I had known about their company before when I became a first time mom, but glad I learned about them now because I get to share it with other moms and dads out there. And I know you too would want to get your hands on one of these towel warmers for your precious little one(s), so the awesome people at Baby's Journey would like to offer one lucky Chetopian Family reader their very own Baby' Journey towel warmer. Yes, a

Giveaway!

All you have to do is enter the Rafflecopter below.
This giveaway is open to US residents only. Thank you and Good luck!
Rafflecopter Code:
http://www.rafflecopter.com/rafl/share-code/ZTU5OGU2MjA5MGQ3YTk0MjQ5NWJjZDU3Y2MzNTNlOjI5/