I was never a fan of tofu before and never even thought of trying some until my cousins introduced me to it. I never really thought tofu can taste so good because all I thought was this tasteless, bland, meat-wanna be food. I mean, can you blame me? It definitely is an acquired taste. And then when I was little and was diagnosed with dengue fever, I was rushed to a hospital in Cebu, Philippines, which serves tofu in their menu. Their tofu dishes tasted really good and I was really surprised at how tofu can taste that good when you know exactly how to prepare it. We had a meal one time where they prepared us all kinds of tofu dishes and you would not believe that they were even made out of tofu. It was very delicious! I have been trying to recreate those dishes for the past few days, but I just couldn't get the taste quite right. Thus, I always resort to a more fail-safe way of preparing tofu by marinating it like you would marinate a chicken for making adobo (a Filipino dish).
Because I buy tofu a lot, I researched about a way where I can easily squeeze water out of the tofu without using a bunch of paper towels or piling up a bunch of heavy objects just to wring water out of it. I came across EZ Tofu Press and was excited to test out the product. I was sent a complimentary tofu press a few weeks ago to facilitate a dependable and fair review. EZ Tofu Press is a simple device that you can use to easily squeeze water out of tofu. Read below to further learn about the product.


What is EZ Tofu Press?
EZ Tofu Press Story:

Tired of cans, plates and other heavy objects falling over, damaging the floor while pressing tofu? After this and a pile of wasted paper towels, I decided it was time for a better method. Searching for tofu presses on the internet, I found that there were very few available and they were very expensive. It was at this time that the idea to manufacture a simple yet affordable tofu press started !
Why use an EZ Tofu Press?

Firm and extra firm tofu are packed in water to keep it fresh. Removing this water allows the flavors of spices, marinade, or other foods to be absorbed. Tofu is often called a wonder food because it has no natural flavor or taste and acts as a canvas for flavors and more importantly provides numerous health benefits. Proper pressing also makes the texture of tofu more chewy and firmer.
About the EZ Tofu Press:

The white press plates on the EZ Tofu Press are made of HDPE (high density polyethylene), approved by the Food and Drug Administration for use with food. Each press plate is cut using a CNC milling machine for exact size and hole configuration. The bolts, nuts, and washers are made of food grade stainless steel.
Using the EZ Tofu Press is simple, the tension knobs, push the press plate down and squeeze water from tofu. There are no springs required and therefore no springs to wear out! By washing on the top rack or by hand, the EZ Tofu Press should provide many years and provide great taste.
EZ Tofu Press Features:
Can be used with any size tofu brick, both small and large portions can be dried.
Provides better flavor absorption and texture and thus better tasting tofu.
No springs to replace, simply tension as needed
Better control of the time in which your tofu is press dried. Takes 5-15 minutes.
Less costly than other brands, best value on the market.
Easy to clean, place in the top rack of the dishwasher or just use hot soapy water.
Makes Tofu cooking quick and easy.
Press plates cut with automated CNC milling machine.
Comes with handy measurement tool and Instruction manual.
EZ Tofu Press is made of USDA approved HDPE, a BPA Free Plastic. All bolts, nuts, and washers are made of stainless steel. The EZ Tofu Press is dishwasher safe, top rack. Do not use in freezer or microwave. Use Firm and Extra Firm Tofu. Not for silken tofu varieties. Made in the USA.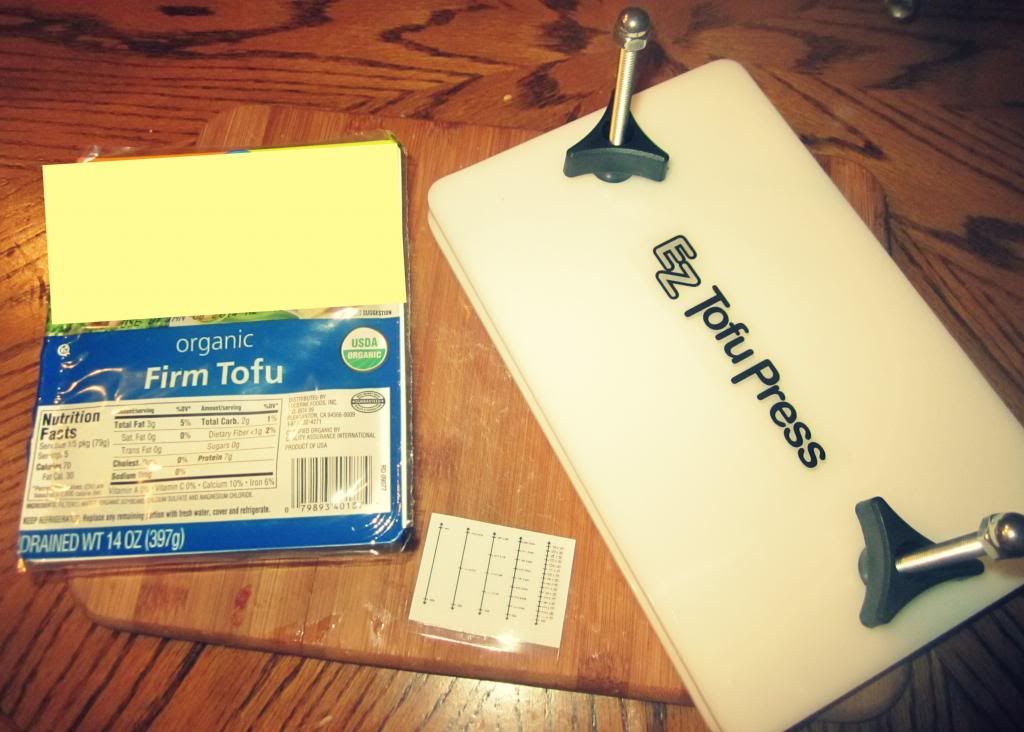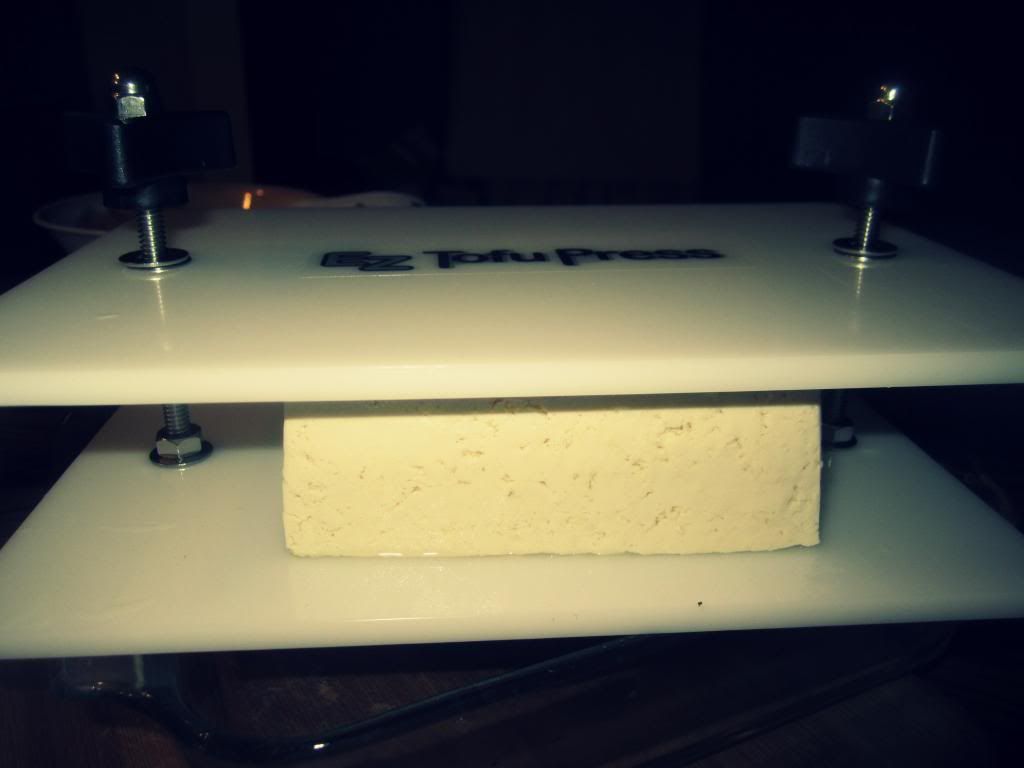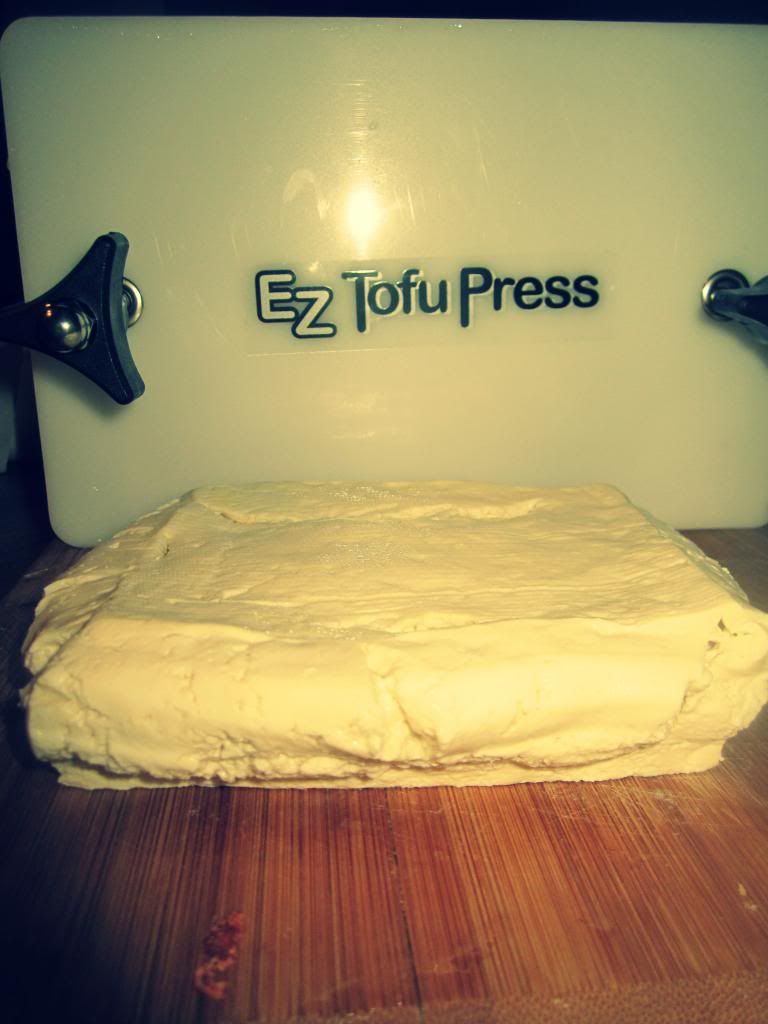 There are four (4) easy steps on how to use the EZ Tofu Press
1. Place Tofu brick in between the two press plates.
2.

Tighten knobs simultaneously or alternately so the tofu brick is pressed evenly. Stand EZ Tofu Press on its side for better water removal.
3. Pressing can take a minimum of 5 to 15 minutes depending on the how fast tension is applied. To quickly dry tofu, tighten knobs every 2-4 minutes while preparing meal. After several uses, you will find what works best.
4. When "dry", reverse tension knobs and slide brick out, marinate and cook!
You can watch the video below on how EZ Tofu Press works
What I like about the product?
- Fast shipping. Great customer service.
- I like how the pieces are all connected together so you don't end up loosing parts.
- Doesn't take up a lot of space in your counter or your cabinet when storing.
- If this was my money, it is worth the buy especially when you eat tofu a lot. No one wants a soggy tofu so an easy press like this is a must in your kitchen.
- Affordable price compares to the other tofu presses that are out in the market. I mean, I have not used other tofu press before, but this one works well so I don't need to try the other brands.
- I was able to squeeze out 1/4 cup of water out of the tofu in just a few minutes and I would have squeezed more if I let it stay longer.
- It came in with its own little measuring tool so you can figure out the width of your tofu.
- No more using of paper towels, or heavy pans or cans to squeeze water out.
- What else can I say except EZ Tofu Press is an excellent product.
- And like always, I love products that are made in the USA.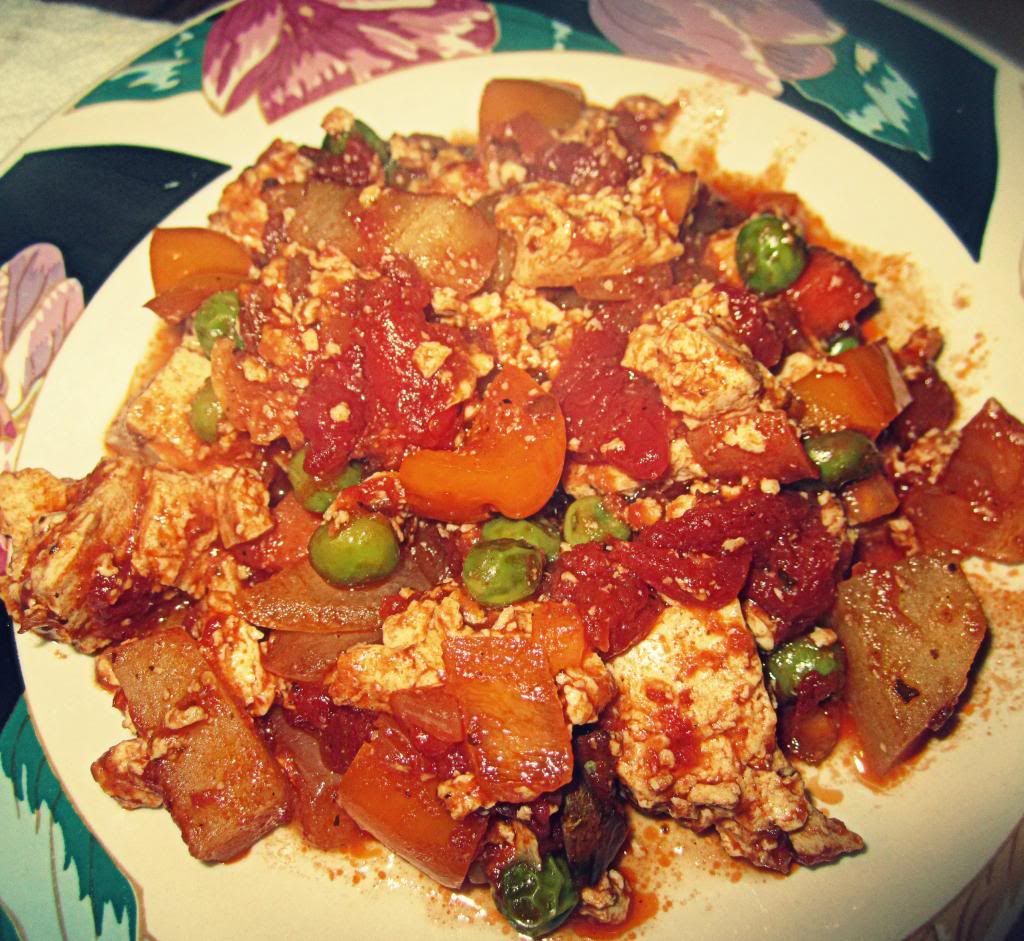 (I don't even know what to call this dish, but I just mixed vegetables together with the tofu and added some tomato sauce. It doesn't look pretty, but it was good!)
Don't forget to visit the
website
today
to find out more.
You can purchase the EZ Tofu Press on

Amazon

.