I have another all natural skin care products to share with you today and this one is from Just Natural Organic Skin Care that is Made In The USA. Let's check it out! Read below.
Alcohol Free, Chemical Free, Cruelty Free, Gluten Free
Made in the USA, Natural & Organic, Paraben Free, Sulfate Free
Vegan, Guaranteed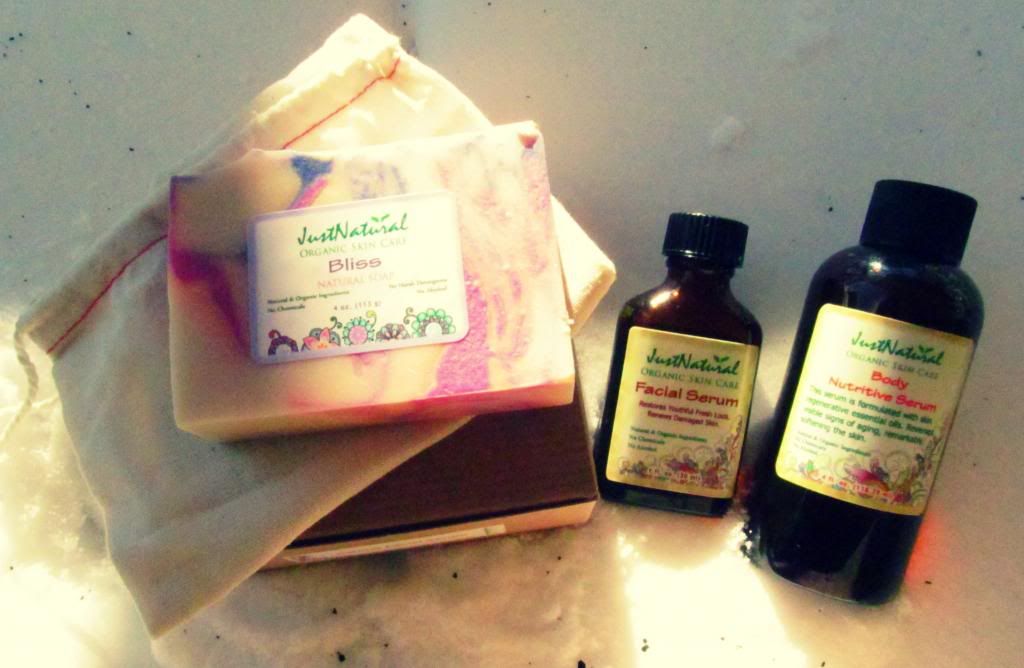 Bliss
Natural Organic Handmade Soap
- Plumps, lifts and firms skin from the inside, correcting wrinkles and increasing firmness as this serum is instantly absorbed weightlessly.
- Diminishes the appearance of discolorations, sun damage, and age spots as it protects against free radicals and future damage. Skin looks instantly brighter, evenly luminous.
- Experience amazingly lifted tightened and youthful looking skin.
WE DO NOT USE: Parabens, Sodium Lauryl Sulfate, Mineral Oil, Synthetic Dyes, Animal Fat
WE USE: Organic Herb Extracts, Organic Plant Oils, Antioxidants, Phytonutrients, Active Botanical Butters
What do I think of the soap?
- I really like this soap! It feels milky and creamy and it lathers up really well. It makes me feel really clean after shower. I have noticed that it doesn't dry up my skin either. Unlike any other regular soap, this one doesn't have that strong smell. My little girl likes to take warm baths with me and I don't worry about using the soap on her because doesn't irritate her skin. I want more!
Nutritive Body Serum
An Immediate Burst of Moisture That Continues All Day
- Natural vitamin rich plant oils are drawn deep into your skin's surface, it repairs and nourishes strengthening skin's resilience.
- Vitamins A, C, and E are powerful antioxidants that smooth and protect, reverse visible signs of aging and remarkably softening the skin.
- While Kukui, Hazelnut and Avocado oils tone, replenish and moisturize skin leaving it velvety soft.
- Non-irritating formula is free of fragrances or dyes that can exacerbate skin irritation.
Benefits of using Just Natural Body Serum:
-This light serum is absorbed quickly to a touchable feel.
- Fast deep absorption that improves elasticity and tone, heals as it defends skin from dryness.
- Use all over your body to nourish and fight dryness or itching.
- It provides luxurious all-day moisture protection without being too heavy or greasy.
- Rice Bran oil has a high percentage of fatty acids and is one of the best sources of tocotrienols, an antioxidant that
is much more powerful and effective than
Vitamin E.
1 oz / 30 ml
- This Light Serum Is Absorbed Quickly to a Touchable Feel.
- Over time, your skin's ability to renew itself slows.
- This causes skin to lose its elasticity and fine lines or wrinkles begin appearing.
- This natural facial serum helps repair and protect your skin from the signs of aging by naturally boosting collagen and elastin production, stimulating cell renewal to maintain a youthful, luminous complexion.
- This light, silky serum glides on easily and absorbs quickly, leaving your skin feeling smooth and velvety.
Benefits of using Facial Serum:
- Grapeseed oil and Extract can prevent free-radical damage to collagen and elastin, push back the clock, and reverse the effects of aging on your skin.
- These are super-antioxidants, providing 50 times more protection than Vitamin E and 20 times more protection than Vitamin C.
- Research has proven the Jojoba oil can increase skin softness by up to 37%, reduce superficial lines and wrinkles up to 11% upon application and up to 25% after just 8 hours.
- Rosehips contain about 20 times more Vitamin C than oranges. In fact, Vitamin C gives Rosehip and Sea Buckthorn their potent anti-aging powers.
What I think about the products?
For the Body and Facial Serum:
- Both of the serum have a smell that reminds me of grandpa and grandma (if you are a Filipino you would probably understand). I mean, reminds me of those herbal oils that they would use to rub all over their body and they said it is good for you. I am not bothered by the smell at all because I am used to essential oils, but it reminds me of that. But it is nothing offensive, though. I love essential oils and I have a few collections of them. For some, it could take a while getting used to it. I don't like using it in the morning, but at night before going to bed, after a warm bath and washing my face.
- The body and facial serum are not greasy, it absorbs quickly into your skin, and I notice that within a few minutes of applying the body and facial serum, my face and skin are noticeably soft. It feels really good!
- It was nice that in the package, they included the dropper and the sprayer for the serum bottles for easy application. All I had to do was I removed the caps of both serum bottles and replaced it with the dropper and the sprayer.
- So far I have not had any irritations, but the only thing I have noticed is that whenever I use the facial serum it stings just a little bit and it goes away fast. For those who have sensitive skin, you might want to check out Just Natural Skin Care. They have a wide selection of all-natural skin care that suits every skin type.
- Yes, it is steep for the price because of the natural ingredients that the serums are made of, which are all natural ingredients.
If you are looking for an all-natural, gluten-free, cruelty-free and an American Made skin care, check out Just Natural's
website
today at
and take a look around. Thank you, Just Natural!
Like on Facebook:
https://www.facebook.com/JustNaturalProducts