Ever since I've had that fig pizza in Laramie, Wyoming, I have been craving for some more of those. And I know there aren't anything available like that near where we live, I had to make it homemade. I have been making some pizzas in the past, but the other night was THE best yet of all pizzas that I have ever made. Even my husband would say YES to that!
I have my own share of stories when it comes to making homemade pizza and I even burnt once before. Some turned out good, and some turned out not so much. But that didn't stop me from making more homemade pizza and certainly didn't stop me from searching the pizza dough that we will all love. And I think the other night, I have found the one.
The first thing I heard from my husband when it came out of the oven was, "Wow! Honey. That looks really good and smells delicious." Oh yes, it was! I am just going to brag now. (LOL)
My Homemade Fig Pizza.
Well, I call it Fig Pizza even though it has other toppings, but man I can't get over how I love the taste of the figs topped with pizza. For the cheese, I used a combo of Provolone and Mozzarella Cheese. My tip for making your own homemade pizza dough is to use bread flour and not all-purpose flour. It has a big difference when it comes to the texture of your pizza. The one above was not heavy and dense, unlike the other pizzas I've made in the past. I am no pizza expert, but that's what I have noticed when using both types of flour. Maybe I am wrong on this tip, but I will be using this recipe from now on. Thank you so much for sharing!
The link to the pizza dough recipe I used.
The recipe calls for 3 3/4 cups bread flour, but instead I mix 2 3/4 cups bread flour and 1 cup of whole wheat flour. Then for the sugar, since we are cutting on unhealthy sugar, I used the Agave Syrup instead.
Easy Homemade Pizza Dough Recipe
Prep time: 1 hour 15 mins Cook time: 20 mins Total time: 1 hour 35 mins
Serves: 6-8
Ingredients:
3¾ cups bread flour
1 tsp. sugar
1 packet dry active yeast (instant)
1½ cups of hot (not boiling) water
2 Tbsp. oil
2 tsp. salt
Instructions:
- Combine the flour, sugar, and yeast into a stand mixer with the hook attachment and stir to combine.
- With the mixer on low, slowly add the hot water and oil.
- When the dough starts to come together, add the salt.
- Continue to mix on low until the dough comes together to form a ball on the hook and the bowl looks 'clean'. You may need to add a bit of water or flour to find the right balance for the dough.
- Remove the ball of dough from the hook and knead it by hand on a lightly floured surface.
- Oil a large bowl and place the dough inside and cover it with plastic wrap.
- Keep the dough in a warm place and allow the dough to double in size – this takes about 45 min-1 hour
- When the dough is doubled in size, turn it out of the bowl onto a lightly floured surface.
- Cut the dough in two pieces. Roll and shape the dough into two large pizza rounds about ¼ – ½ in in thickness.
- Garnish with desired toppings.
- Bake at 400 degrees for 15-20 minutes.
Well, the story of my burnt pizza. And the rest are some of the pizzas I have made in the past.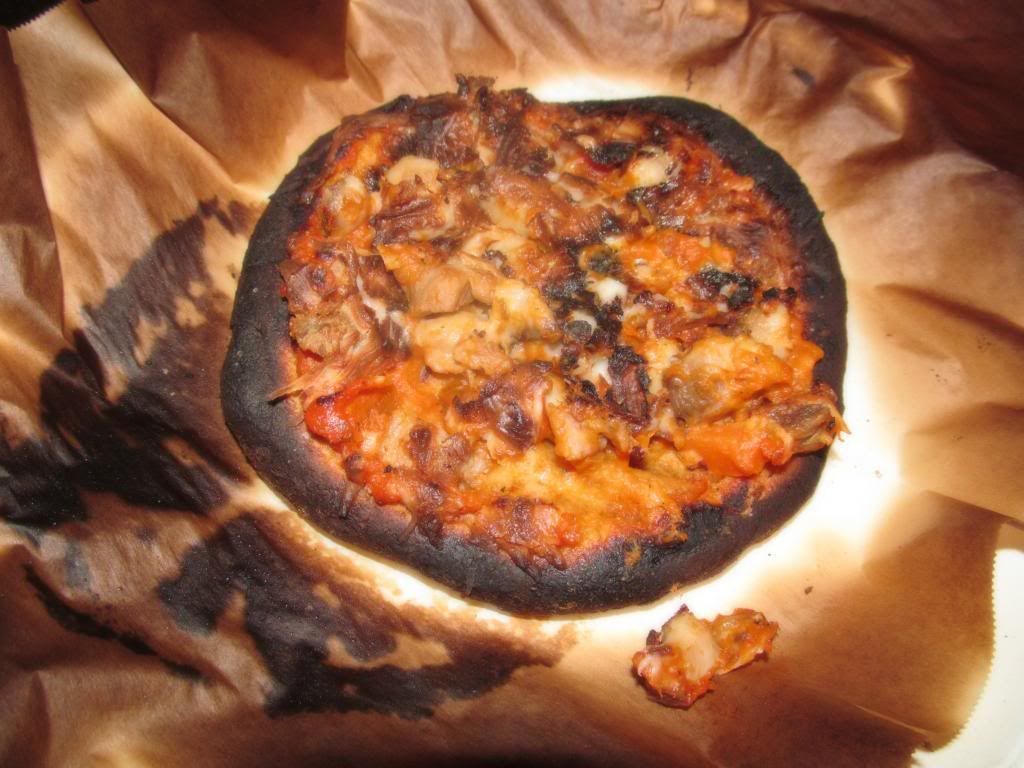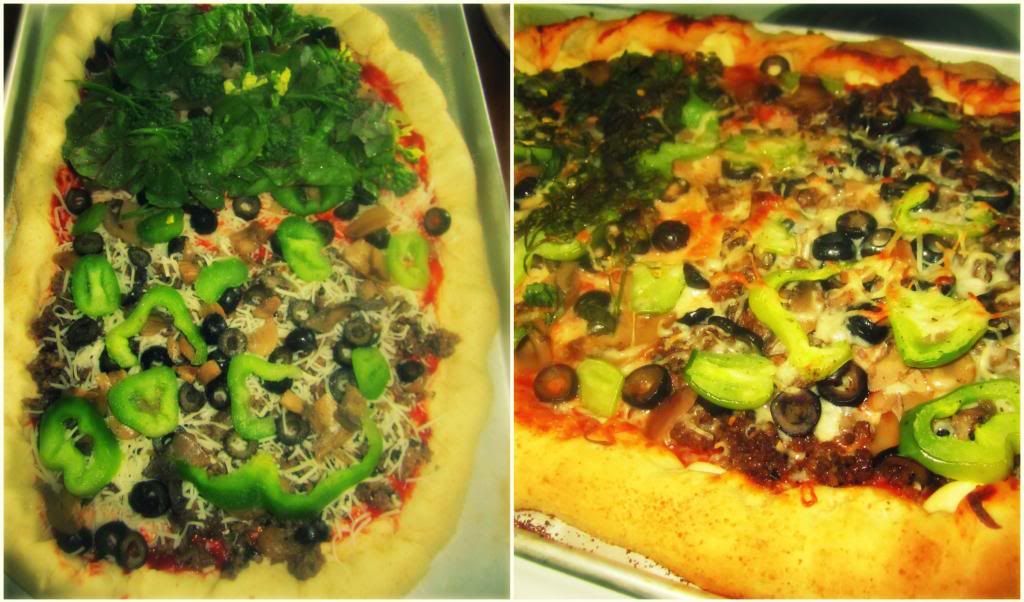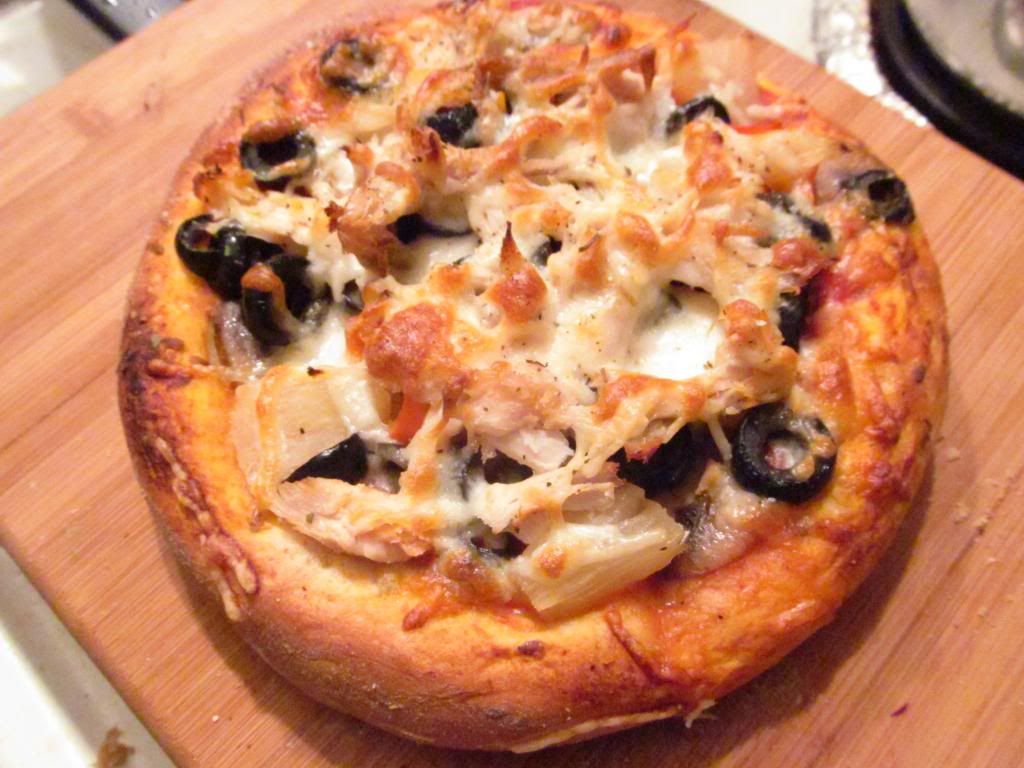 How about you, do you make homemade pizza? Do you have a best pizza dough recipe you would love to share, perhaps? Please do! I would appreciate that. Have a great one!