This is a bit of a late post because since we were in Kansas over the Spring Break and with no internet access for a little over a week, I wasn't able to do any blogging. To catch up on all of my reviews, I want to continue on with today's review, the Splendies March Subscription. If you have been to my blog before, then you may have already known that I did a few other reviews on the Splendies already. And if you are interested in checking out the other Splendies packages, here is the list:
The new set of women's underwear that I got last week of March was for the Splendies March Subscription and I should say, out of all four packages I received from Splendies, my February and this March Subscription are my favorites. Well, except for this March's thong, which is kind of uncomfortable to wear. But, just in case you are new to Splendies, let's have a little introduction, shall we?


What Is Splendies?
Simple, Easy, and Amazing!
Splendies is the easiest way to receive a surprise package of quality undies delivered to your door every month. Just choose your size and we'll do the rest. You'll receive your first shipment within days of your order. Change your size any time and cancel anytime as well. And as always with your Splendies order: FREE SHIPPING.
For Splendies Subscription, there are three easy ways:
- Sign Up
- Select Your Size, and
- Received Undies In The Mail
How It Works?
Cost: USD $12.00/month, free shipping
Each month you will receive quality undies delivered discreetly to your door. You'll receive three (3) pairs of underwear every month for as long as you would like in terrific styles like boy shorts, briefs, thongs, lace or cotton, and each month offers a new surprise. Splendies offers a variety of styles and colors.
- Your first order ships within your first week and then at the end of each month that you've subscribed.
- Cancel anytime or change sizes at anytime.
- Always FREE SHIPPING with your Splendies subscription.
Benefits Of A Splendies Subscription
Convenience: No more driving to the mall, no more wasting time in lines, get great undies delivered to your door.
Discovery: Try out new brands, discover styles that you never knew you loved.
Fun: It's a total surprise and with dozens of brands, styles, and colors, no 2 packages are the same. You won't know what you'll receive, just that it's something you'll like.
What's In The Mail?
- Rene' Rofe' Lingerie Red White and Blue with Polka Dots Too!
- Rene' Rofe' Lingerie Oh My Neon Lace!
- Love Libby

Peek-A-Boo! Lucky You!
(By the way, I just made up all the names of the underwear, but not the brand.)
Red, White and Blue with Polka Dots Too!
Rene' Rofe'
(Lingerie)
Details:
Size: 5
Body:
92% Polyester
8% Spandex
Lining:
100% Cotton
Elastic:
100% Nylon
Made In Vietnam
1. Out of all three underwear, this style is my favorite. The color combination actually reminds me of 4th of July, doesn't it? It is comfortable and cool to wear and has a good stretch to it. It is not itchy at all. It is holding up pretty well in the wash.
Rene' Rofe'
(Lingerie)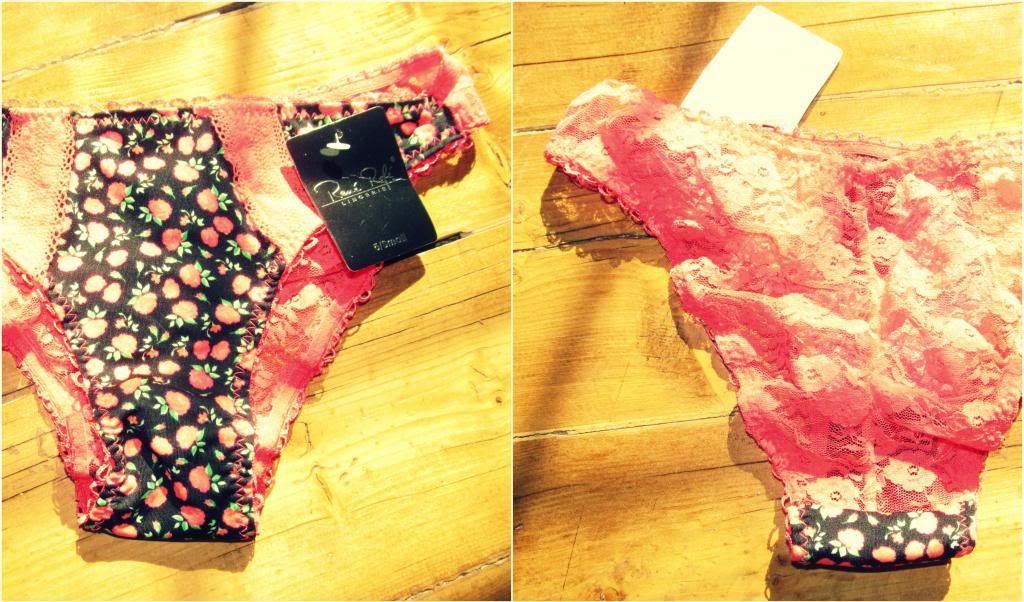 Details:
Size: S/P or C/H
Body:
90% Polyester
10% Spandex
Lace:
88% Nylon
12% Spandex
2. I am glad the lace on this underwear is not a stiff one like other cheap underwear. It is soft enough to be wearable and doesn't irritate your bum. It also has a good stretch and I like the sexiness of it. Or I should say, HOTness!
Peek-A-Boo! Lucky You!
Love Libby
Details:
Size: Small
Body:
90% Nylon
10% Spandex
Line Dry
Designed in Portaland. Made In China.
3. Not a fan of this thong, because for me it is uncomfortable. But, I do however like how cute the four-leaf clover cut out on the right side of the thong. It has a good stretchy material though, and with nothing much holding on the sides of it.
There you are my new set of March Splendies Undies!

It is always a thrill to receive a package from Splendies because I have no idea what the next set of undies are going to be. And it is always fun to get new set of underwear in the mail and I don't have to drive to the store to buy them. Saves me some time and money.

Thank you so much, Splendies!
How about you? Do you have a favorite out of all four sets of Splendies I got? Have you subscribed yet?
If you are a hot mama on a budget and looking for some fun and sexy underwear (no granny panty here), head on over to Splendies website at
http://www.splendies.com/
to learn more about the subscription.
Take note: Splendies packages typically contain a pair of thongs. If you do not want to receive one, you have the option to do so. And, if you are a fiercely real woman, don't fret because
Volupties
, the Splendies curvy sister store has the size for you. Go check it out!
For more updates:
Like Splendies on
Facebook:
https://www.facebook.com/Splendies
Follow on
Twitter:
https://twitter.com/splendies