My kids have been into dressing up lately and they love to wear their costumes a lot! Costumes are fun, especially when you get to dress up and pretend like you're the superhero of the day. It is fun to see the kids running around the house like wild horses, and making all kinds of noises and saving the day. Ah! Parenthood bliss.
When my little man HF got his Transformers costume a few months ago, my little girl wanted her own superhero costume. When I got the chance to review another costume for my kids, I picked up this
Supergirl Kids Costume
that I thought was just adorable and perfect for my little girl. Sure, there were other
Supergirl Costumes
to choose from, but this one I thought was cute and something that my little girl would want to wear. And I am glad I was right. Scroll down below for more photos and learn about the costume.
What's In The Mail?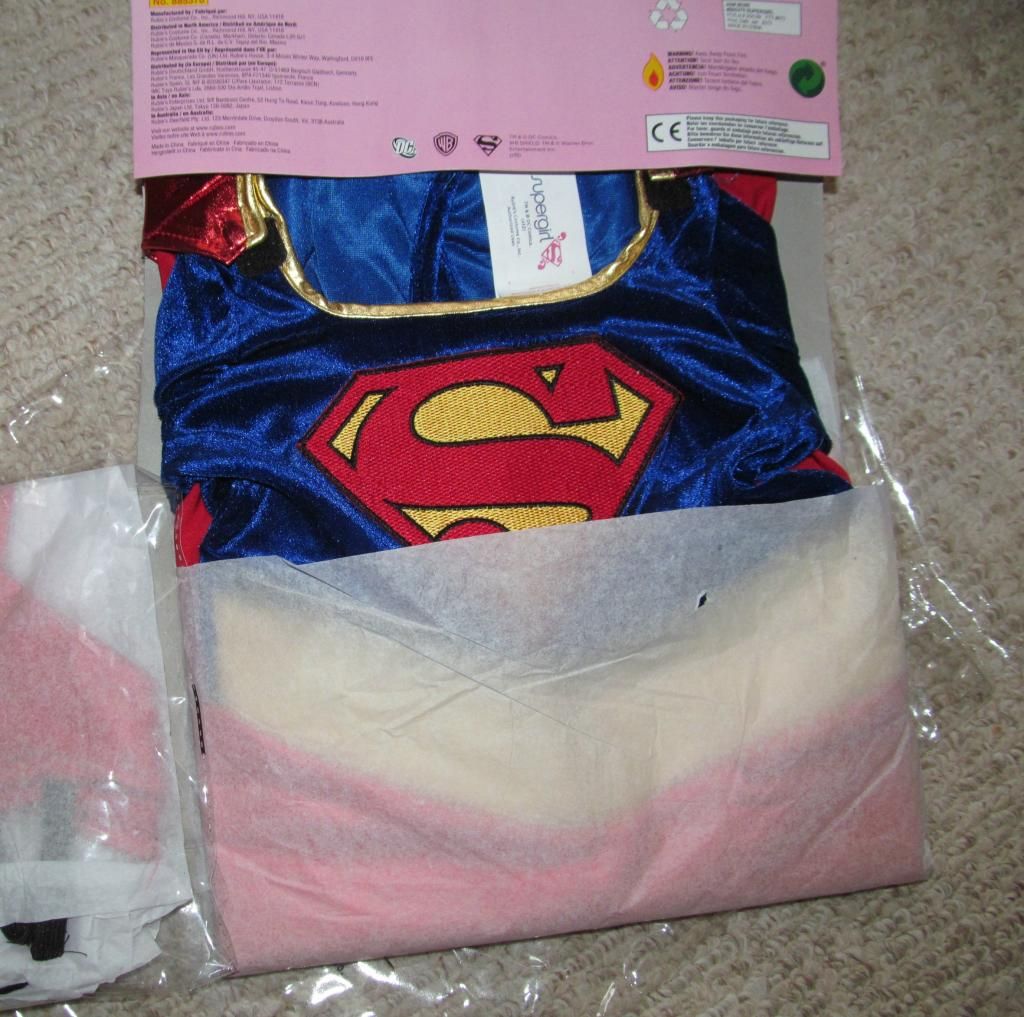 Toddler Supergirl - Kids Costume
Item #885370T
Includes: A dress with attached cape, belt and boot tops.
Our Price: $29.97
Available Sizes:
One Size Fits Most Toddlers Size 2T-4T.
Toddler Supergirl - Kids Costume
Your little super hero will love the shiny, colorful details of the Toddler Supergirl - Kids Costume. This Halloween costume includes a shiny dress with dark blue top, bright red skirt, matching attached red cape, and details like an authentic Supergirl logo on the chest, wide shiny yellow belt, and long red boot tops with yellow collars. It comes in one standard size that will comfortably fit most toddlers from size 2T to 4T, and requires no cosmetic accessories to look just like the original outfit. But if your Supergirl is going to be flying around the neighborhood on Halloween night, make sure you pick up a 6 Inch Glow Stick or Halloween Blinking Safety Light, both easily found on our website. This is an affordable, authentic way to make your toddler part of the Halloween fun.
Additional Product Description
Product Number: 885370T
Material: Polyester
Includes: A dress with attached cape, belt and boot tops.
Care Instructions: Hand Wash
Air Shippable: Yes
Return Eligible: Yes
Oversized: No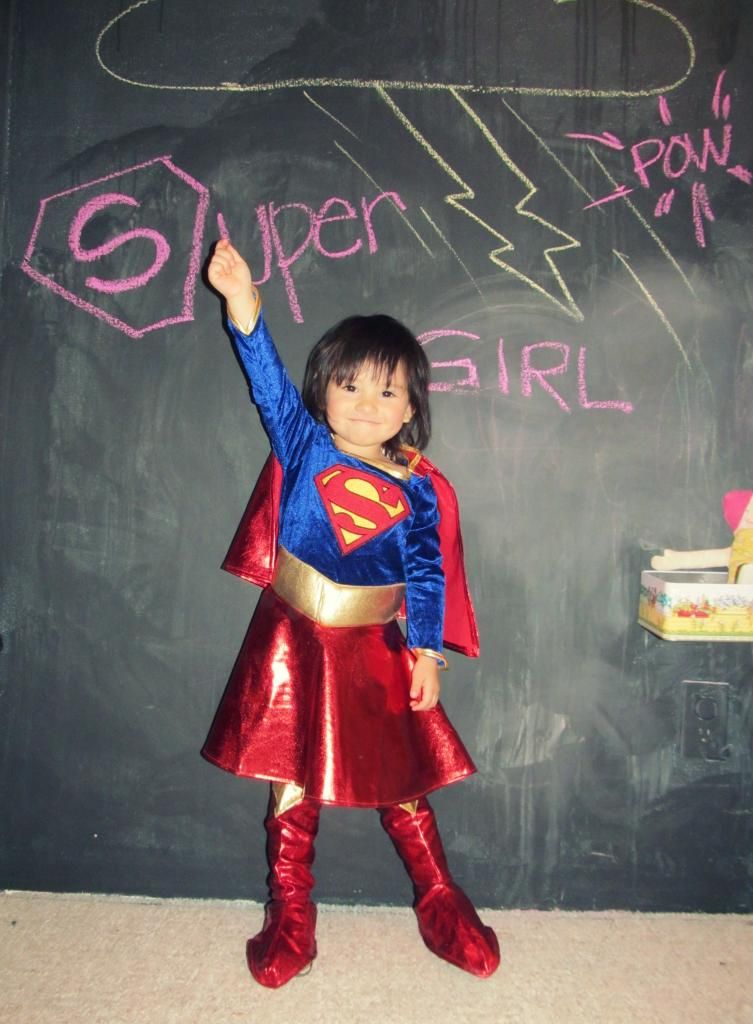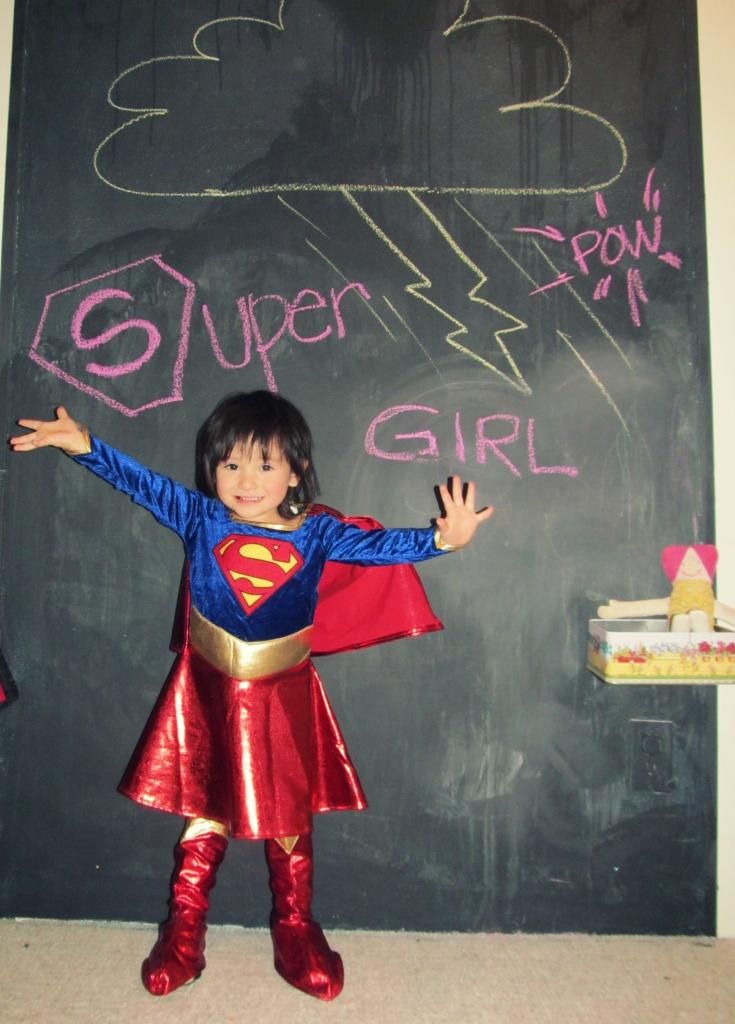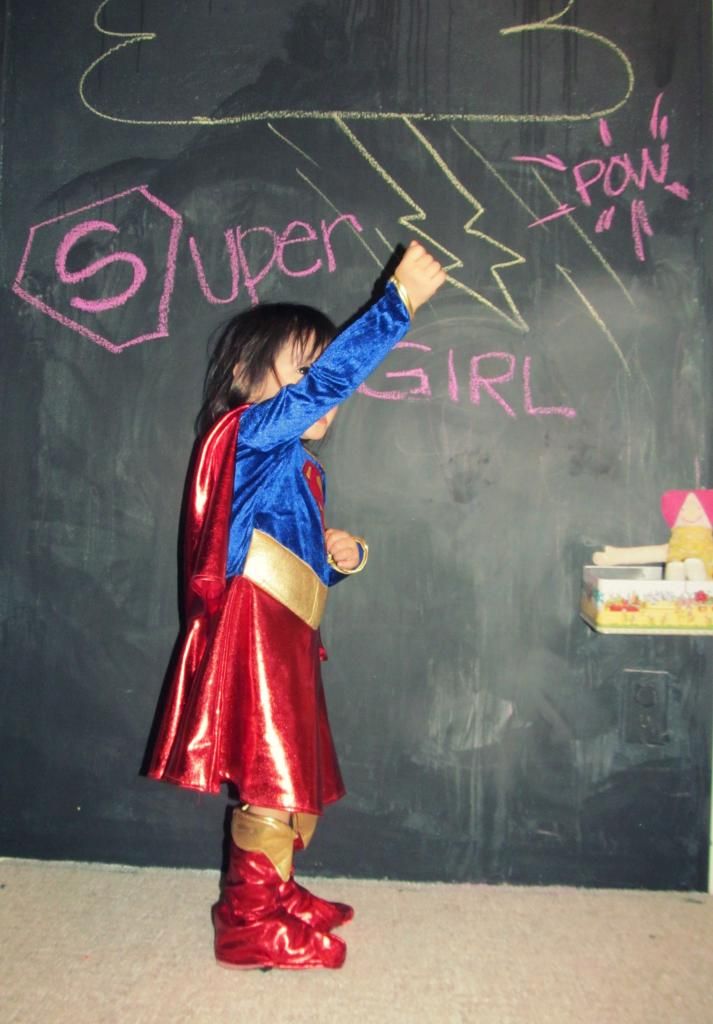 Our Review:
What Do We Like About It?
- The packaging was really good. It was easy to open and the costumes were folded nicely.
- I was very impressed by the quality of the costume. You know how some costumes are made cheaply with thin fabric or material and will only last for one wear and you are ready to throw it away. This one is not. It is sturdy, well-made, and can last many playtime.
- My little girl is almost three years old (next month) and the costume fits her well. It is also easy to put on and easy to take it off.
- Yes, it has the boot tops that are easy to put on, even my little girl can do it by herself. They are not real boots, they are made to cover the kid's shoes or boots to look like they are wearing the Supergirl boots. It has the elastic on the bottom as stirrups to hold it in place.
- The costume has a cape attached by a Velcro so you can take it off if you want to. The closure on the back is also a Velcro.
- Another thing that I really like about the costume is that there is no fuss. I mean, it does not contain a whole bunch of accessories that my little girl might not want to wear. Or that my little girl might find it annoying. It has three things, the cape, the dress itself and the boot tops and you are good to go. No need for putting on some make-up or other accessories to look the part.
What We Don't Like About It?
- I can't think of anything that we don't like about it because it is adorable! Who would not like a costume this cute? Exactly!
- If this was my money spent to buy the costume, was it worth every penny?
Yes! Absolutely.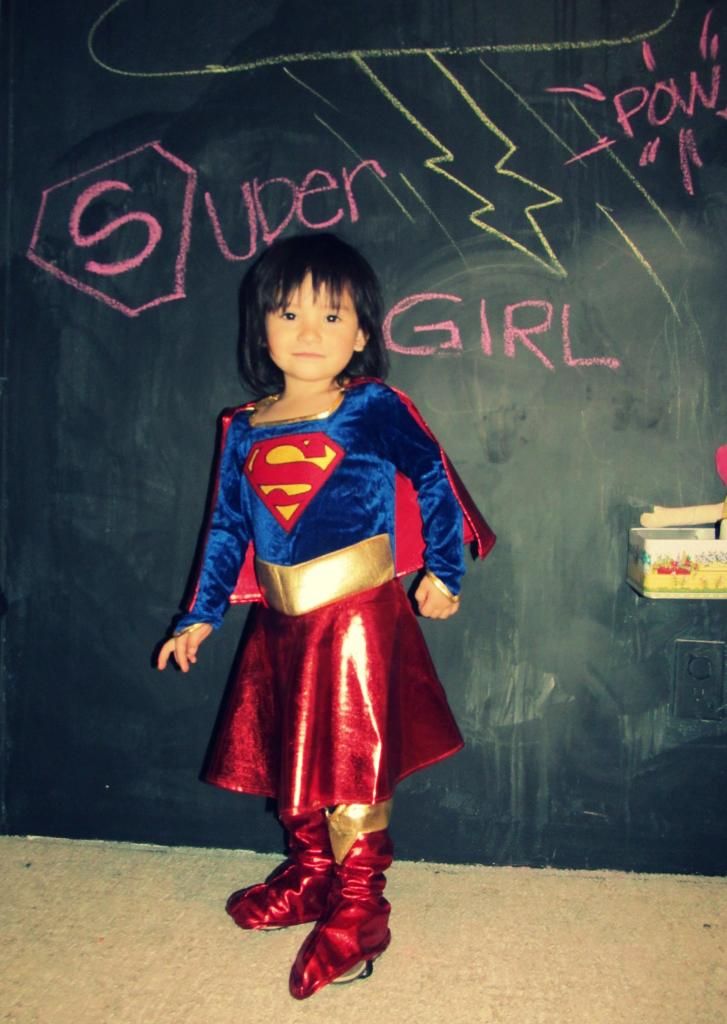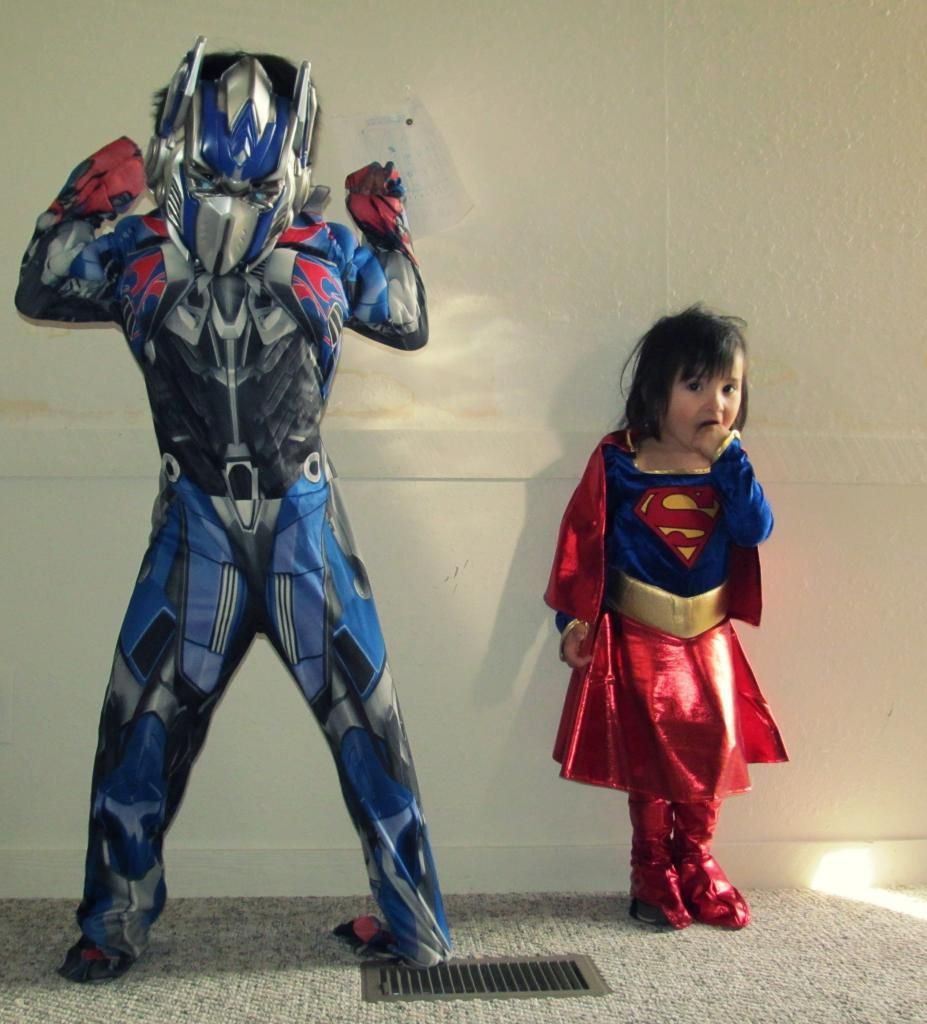 Everyone, please welcome our two super awesome and super cute Superheroes- Optimus Prime and Super Girl! Mommy and Daddy now have two superheroes that will help save the day. Up, Up, And Away! I just hope these two superheroes know how to pick up their toys after playing. That would be super duper great!
Seeing my kids wearing their costumes got me to thinking about
party ideas for kids
, which of course involve super fun costumes. I am not really planning for any kind of party in the future, but I am sure a lot of you will be hosting Halloween parties this month. I wonder what you guys will be doing and what costumes will you be wearing? If you were to dress up as a superhero, w
hat kind of a superhero are you?