I have one particular eater boy who cries if I tell him he is eating lunch at school for the day because he only eats the food I prepare for him. The school serves good food, but he is just used to my cooking that he would always remind me every night that I have to get up early in the morning to fix his lunch. Or sometimes he would tell me to make his lunch the night before, so I have it ready by morning. Great! (rolling my eyes) He is so afraid that I would forget making his lunch, that he has to remind me everyday. When he comes home from school, his little sister immediately checks his lunch to see if he ate it all. Because if he doesn't, our deal is he has to eat the school's lunch the next day.
Lately, he has been very good at eating his lunch, and it is also because he enjoys his new lunch box that we got from Easy Lunch Boxes for free in exchange for a product review. It is a simple product that has two components- the lid and the container. It has three compartments that are roomy enough to carry all of my son's lunch.
If you know me at all, I am a fan of stainless steel lunch boxes. But when I heard something about the Easy Lunch Boxes and how other people are raving about it, I wanted to give it a try. So today, my review is all about the Easy Lunch Boxes. With this review, we are going to talk about what is Easy Lunch Boxes, what are the things that we DO and DON'T like about the products, and I am also going to show you some pictures of the school lunches that I prepared for my boy, just to give you some ideas.


What's In the Mail?
EasyLunchBoxes
Set of 4 Containers: $13.95
Cooler Bags: $7.95 each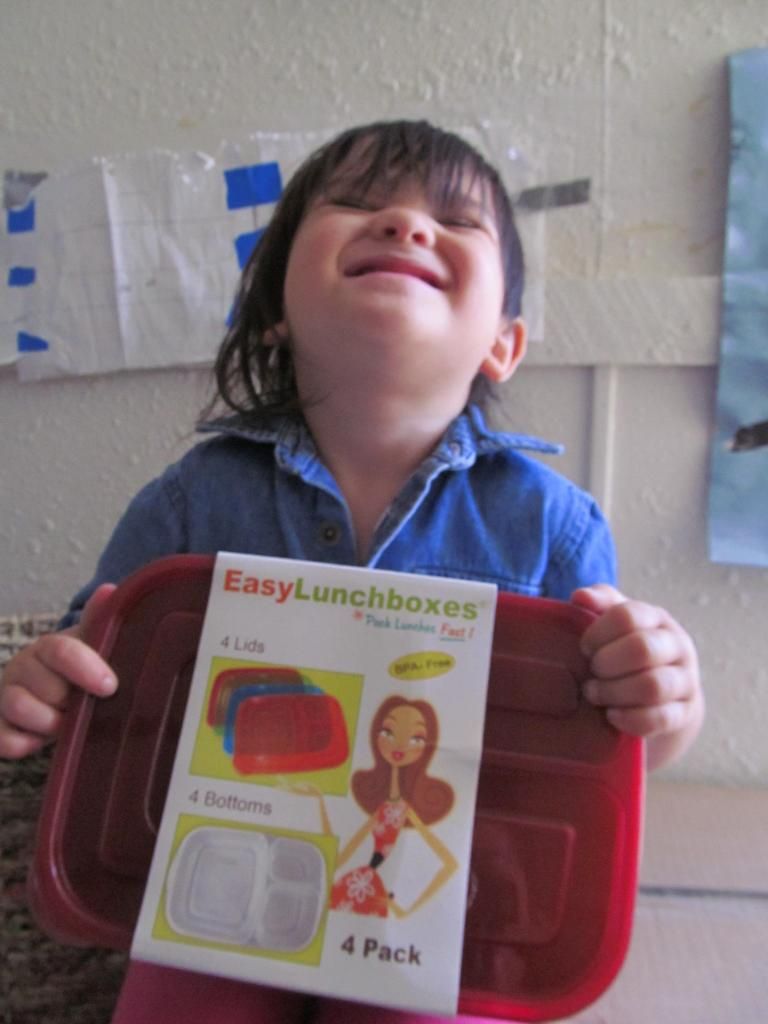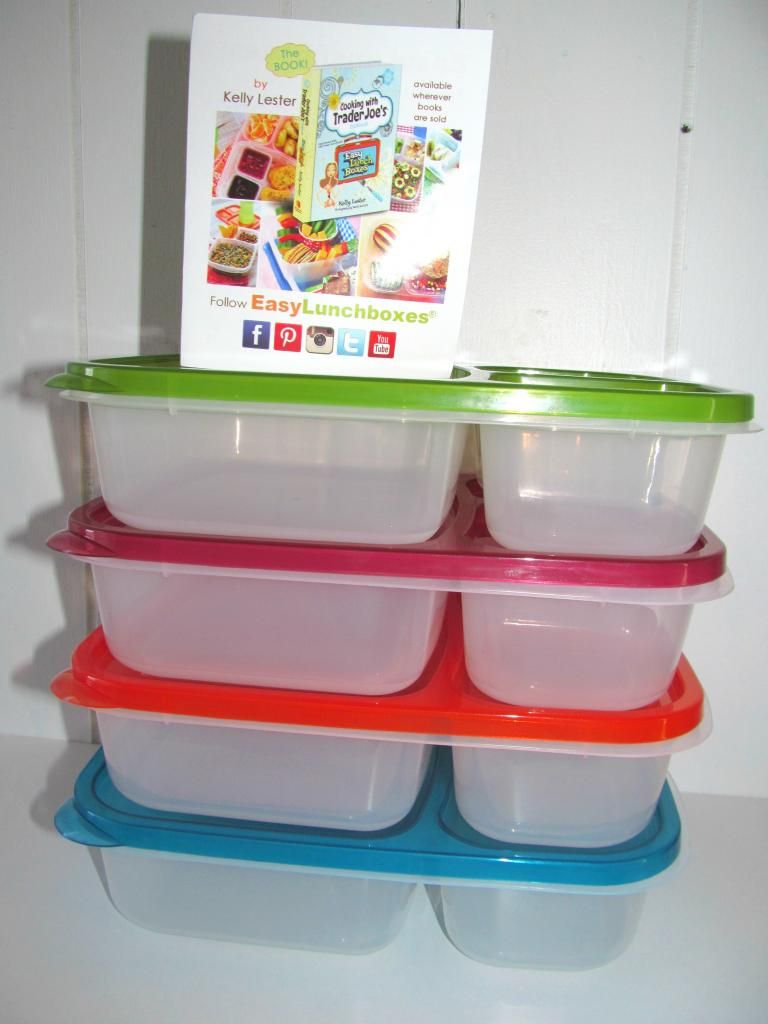 What Are These Lunch Boxes Good For?
- Great for work, school, or travel.
Product Features:
- Sized right for kids and adults
- NO BPA, PVC, phthalates, lead or vinyl
- Dishwasher and Microwave Safe
- Easy-Open, Kid-Friendly Lids
- No BPA, Lead, Vinyl or PVC
- Affordable, Durable, and Eco-Friendly
- Fewer Pieces, More Function
- Easy Prep, Easy Cleanup
- Nesting Containers Save Space
- Safe for Freezer, Dishwasher and Microwave
Lunchies Munchies: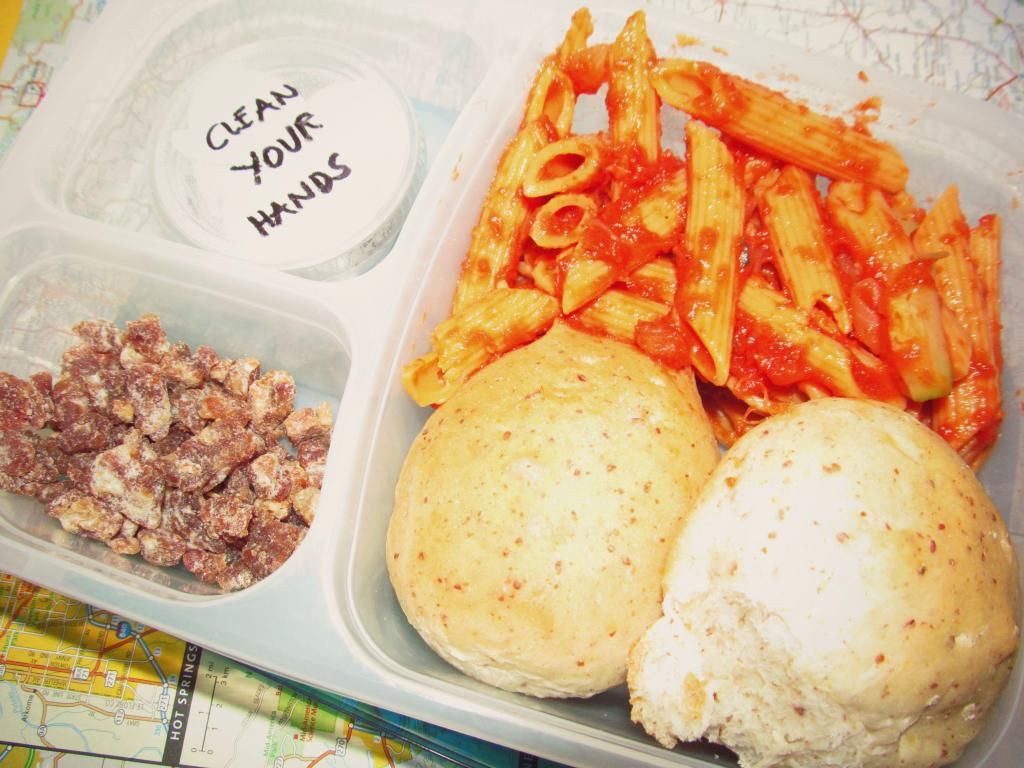 Lunch: Pasta, Homemade Bread, Dates, and some wipes in a small container to clean those messy hands.
Lunch: Rice and leftover Rotisserie chicken for my little man with Almond Pudding and some chips.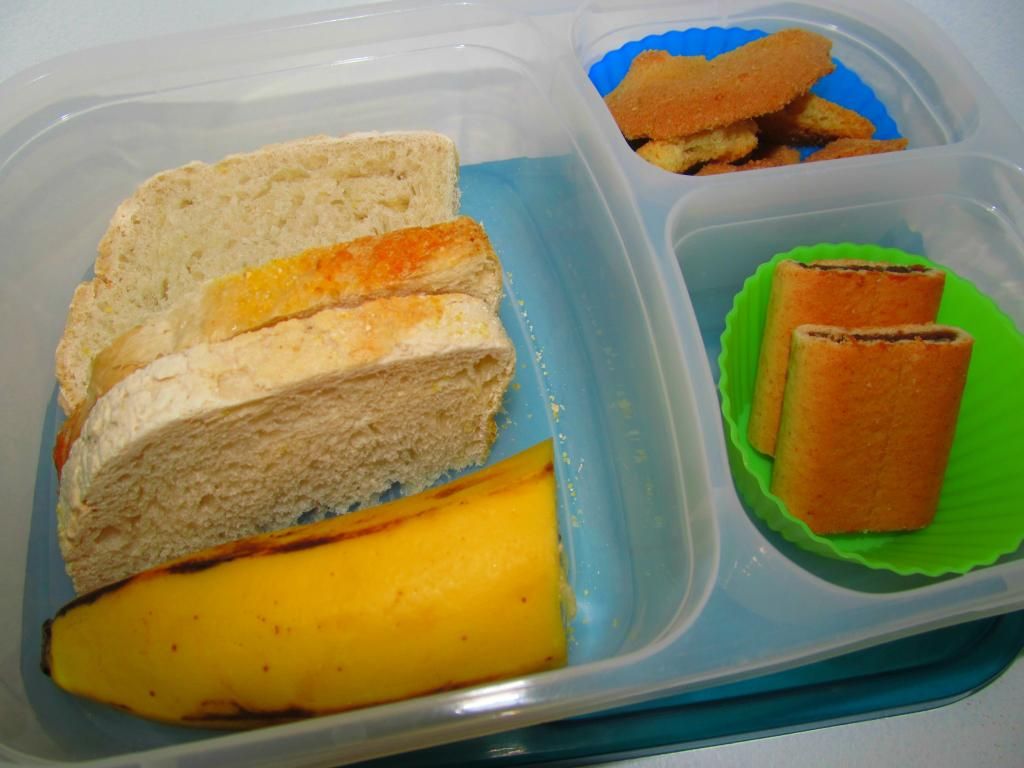 Snacks:
English Muffins with honey, half a slice of banana, some Macadamia Cookies, and a couple of Fig cookies.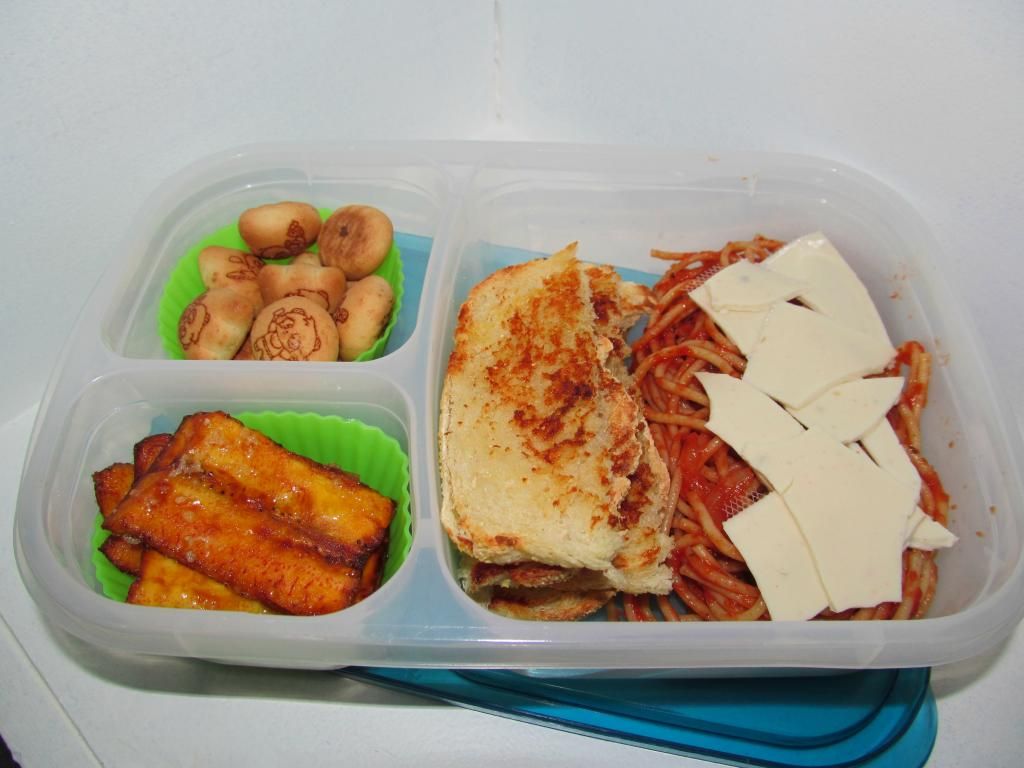 My picky-eater's lunch: Spaghetti with Vegan Cheese on top, toasted with vegan butter English Muffins, Caramelized Plantains, and some Hello Panda biscuits with Chocolate cream.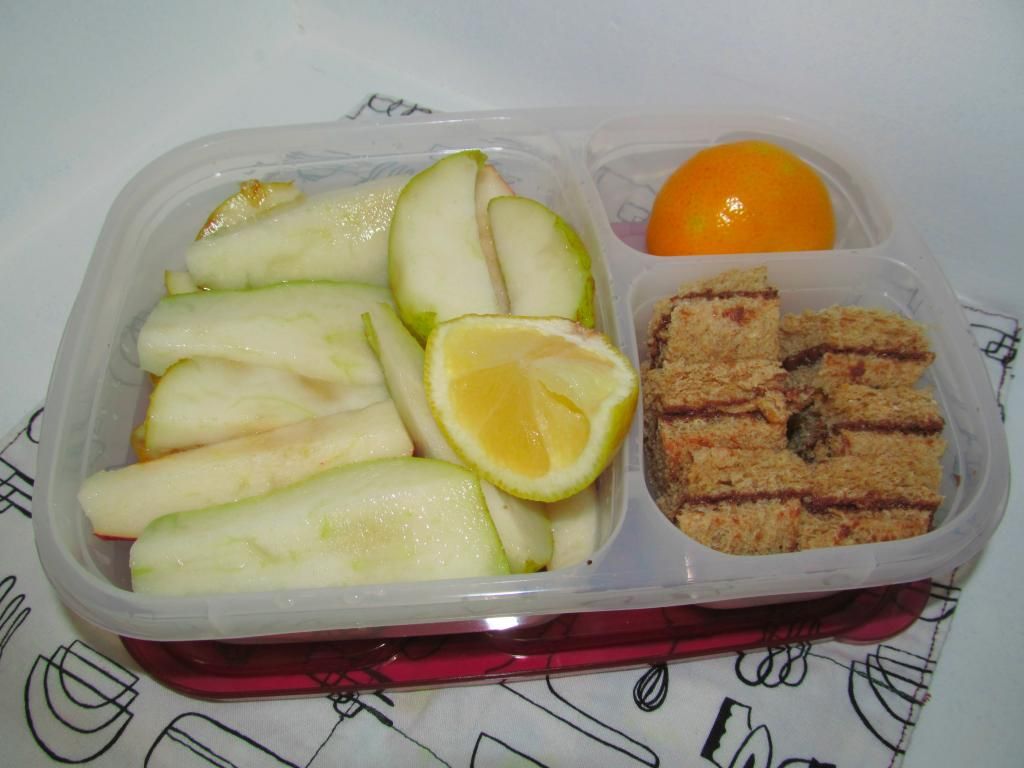 Snacks for me: Slices of green and read pears sprinkled with lemon juice. One orange and some Chocolate Almond Sandwich.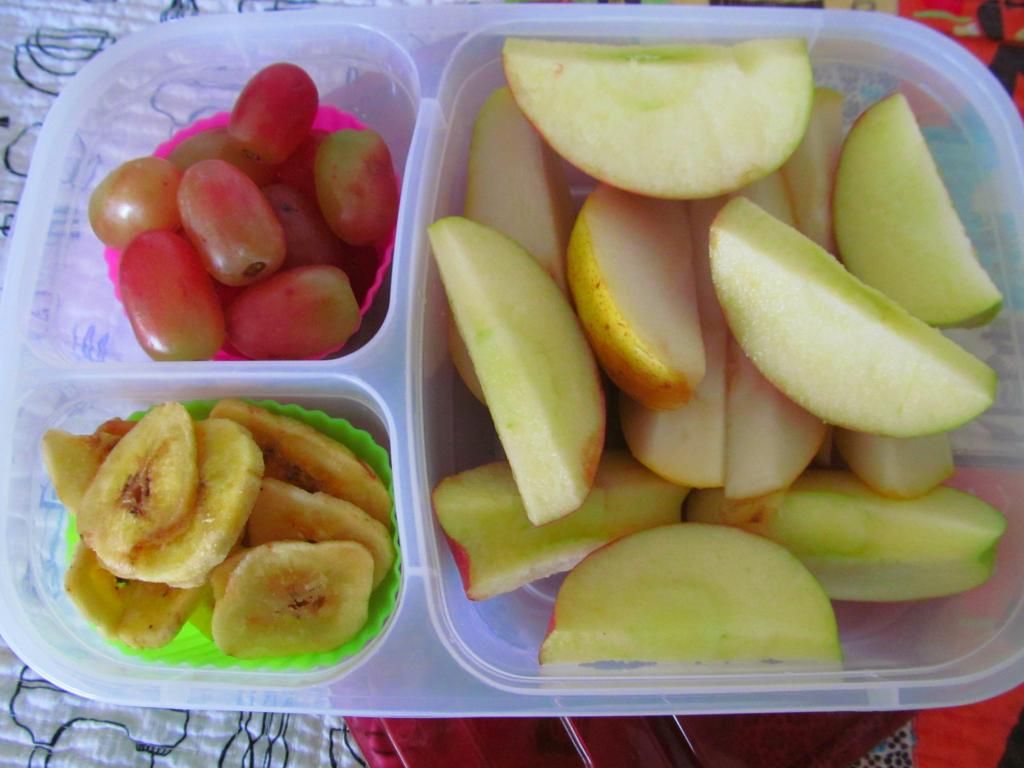 Me and my little girl's breakfast: Dried Bananas, Grapes, and some slices of one apple and a pear. Love it!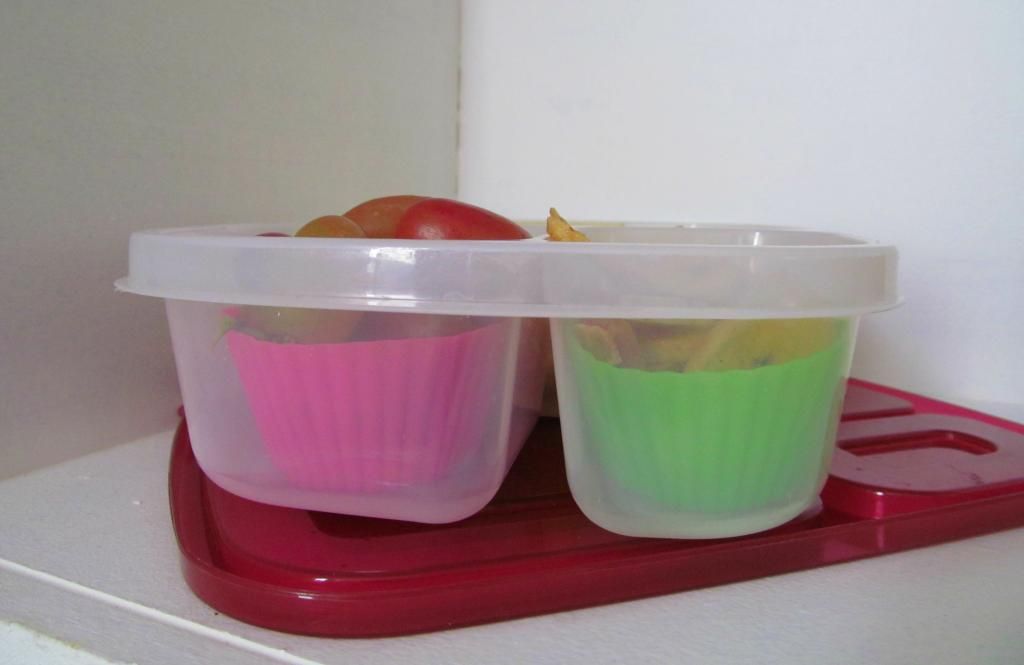 Look how you can see the colorful silicone cups from the outside. Cute!


Lunch: Spaghetti Pasta, homemade Chocolate Chip Scone, homemade Popeye (Spinach) Muffin and some cheese on a toothpick.
School Lunch: Noodle Stir-Fry with Jasmine Rice, and sweet dates for the little man. A little clear container with a couple of wipes to wipe those messy hands before and after eating.
My son's Lunch For Today (11/18/2014): Rice with Bulgur Wheat with a couple of candy eyes for fun, a chicken drumstick, some cod fish fillets, and Panda Bear Choco-Cream cookies. That should make one 1st Grader boy happy for lunch, eh? Yes, we are big on rice in this house. Blame that to their Filipina mama.
The lunch bag can fit two of the lunch boxes along with an ice pack to keep everything inside cold. Or up to three containers without an ice pack.
The little man is ready to brave the cold walk to school with his daddy. Good thing they didn't have to walk far. One happy 1st Grader with his lunch made by mommy. He keeps telling me that his lunch has to be in a lunchbox with the blue lid on.
And who says lunch boxes are only for food?
My little girl loves to use the red lid lunch box to store her little things because she said it is hers. Then she told us that I get the one with the Orange lid and daddy gets the one with the Green lid. How cute!

What We Do Like About The Products:
- Easy-Open and Kid-Friendly Lids.
- Affordable and Durable. We have been using these lunch boxes for 19 days now and so far it is holding up pretty well with the everyday use of taking lunches to school. We even use it at home for our meal time and no need for plates.
To be honest with you, at first I really thought that because of the affordable price of the product, that somehow the lunch boxes would be thin and flimsy. Boy was I wrong. The container and the lid are actually thicker than the plastic food container that you buy at the store.
- A couple of things we also like about the product is that it is reusable and Eco-friendly. You don't need to use another sandwich bag just to throw them away after using. You save money that way, and Mother-Earth.
- The Easy Lunch boxes are really just simple because it has two components- the container and the lid.
It has plenty of space and deep enough to carry all of our snacks or my boy's school lunch. My boy likes that it is easy for him to use and that all of his food are in one container. Less mess, less clean up. And washing these containers is quick and easy.
- It is nice to have all four of them because I can make lunch ahead and just stick them in the fridge, and it will be ready when we need it. I also like to use the boxes even at home when I am preparing something healthy to eat like some sliced up veggies or fruits, and some sandwiches, then store them in the boxes and have it ready when hunger strikes. And if you really want to save time, you can buy another four of these lunch boxes to store all your meals for the entire week and stick them in the freezer because they are freezer-friendly. That is awesome!
- Even though it says it is dishwasher safe and microwave safe, I have not really washed in the dishwasher because we hand-wash everything. And for microwaving food in a plastic, I am too scared to do that, even though it says it is safe. I am just not a fan. But if you don't mind, then this one is for you.
- When it comes to storing the lunch boxes, they are nesting containers that save up space. The lids aren't bulky, so those do not take up much space either.
- With the cooler bag, it is not the highest-quality of a cooler bag out there in the market, but it does fit all three of the lunch boxes and it keeps my son's food cold up until lunchtime. Another good thing about the bag though, is that it is easy to clean up and it is washable. Gotta keep everything clean.
What We Don't Like:
- This is not a leak-proof container. But there is a reason why the ELBs are not leak-proof and you can read all about that on their website. Plus, it also has some tips on how to make it leak-free if you do however pack some runny food or juicy fruits.
Conclusion:
All in all, the EasyLunchboxes are your budget-friendly options when it comes to saving money and eating healthier. For the price of $13.95, you don't just get one, but all four of them. It is a simple product that works. Since the container is clear, I like to put some of my son's food in those silicone cups and it makes for a fun and colorful lunch.
Packing boring and unhealthy lunch is not an option when it comes to EasyLunchBoxes.
I am also thankful to have these products because we travel a lot and when you travel with kids, you pack a lot of food and water. And you know your vehicle is going to be messy, like it is one big moving trash can. With the help of Easy lunch boxes, it is going to make snack time in the vehicle easier and less messy.
If I were to buy the product with my own money, do I think it is worth it? Yes, it is.
With that said, if you are looking for a more affordable way of packing up your lunch, don't forget to visit the Easy Lunch boxes website at
http://www.easylunchboxes.com/
.
If you are interested to know, you can also buy those mini dippers to go with your Easy Lunch Boxes to complete your set. Just an FYI.
Thank you,
EasyLunchboxes!
For more update and more fun lunch ideas: