It was one scary night last night with all the thunderstorm and lightning going on. We are thankful that we dodged the bullet yet again and we are safe from the storm for now. We are hoping that today will be a good one. With that said, we had five inches of rain last night, which is good for our plants and for our pecan trees at the farm. Thank you God for the rain!
Since it rained last night, the ground is wet and it is a perfect excuse for wearing my rain boots! I don't know about you, but it makes me feel like a kid again when I wear my rain boots on and I just want to splash and splash in the mud puddle with my little boy. Well, not in this white skirt though, but you know. Although I am not fully loving these boots, but this is what I have right now, so I'll deal with it. Maybe someday I can get me a pair of Hunter boots. Santa? Anyway, this is what I am wearing and I am loving it. Comfortable to wear yet I still look presentable. The weather is around the 60s today, in fact 66 and it is absolutely beautiful! I hope you are having a great day as well!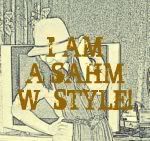 Vintage Top and Vintage Button Down Skirt are both thrifted for $1 a sack.
Boots: Aussie Dogs via 6pm.com
Yes! That's right. I got these babies for that amount of money from last year. I have accumulated quite a few of vintage skirts and I can't wait to find more vintage treasures at the Rummage Sale this Friday. Yaye!
I don't really understand this skirt because the way it is styled it is a buttoned-down skirt and it has one big square pocket. Now I don't know if the pocket is supposed to be on the front or on the back, but I thought I'll wear it the way I want it and I have the pocket on the back.
Work it, mama!
I love it after the rain! Everything's alive and green.
Have a great Monday, everyone!