I have been seeing this baby wrap online and I really wanted one for my baby girl, but would not want to pay about $50 for it or more. I looked up online to see if there is anyway I can make a homemade version without spending that much, and sure enough I found some tutorials online and I ordered my fabric right away when I found out how to make it. My fabric came in the mail this afternoon and right away I made my own homemade baby wrap just like the Moby wrap, but not that expensive. It didn't take that much to make it, in fact the only thing I had to do was to cut and sew the sides so it won't fray. Really, the sewing is the only thing that took a bit longer since I had five yards of fabric. This one is a 100% cotton gauze material, about 20" W x 5yd L. I was thinking about trying the 100% cotton jersey and see what the difference is and which one I would like best.
After I made the wrap, I immediately tried it on, loaded my little girl up, I walked around our trail for few times just to know how it feels like walking around carrying my baby in this baby wrap. I feel good, I didn't have any shoulder or back pain and my baby feels snug and secure. I just love this! I will be using this baby wrap quite a lot. What do you think guys? If you want to make your own, you can look it up online, or on Youtube, and there are tons of tutorials on how to make one and how to properly use it as well. And if you don't want to mess with making it yourself, just let me know because I have one available in the same fabric, same length and it's up for $35. Or I can make one in a different color and in jersey if you don't like the gauze. Let me know!
By the way, I am petite so the five yards of fabric was enough for me. If you are a bit on the large size, six yards will be good or more. It depends.
At first try my little girl was not sure about it, but as soon as she was properly placed in the wrap and she was all snuggled up, she loved it. Of course, she does not like her feet hidden or tucked in.
Dress: Vintage thrifted for $1 a sack.
Shoes: Payless $20ish. I totally forgot the exact price.
From making my own baby wrap, to my altered vintage dress. When I first saw this dress at the rummage sale, I knew I had to have it. Without looking at the size and the length of the dress, I grabbed it right away before someone else's does. Well, I noticed I am the only one in this town that shops at the rummage sale that seems to like vintage, so I guess I am lucky at that. I am really going to miss this rummage sale shopping during our move. Bo ho! Anyway, back to the dress. Yes, I got it for that cheap. This is one of those dresses I got for that amount of money. I would say majority of my clothes are thrifted and I don't mind it. I love the thrill of thrift shopping and being able to find awesome clothes in an awesome price. I don't mind so much about branded things (although there are few things that I do mind buying it in that is of great quality like my hiking shoes or winter boots. Something that I know I need and that will last me for a long while.) because all I care about is if it looks good on me or not. Just because something is on trend doesn't mean you have to have it, but if it looks good on you, then by all means. If not, then no need to buy it. That's just my opinion. I like my vintage clothes because I know that no one else is going to wear the same clothes I am wearing. If there is, then it's very rare.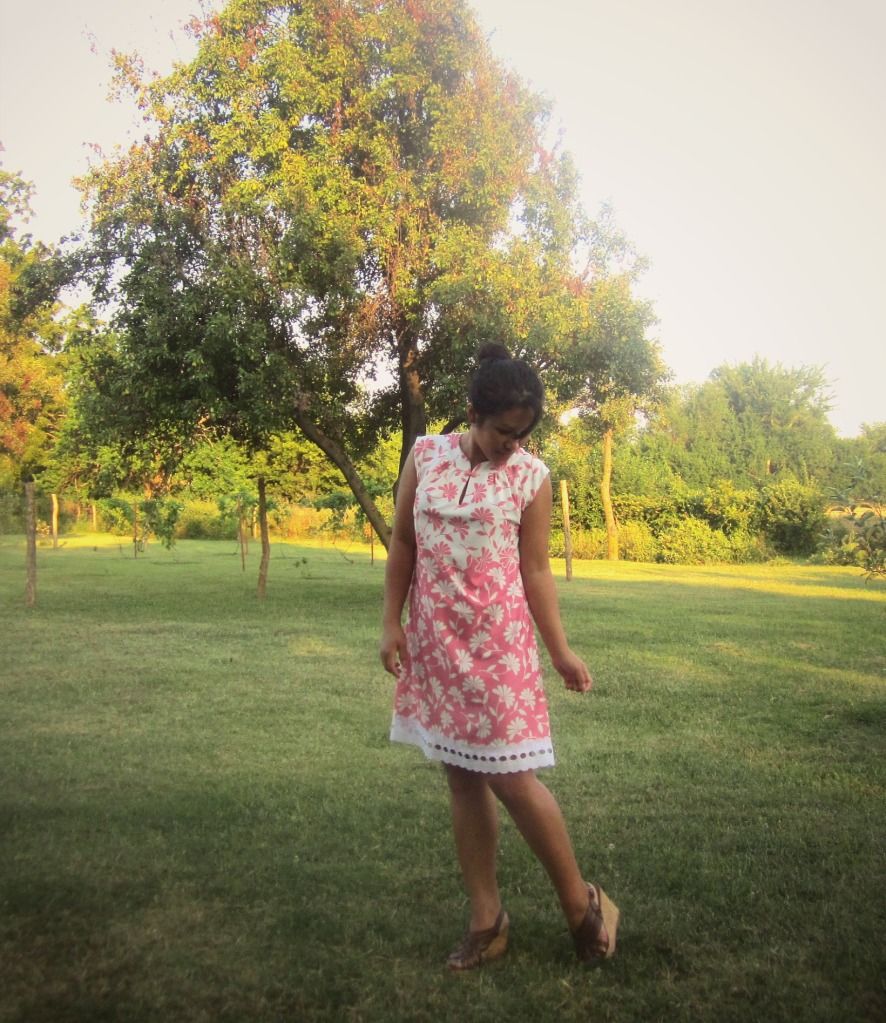 This dress was huge and long for me, so I had to alter it. My bad because I actually cut it a bit short, (which I thought I cut it at the right length) so my remedy was adding this vintage lace that I got at a secondhand store here in town. It added length to the dress right where I want it to fall and added another detail to the dress. Easy peasy! I also like the neckline of the dress (sorry no close-up photo, but you can see it a bit), which kind of look like an Asian-inspired neckline.
Just a minimal look for this SAHM. No muss. No fuss. When you have way too many things going on, it's a hassle. My baby girl loves to hang on to things or grab things these days.
My little girl was standing by the tripod, so I had to say HI to my little bee. So cute!!!!
Big brother was snoring in his bedroom while all of these was happening, so he is not in the picture.
Have a great weekend, everyone!!!