I have been very blessed lately to be given the chance to conduct a product review on one of the
Cool Gear
products that came in the mail last week. I was asked what product I would like to try so I went with the
32 fl oz. PURE bottle
. Because where we at right now, our new place uses a water softener due to the hard water and that leaves for a nasty tasting water that I am still not used to. I miss the good tasting water that we have back in our old place where we use a water filtration system. Anyway, let me show you how this bottle works.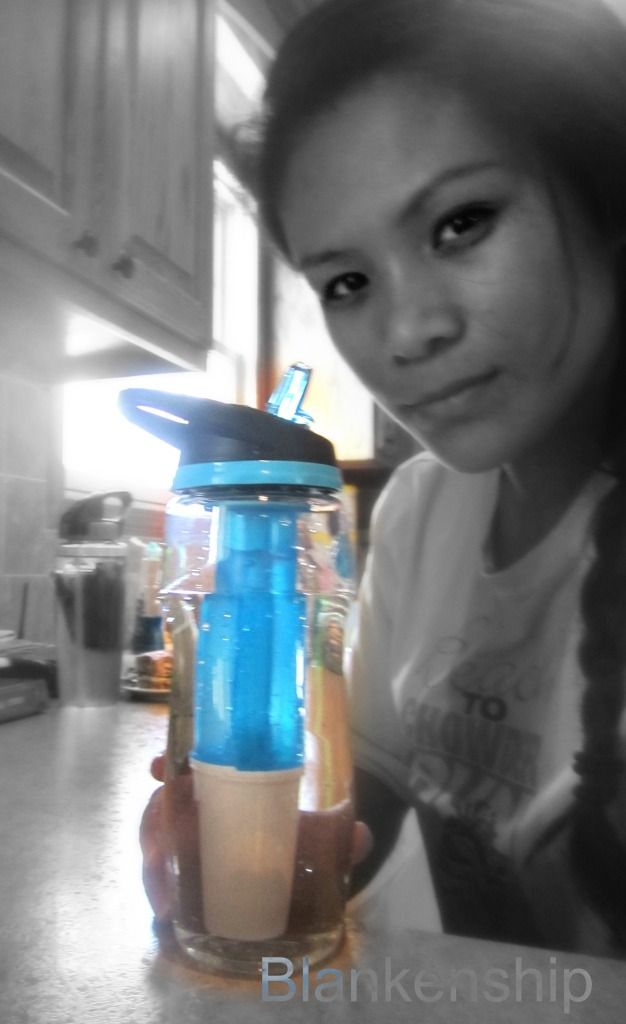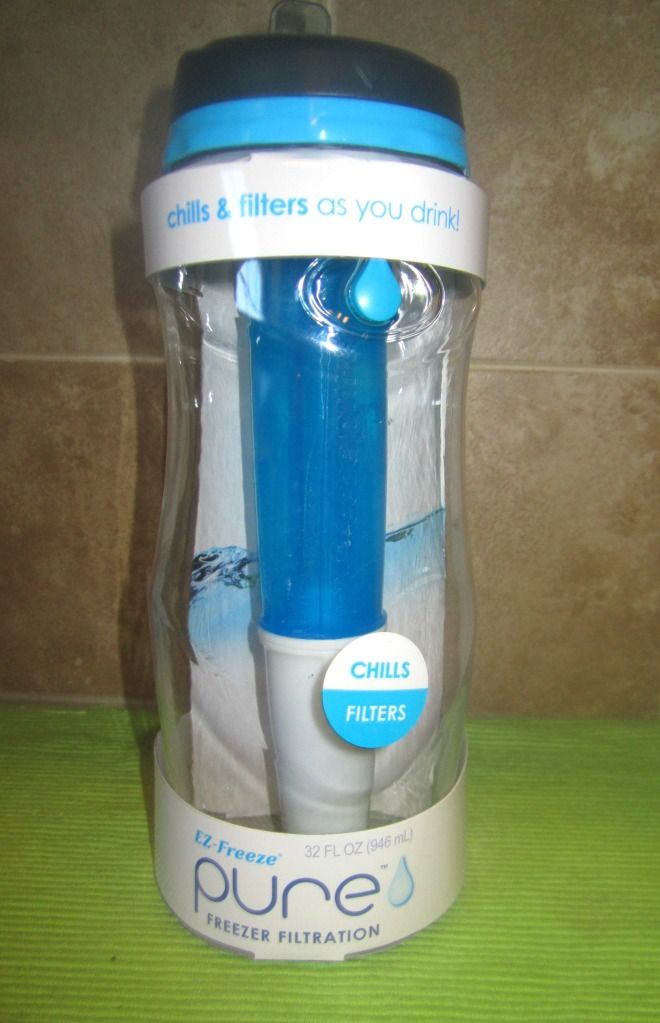 The bottle came in with an easy instruction on how to take care of it.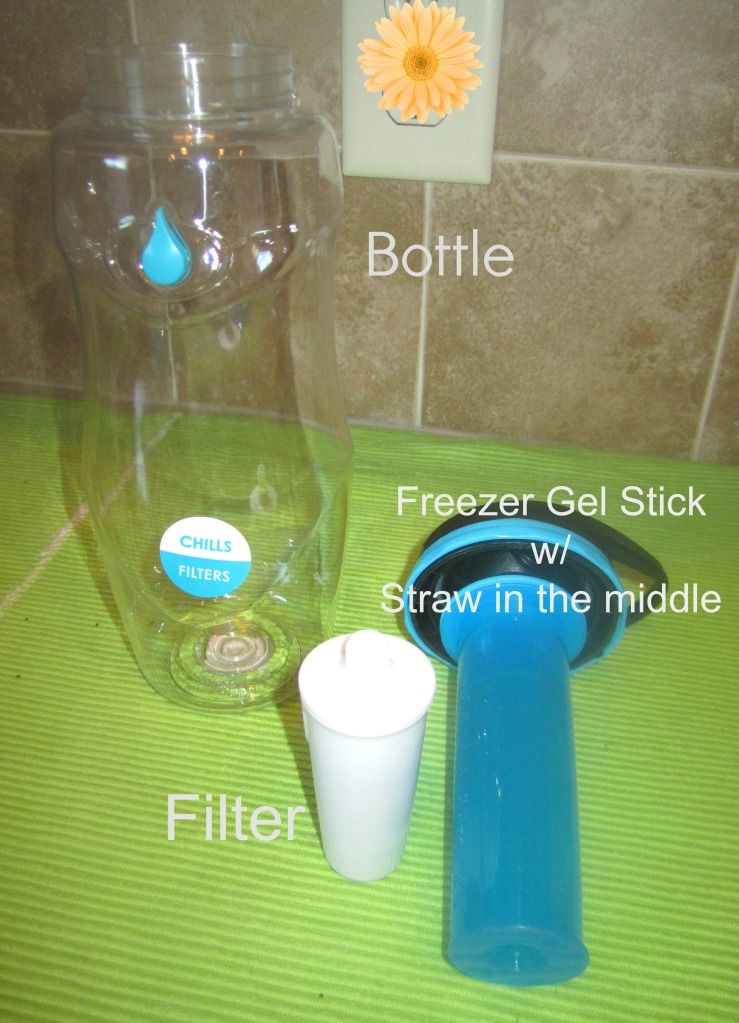 The Pure bottle has a freezer stick gel that you can easily screw and unscrew from the cap, and in the middle of the stick gel is a straw where water passes through and makes the water cold to drink. It also has an attached filter on the bottom of the stick gel where you can easily remove it as well. The water passes through the filter and filters out the nasty taste of the water and chlorine, then it passes through the straw and gives you that good tasting water to drink.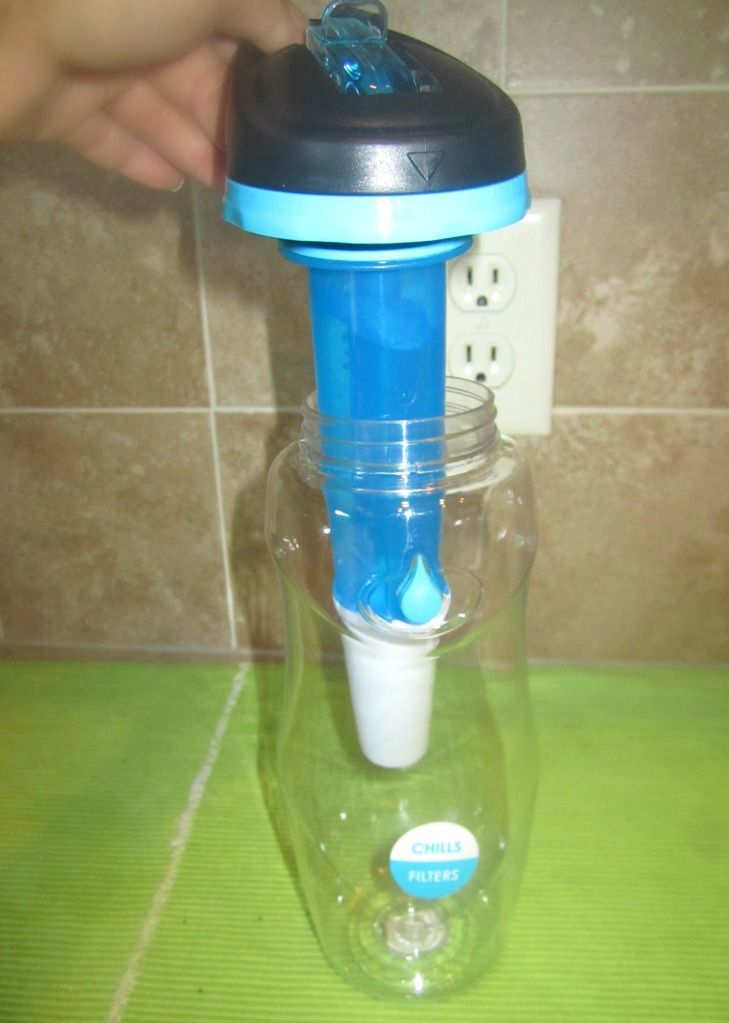 To use the bottle, I cleaned it up first according to the manufacturer's instruction, including the filter. I unscrewed the gel from the cap, stick it in the freezer, I let it get nice and cold and frozen, then I took it out, screwed it back on to the cap and the water was nice and cold as I drink. It also helped when I filled up the bottle with cold water, and it stayed cold for a long while. You can leave the freezer stick gel for as long as you want until you are ready to use it. I was amazed at how quick I was able to use the stick gel within minutes. The freezer stick gel is safe to use by the way and it will not be mixed in with your drink. I also learned a fun thing about this bottle today and it is about that blue ring around the bottle with the numbers from 1-12. It is use to keep track of how many bottles of water you drink a day. It was never stated on the package so I never knew what it was for and now I do know.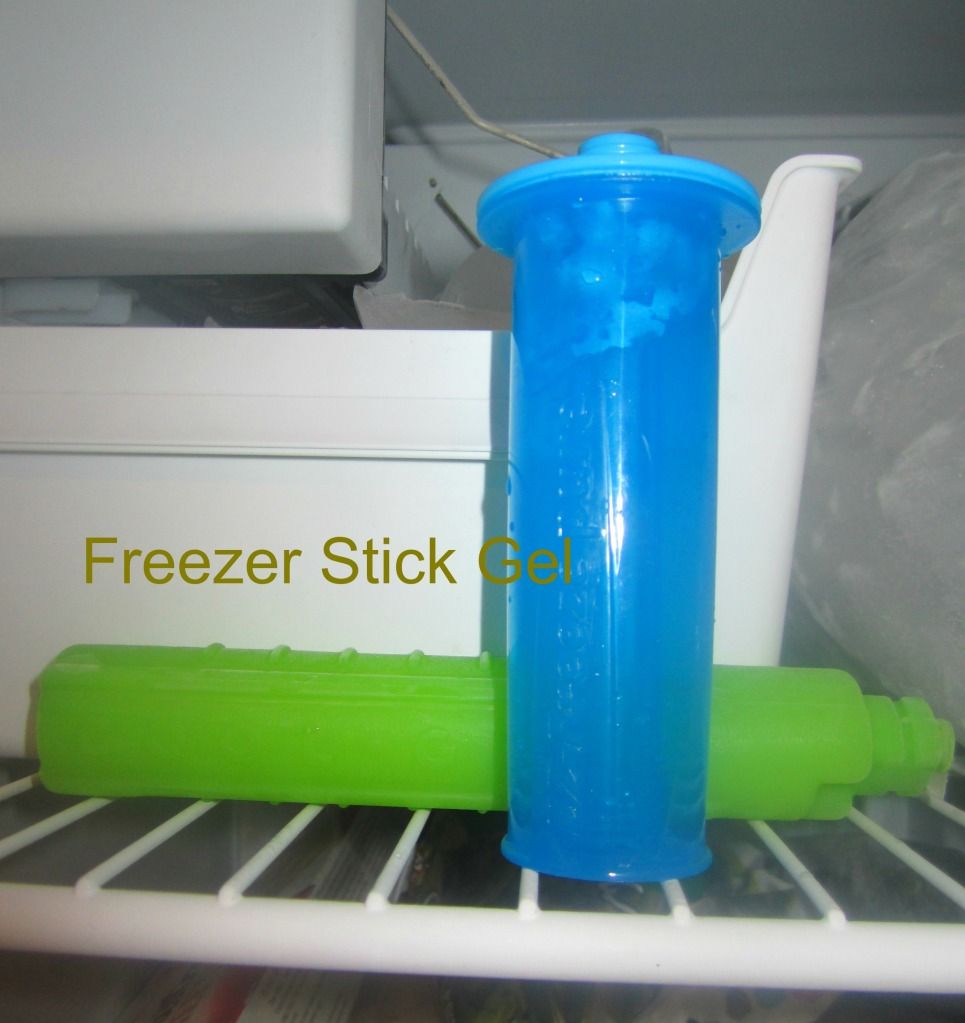 Be careful when you are filling the bottle with water though. Do not fill it all the way up to the top because you still have to put the freezer stick gel and the filter back on and inside the bottle. It will spill all over the place. Do not do what I did because I was too excited and was not thinking. I know! *eyes rolling* You can fill it up with water up to the bottom of that blue tear drop on the front, and once you have the gel and the filter back in, it is just the right amount of water.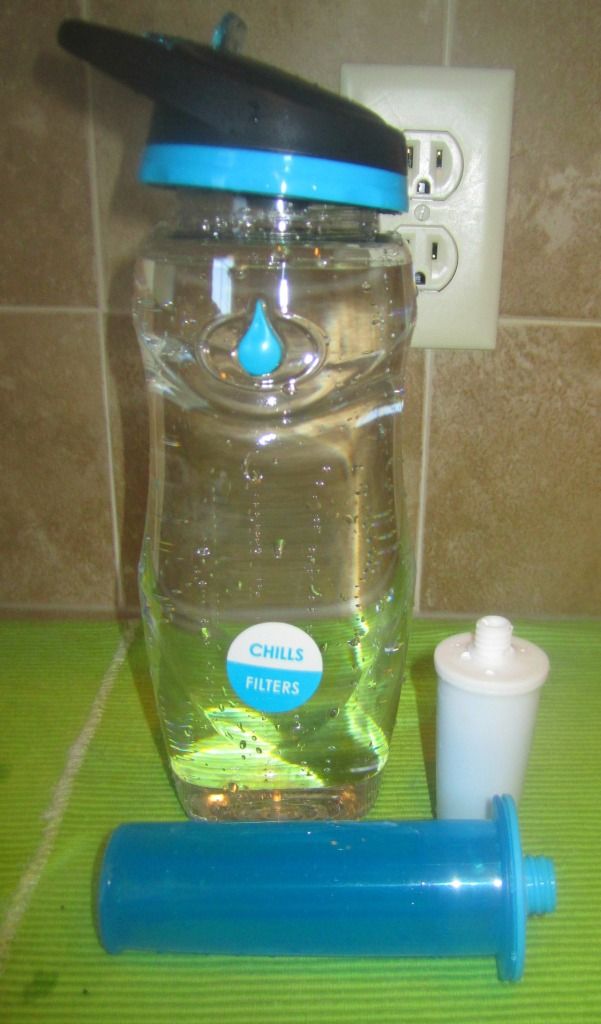 I wanted to make sure that the filtration bottle really works so I did a little bit of a comparison between a filtered bottle and the unfiltered one. The green bottle is also from the Cool Gear company, but I bought this one like months ago. The green bottle is the one with no filtration system, but it has a freezer stick gel as well, and I did not use it on this particular time. I had to do this test to really prove that the Pure bottle works and it did! I can taste a huge difference in both of them. The filtered bottle took out the nasty taste from the water softener and it leaves it tasting clean, good and cold. On the other hand, the unfiltered water was not good at all. I even asked my husband to do the comparison when he got home from work and he can also tell the difference. The Pure bottle is it!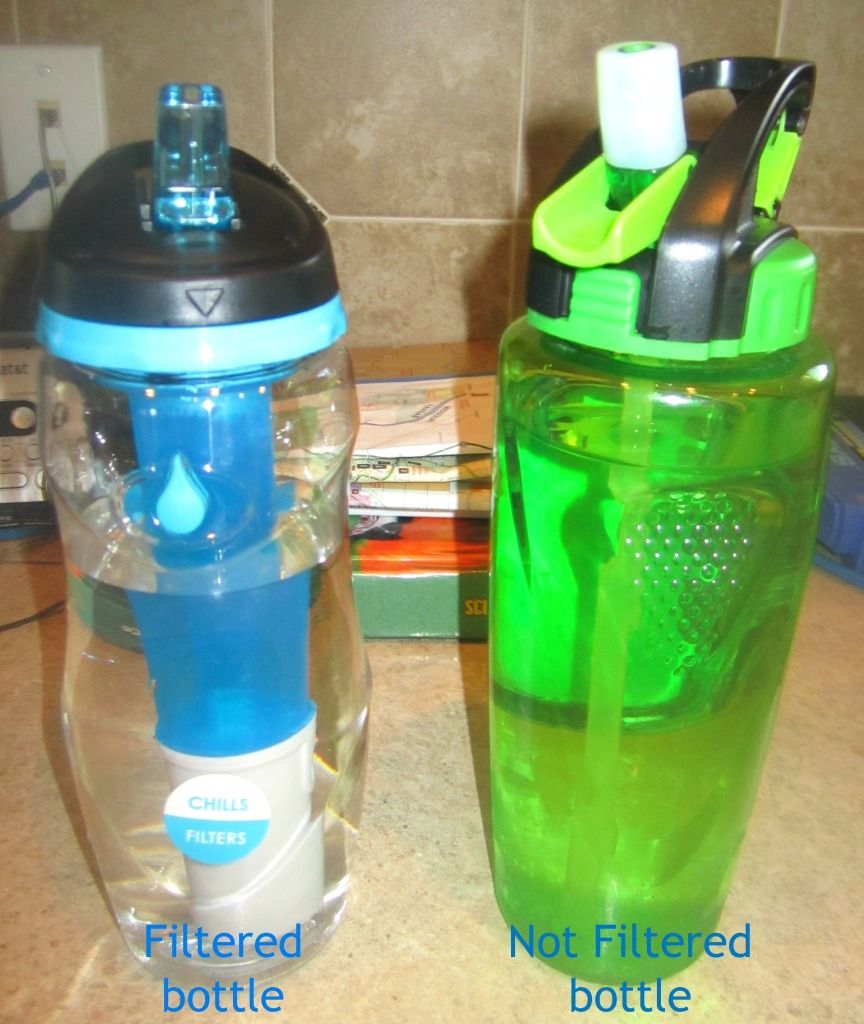 I am really glad that I picked this bottle because it really goes with you. It is a perfect bottle to tote around while you are out and about or when you are at work. My husband is the one using this bottle now because he brings his own water to work and for him to get good tasting water, he needed this.
The only little issue that we have with this bottle is that according to my husband it sucks up more air. I think it is because of the design of the spout or the straw maybe. I would like it more if it where designed like the green bottle where it is more rounder and the straw hole is a bit wider.
Also, I wish there was a carbiner where I can easily hook it up on to a backpack perfect for when you go on a long walk or hike. And for easy access as well so you can take it with you while traveling. Other than that, this bottle really works and the price is reasonable. The filter will lasts up to 4 months and up depending on how much you use the bottle. So, my conclusion to this product review is that I am satisfied with how it works and the quality, and it really does make hydration fun and stylish. I even had someone asked me what kind of bottle I am using because she said it looks "cool". I think so too! Now, if I can get me another one of this since my husband is using it now, that would be awesome. Thank you so much, Cool Gear!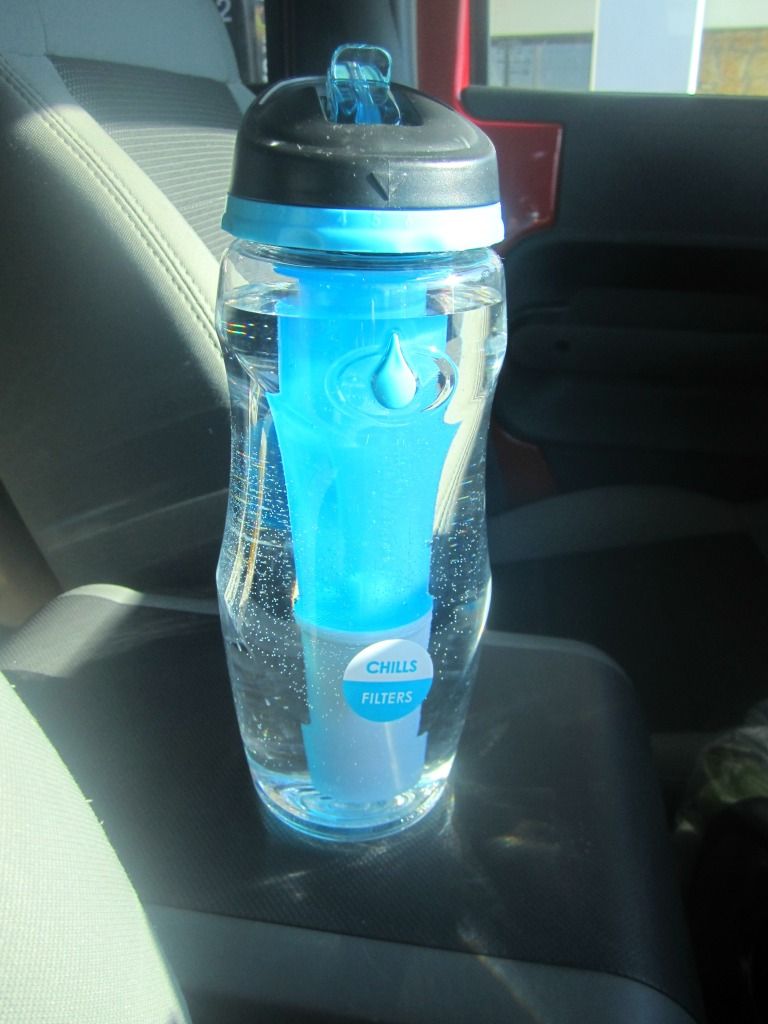 The Cool Gear products are BPA free and comes in different varieties and choices of hydration bottles, filtration bottles, stainless bottles, kids product, even food storage, etc. To find out more about Cool Gear and their wonderful, stylish products, click
here.
Enjoying my new Cool Gear PURE bottle and my good cold drink.
Stay hydrated!
Note: The PURE bottle was given to me for free, but my thoughts and opinion are 100% mine. I did not receive any money for this post.