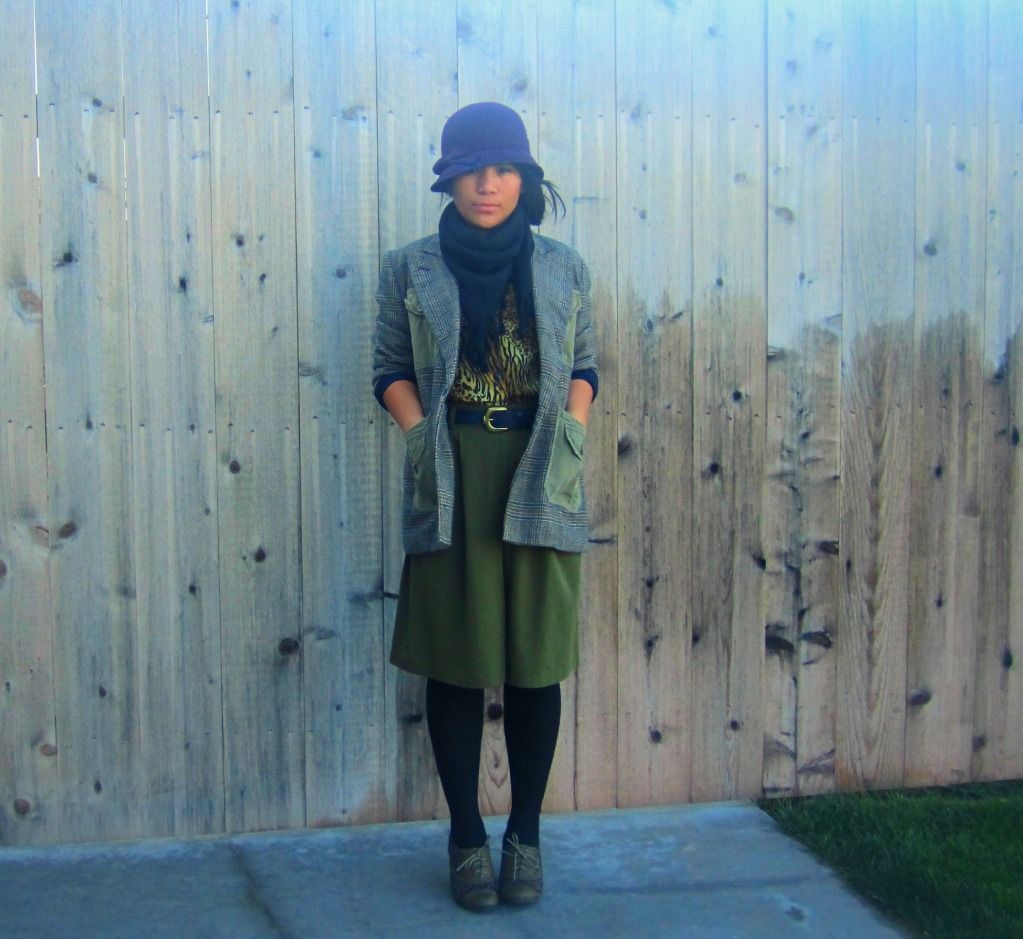 Blazer: Thrifted years ago for a dollar &
DIY
Animal Print Blouse: thrifted for 50cents and altered
Oxfords: C-Label via 6pm.com.
(I had a little problem with the heel tip when it arrived in the mail and I'll show you next time on how to put a new heel tip on your shoe)
Don't I look like a little boy?
I have noticed that my style lately has been into clothing that are not skin hugging clothes. I like it to have a bit more room and a bit boxy. Or something that does not look like I put too much effort on it. I don't know why, but that's my style right now and drawing towards for retro-ish or vintage-ish look. What do you think? Yaye or Naye?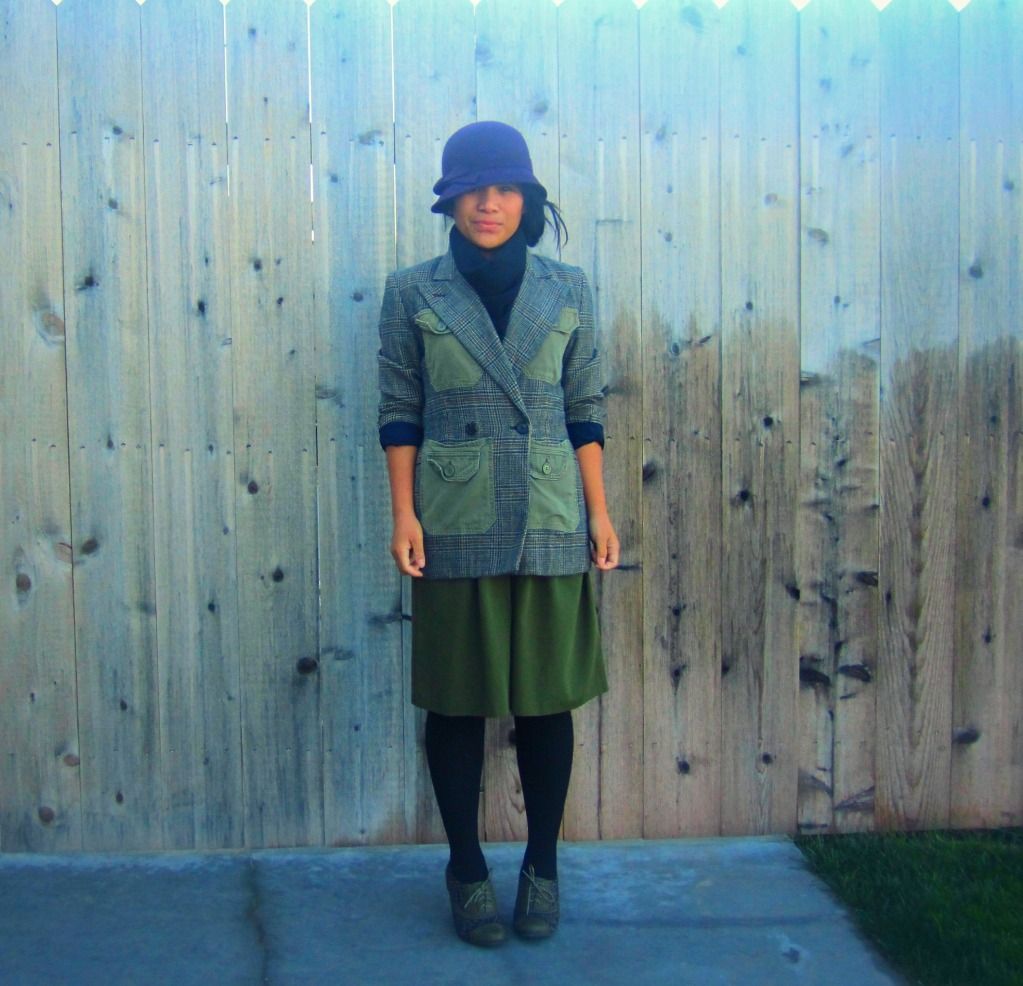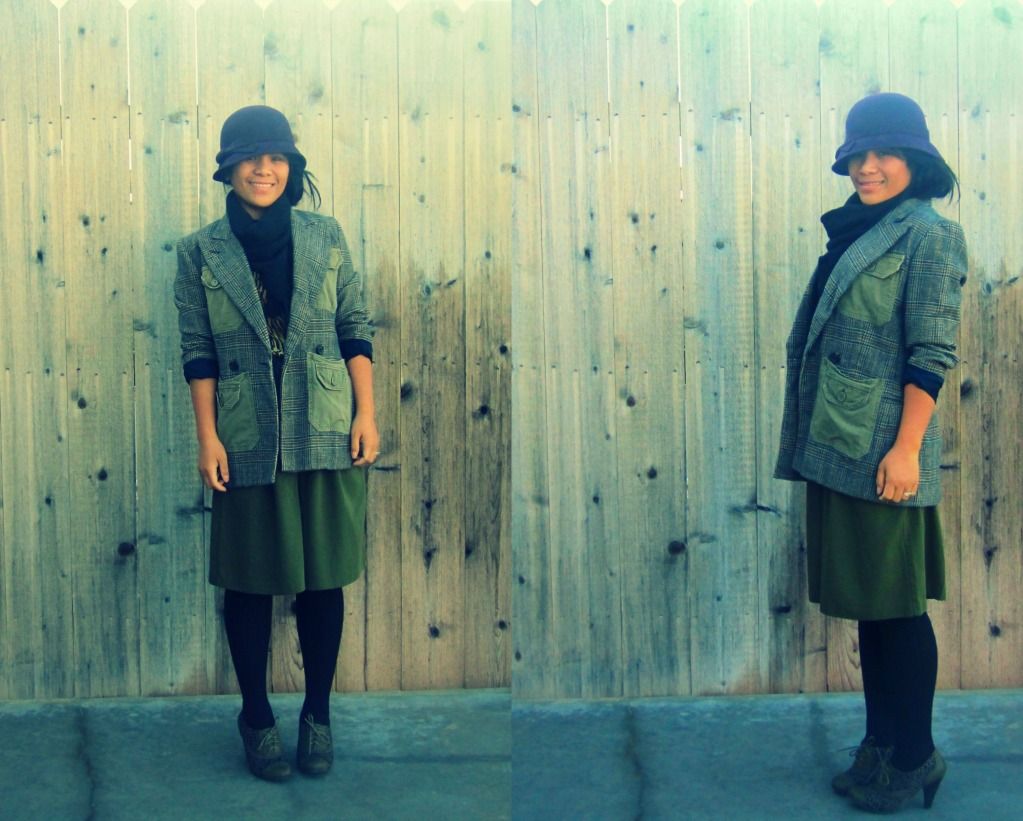 I had this short pants that I bought for about $3.00 when I was pregnant with my second one, and I even wore it while pregnant because the back of it is elastic. No zippers to deal with just slip it on and go. Now that I am no longer pregnant, I thought I can still wear it, but I just have to find a style inspiration on how else to style it. I already wore it during the warmer season, but I wasn't quite sure how else to style it during the colder months. Until, I stumbled upon this blog a
nd her photo (below) that I immediately pinned on Pinterest as my inspiration so I won't forget about it.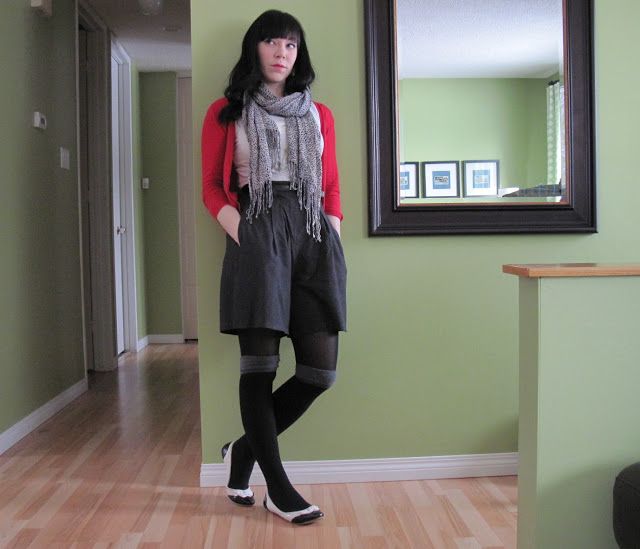 Source: Butterflies and Daisys Vintage


It may not look exactly quite like it, but I was inspired by her style so I came up with my own style. My short pants are a bit loosy and big and I am afraid of altering it or cutting it off a bit to shorten the pants so I figured while it works, don't fix it. You would think I would be good at altering things now that I have done it a hundred times, but nope! Anyway, thank you Butterflies and Daisys for the inspiration.
On the other note, my little boy is also wearing an Army or Military Green Jacket from Small Concept, a boutique born from the love of children. Julie Campbell, the owner of the Small Concept decided to leave her salaried position of 12 years and started her own business about the thing that she is most passionate about. The love for her children and grandchildren had made her decision to sell quality kids clothing and therefore came up with the Small Concept online store.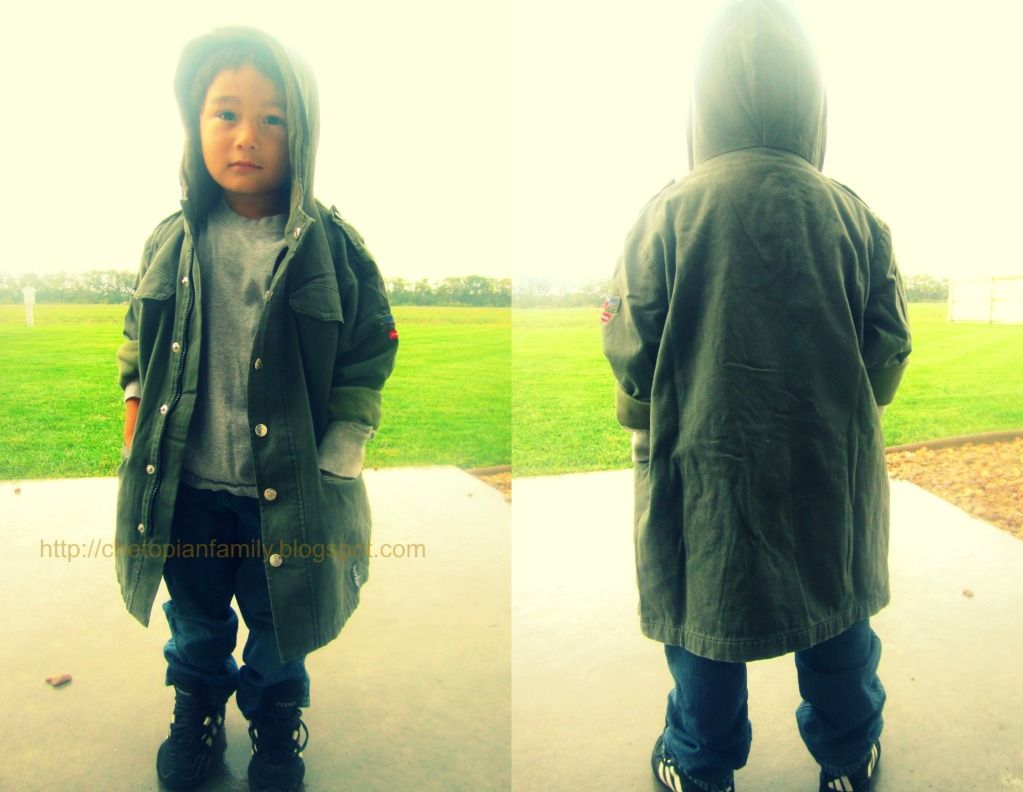 Here is what Small Concept is all about.
"The Small Concept mission is simple: to provide quality products and deliver only the best in customer service. We offer great brands like Tea Collection, Appaman, Deux Par Deux, Mustard Pie, Kitestrings and Hartstrings, Wes and Willy, Alpha Industries, Wonder Boy, and much more. In addition, we recently introduced maternity wear to our collection-- specifically, Lilac Clothing and Olian Maternity."
It is a bit big on him, but I purposely ordered up a size because I wanted him to be able to wear it for a long time and not just wear it once. He is growing up fast and pretty soon, this jacket will fit him well. He wears a size 4T, but this one is size 5.
To be honest, I was jealous because I love the jacket so much. I wanted one. I told my husband if only this jacket fits me, I would wear it. It is that awesome! The material is so wonderful. Made of great quality, comfy, soft and nothing itchy at all. Perfect for the little ones.
Small Concept really did a great job selling jackets like this. To check out the rest of their collection, visit Small Concept at
http://www.smallconcept.com/
.
I love that I was given the opportunity to sample this jacket and now my little man can be stylish and fashionable. Now if only I can get one for my almost a year old (next month) little girl as well.
Thank you so much Small Concept! We love the jacket!
Although my boy didn't look too thrilled, but he didn't really want to wear anything that day because all he cared for was to be naked and just play. But we really do love the jacket. Perfect for the season.
Note: The product was sent to me for free, but my thoughts and opinion are 100% mine, otherwise noted. I did not receive any money for this post.
Follow Small Concept on Twitter:
https://twitter.com/smallconcept