For some of you who may not know about what a Sea Buckthorn is, here are some information before I continue.
Sea Buckthorn's Secret Power – Omega 7
We've all heard the important and amazing benefits of Omega fatty acids. Sea Buckthorn contains Omega 3, 6, and 9. But it is also Earth's most abundant source of the rare Omega 7 (palmitoleic acid). Omega 7 is a key building block to healthy human skin. It works both from the inside out AND the outside in. The naturally occurring Omega 7 in Monkey Balm is the "Ancient Chinese Secret" to healing skin conditions and making your Monkey's skin baby soft – the way it should be.
The Science of Sea Buckthorn
Sea buckthorn has been thoroughly researched in over 350 modern scientific studies that have found it to promote healthy skin as well as many other benefits such as cardiovascular, antioxidant, liver protection, eye health, and joint health…to name a few. Sea buckthorn contains more than 190 biologically active compounds that can nourish the body's cells to protect the skin from free radicals and actually heal damage from environmental stressors and numerous skin conditions.
Now a days you will hear a lot of products that are using Sea Buckthorn in it, which is also called the "new miracle berry" or the "beauty berry" because of its wonderful benefits it offers. Just like the
Balmers Monkey Balm with Organic Sea Buckthorn Oils
. When I was asked if I would like to sample the Monkey Balm product, I was interested. I have heard and seen it before, but never really got to use it so I thought I would give it a try. I too believe in all-natural ingredients, and when I learned that Monkey Balm claims to be Paraben-Free, Sulfate free, All-Natural, Cruelty-Free and Preservative Free, I thought it was worth the try. I am not an expert when it comes to some things, but you might want to do some research about Paraben and Sulfate as to why some products like Balmer's Monkey Balm claims to be free from these chemicals. Onward to the product.
When I received the Monkey Balm in the mail, I knew it would be perfect for me and my girl because we both have dry skin. Well, my baby has an eczema and so did my little man when he was little. So I was kind of expecting that when I had my second baby. That's one of the things they got from their mama. Sorry babies. Now that the temperature is dropping and the air is dry, which means the skin can get really dry and itchy so it is time to find that right product suitable for the condition. Luckily, I was able to sample Monkey Balm.
When I applied the Monkey Balm with Organic Sea Buckthorn Oils on my baby's skin and mine, I love the design that it is a roll-on, which is easy to apply the product on your skin. It glides easily and smoothly and you really get the product well applied on the affected area of your skin. For me it doesn't feel sticky or messy at all, and I love that shiny glow on your skin. The smell is wonderful and it has that scent of butter or cocoa in it. There's nothing offensive or over powering smell of this product. I like to apply it on my baby's knees, elbows and on the ankles to where she can get really dry and you can tell the difference and the appearance of the skin after you applied the Monkey Balm. We have been using this product for a few days now and so far we are happy. We didn't experience any skin reactions or any breakouts, which is good. I love the convenience of the Monkey Balm because I can stick it in my purse while we are out and about and not having to worry about it spilling all over in my bag. In fact, I brought it with me when my family and I went to an event last week and it was so cold that day that my hands were looking like dried prunes and having it with me sure was a big help. It is easy to use and convenient. I am really happy I got to sample this product and if you ask me, I am one happy and satisfied mama. So as my little girl.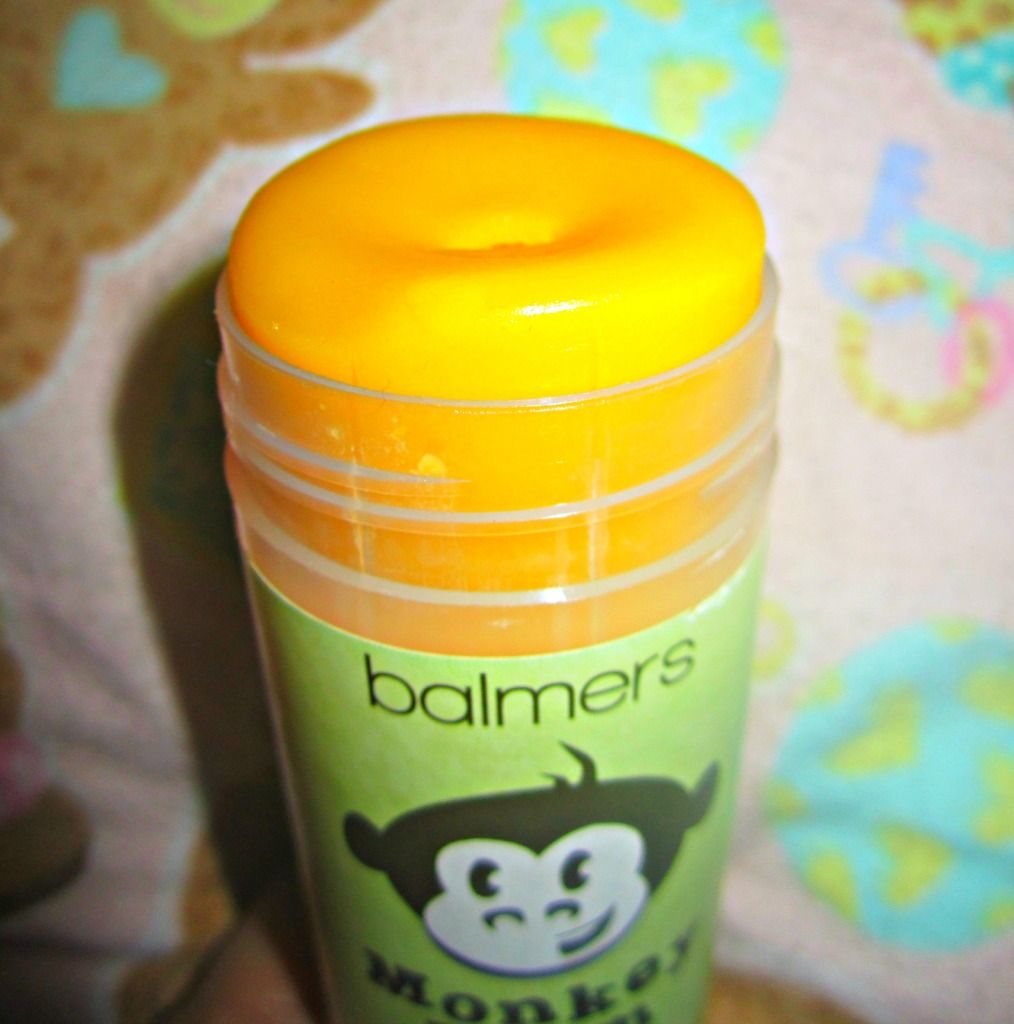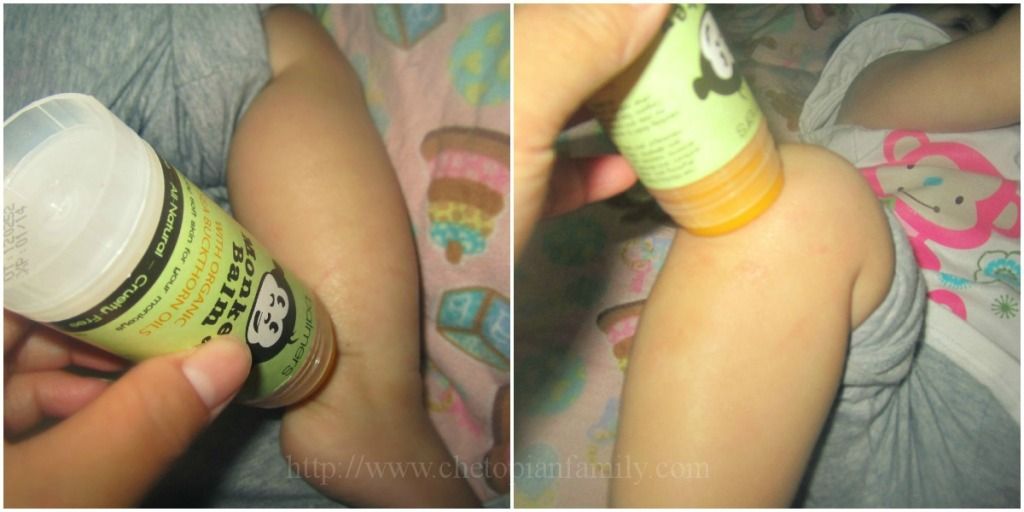 For us, the Balmers Monkey Balm with Sea Buckthorn Oils really works and I hope it works for you as well. Some people might have certain reactions to things and what works for me and my family might not work for you. I still think it is worth the try and see it for yourself.
Here are some information about the product:
Perfect for
- Soothing itchy, painful irritation immediately
- Improves eczema and extreme dry-skin in 3 days
- Reducing irritation/symptoms from dry climates
- Soothing sunburn, minor scrapes and burns,
and rashes
Why Does It Work?
Organic Sea Buckthorn oils (the FIRST ingredient on the label) are clinically proven to improve symptoms of eczema, extreme dryness, even burns and wounds.

Natural soothing botanical ingredients alleviate irritation and smooth rough skin.

No-sting formula and quick, no-mess application makes life just a little bit easier for kids and parents alike!
I was going to use it as a diaper rash cream, but since we use it on our skin I figured I should get another stick of Monkey Balm for that specific use. You know!
Check out Monkey Balm
at
http://www.monkeybalm.com/
for more information.
Buy It: Balmers Monkey Balm with Organic Sea Buckthorn Oils 2.0 oz
$15.95
Win It: Visit Monkey Balm and come back here and leave me a comment telling me what you like about the product and why you would want to win it.
- LIKE them on Facebook.
Optional Entries;
- Follow me via GFC or Google Friend.
- Follow me on Twitter.
- LIKE me on Facebook.
- Follow me on Pinterest.
Giveaway runs until next Thursday, October 18, 2012 12:00 AM. The winner will receive one (1) 2.0 oz Balmers Monkey Balm Sea Buckthorn Oils.
Open to US and Canada only. Good luck!
Chetopian Family is not responsible for the sponsor prize shipping.