Are you one of those people who are on a gluten-free diet and looking for some great tasting gluten-free snacks to munch? Well, you might want to stick around because today I am going to share with you some new favorite snacks that my family and I enjoy eating. None of us in this family are gluten intolerant, but we do enjoy munching on some really tasty snacks especially if it is guilt-free and made of ingredients that we know and that we can pronounce. You know what I am saying?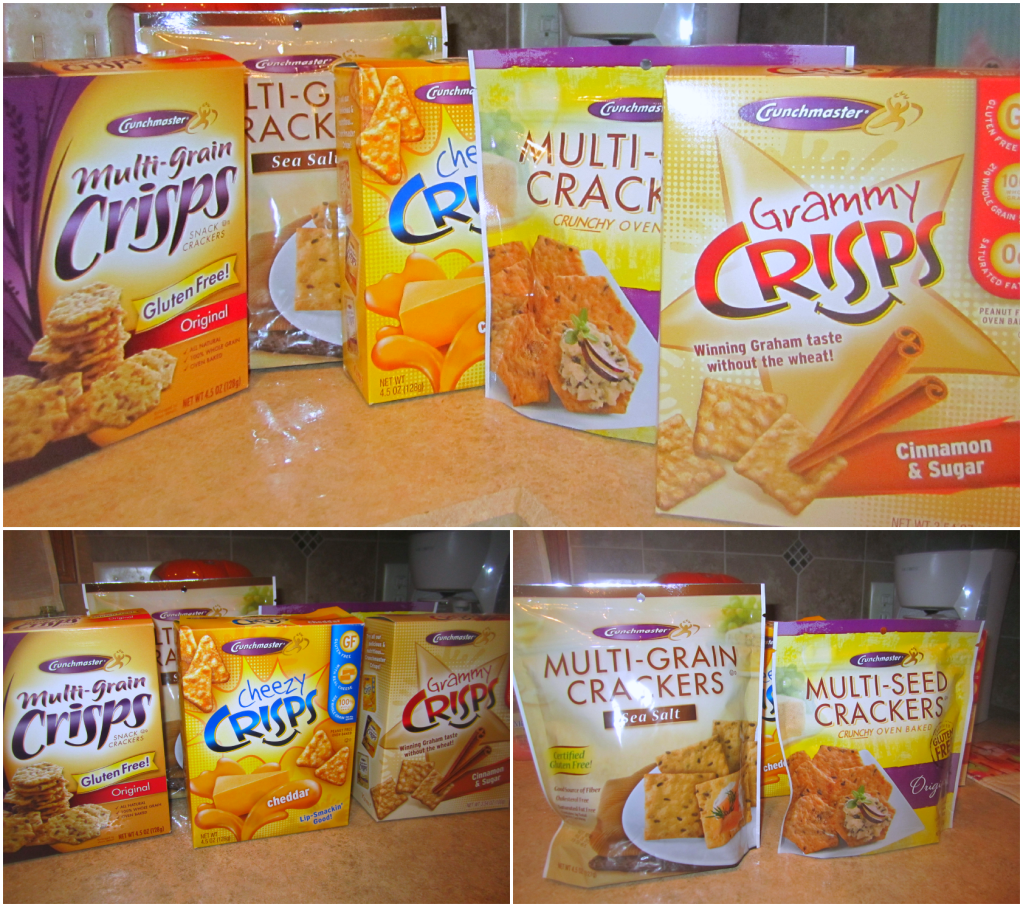 Today, I want to share with you these tasty snacks that we got from
Crunchmaster!
When Crunchmaster sent us a box of these tasty crackers, we were so curious and excited to try it because the list of the ingredients are wonderful and good for your body. Like Brown rice flour, Sesame seeds, Potato starch, Quinoa seeds (I love Quinoa), Safflower oil, flax seeds (I have milled flax seeds at home that I mix in with everything), etc. We first tried the Multi-Grain Crackers in Sea Salt and the Crunchmaster Crispy Cheddar Cheezy and they are absolutely good. My kids went nuts with the Cheezy Crisps because it tastes like eating some junk food that is made out of fake cheese, but you are not. The Crunchmaster Cheezy Crisps are made out of real cheddar cheese and healthy ingredients and specially created with young munchers in mind. It certainly is my kids favorite. And us mama and dadda too!
The crackers and crisps are so crunchy to eat and some of them have these little flecks of browns from the sesame seeds. All of them are actually great tasting crackers and we love to take it with us while we are on the road because they are healthy snacks to munch on while we are away from the kitchen or any restaurants. And because of their packaging, it is easy to take along with us, and you can seal it up again when you are done eating to keep the crackers fresh and crunchy the next time you eat. You know when you have kids with you while traveling, you got to pack a lot of food as well. It keeps them full and entertained. We want more!!! The price of the Crunchmaster products is reasonable considering the ingredients they are made of. Spending money on healthy food and snack is well worth it in the end. Thank you, Crunchmaster!
Here is the list of Crunchmaster crackers that we got;
Multi-Seed Crackers (Crunchy Oven Baked in Original flavor)
Multi-Grain Crackers in Sea Salt
Multi-Grain Crisps in Original
A little FYI about Crunchmaster's products.
Crunchmaster Baked Rice Crackers are probably the crispiest, tastiest crackers you will ever eat. A gluten free alternative to traditional processed wheat crackers, Crunchmaster products are packed with pure, U.S. grown rice, sesame, quinoa, flax and amaranth seeds and other natural ingredients – all baked to a light, crispy perfection!
Enjoy them as part of a healthy lifestyle – right from the bag or box. Or, add a little imagination and pair them with your favorite dips, spreads and toppings to create a unique, tasty treat for your friends and family.
LIKE them on Facebook:
https://www.facebook.com/crunchmaster
Follow on Twitter:
https://twitter.com/LuvCrunchmaster