If you know my family, then you know that we love bread, and we just love food in general. My little man mentioned he wanted more bread because he ran out of his favorite Croissant Bread. And since we are not going to the store anytime soon, I thought I am going to make our own bread.
I made a lot of the Filipino type of bread lately, the Pan de Sal (Salt Bread), and I thought I would make a different kind of bread that my family had enjoyed in the past. I looked at my previous blog posts and I came across the Outback Steakhouse Honey Wheat Bushman bread recipe and the idea came to my mind.
With my trusty old friend the Bread Machine, I was able to bake some homemade bread easily. Oh I thank my husband so much for getting me this bread machine. I told him every time he wants to get me something for a present, I don't need anything else, but things I can use in the kitchen. And he did! Have you ever tried making the Outback Steakhouse Honey Wheat Bushman bread before? If you are not into Whole Wheat bread, then you might not love it like we do, but it's worth the try. It's half white bread flour and half whole wheat flour. It's also mixed with some milled flax seeds in it for added nutrition. We absolutely love this bread and my husband even brought some to work with him.
This bread also goes well with

homemade whipped butter

, but since we didn't have any at the moment, it is still good to eat it by itself. You should try it!
There goes my two kids loving mama's homemade bread. I love cooking or baking knowing that my family enjoys it. And they are not greedy when it comes to sharing food, which I am happy to know.
The recipe for the Outback Steakhouse Honey Wheat Bushman bread can be found here or

here

. I copied the recipe from the website called cdkitchen, and I had shared it already on my blog before so go check the links out!
I also made a simple supper last night, with fried fish, baked potatoes, and sauteed' Bok Choy with a little bit of the leftover smoked herring fish. All I did with the fried fish was I put a little salt on the fish, bread it with the mixture of flour, panko bread crumbs, salt & pepper, and garlic powder. Beat an egg, then dunk the fish fillets in the egg first, then the breading, and fry away until cooked and golden brown.
With the sauteed' Bok Choy, I chopped up some onions, garlic, Bok Choy and I had some leftover smoked herring. I sauteed' the onions and garlic first, then the smoked herring, the white stalk of the Bok Choy (the stalk and the leafy part have the different cooking time so the stalk has to cook first), put a little bit of water about a half a cup to one cup (you just need a little bit to cook the stalk and not turn into a soup), then let it cook. Once the stalk is cooked, then last to go is the leafy part, season to taste. Turn the heat off and cover. The heat will continue to cook the Bok Choy. Enjoy!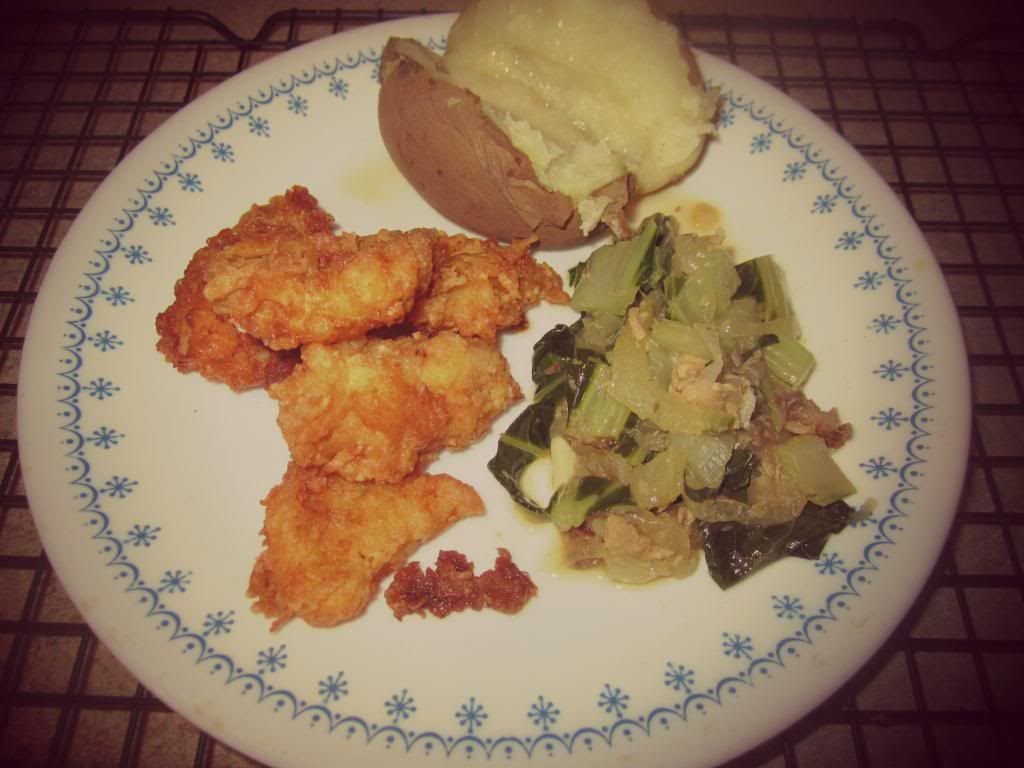 I also would love to share this really sweet and yummy whipped honey that happened to be an accident purchase. Or because-we-didn't-know-our-little-man-had-placed-it-in-our-cart kind of purchase. We came home from grocery shopping at a store in Lindsborg, Kansas and we found out we had two items that we didn't even know. None of us knew what this product was until months later and I decided to open the jar. I thought it was some kind of a Swedish type of mustard, but when I tasted it, it tasted like honey. I asked my husband and he finally figured out that it was Swedish Whipped Honey and his mom used to buy some. I am from the Philippines and I knew nothing about this, never had any before. In fact, to us buying honey is a luxury. Honey doesn't come cheap especially if you buy the raw and pure honey. We don't buy honey at the store at all so when we get the chance to buy the pure honey, we're lucky. Anyway, this is so good and spreadable, perfect for spreading on top of your bread, muffins, pancakes, or on anything you can spread it on. I am glad our little man got it. Yum!
These are some of the food that we enjoy eating lately. How about you? What type of food do you enjoy lately? Have you made some homemade bread or any kind of homemade food lately? Do share!
Have a great day.