Thank goodness! I am able to borrow my husband's laptop again this time so I am taking the time to write this product review about a beverage that I recently tried. I had the opportunity to sample some All Natural Oat Beverage

from

Sneaky Pete's Beverage

. If you are like me, then you probably are not a huge fan of oats, but if it is in a liquid form like the Sneaky Pete's Beverage, sign me up. I mean, I don't hate oats, in fact I bake muffins and cookies with oats, but I just didn't grow up eating oatmeal in the morning so I don't eat it as often. I know I should because according to the Scientific studies, oats contain a special kind of soluble fiber that has been found to be especially effective in lowering cholesterol. And that is a wonderful information to know about oats. That is why Sneaky Pete's Beverage created these All Natural Beverages so people who doesn't eat oatmeal still get the amount of fiber that their bodies need.
Now, I am no expert or a Scientist here and I don't know that much, but all I know is that these beverages are absolutely delicious. I am the type of person that would read the food labels and would check the ingredients and when I saw that the Sneaky Pete's has a short list of good ingredients in their drink, I was very pleased. I especially love this drink cold because it's a thirst quencher. My choice of drink now is water, but sometimes I do crave for some flavor, but I don't buy soft drinks anymore. I am really happy to find out about Sneaky Pete's Beverage because it will be one of my go-to drink whenever I am craving for something with flavor and still good for my body. Even though I don't eat as much oatmeal as I should, but with the help of these oat beverages, I know I am getting enough fiber in my diet. And I do love my fruits and vegetables too so I am doing really good.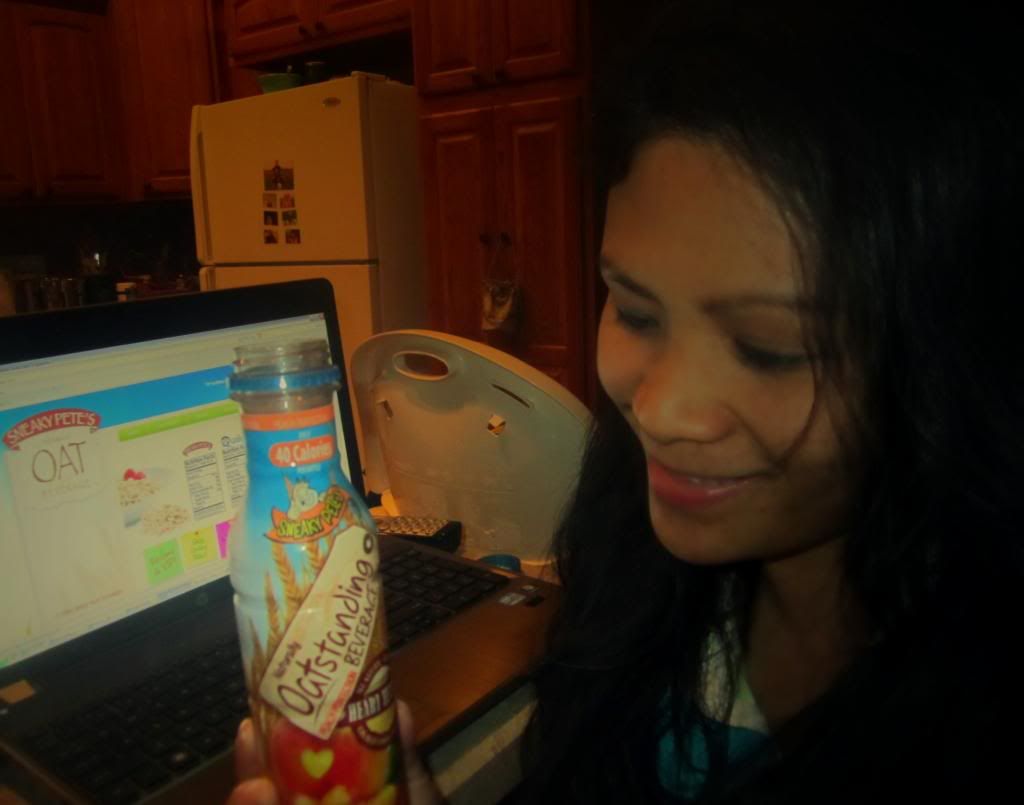 Sneaky Pete's Beverage comes in different flavors in Peach, Apple, Mango Raspberry and Grape. If you ask me what my favorite is, I like them all. To me it just has the right amount of sweetness and you can tell that it has oat in your drink, but it tastes good. Below are some facts about the Sneaky Pete's Beverage and what makes it OAT! So good.
* What makes Sneaky Pete's so special?
Sneaky Pete's is the first refreshing oat based beverage, which tastes great. Now there is a refreshing way to easily get the fiber your body needs in a great tasting, fruit flavored, heart healthy, oat based beverage that is low in calories and all natural. Sneaky Pete's contains 3 grams of dietary oat fiber in each 12 ounce bottle.
* How much fiber is in Sneaky Pete's?
Sneaky Pete's contains a total of 3 grams of dietary oat fiber in each 12 ounce bottle. 2 grams are heart healthy soluble fiber.
* Do I need to shake and refrigerate Sneaky Pete's before I drink?
It is recommended you shake your Sneaky Pete's beverage prior to drinking. This ensures that all of the heart healthy soluble fiber will be dissolved. Sneaky Pete's can be stored at room temperature. It is recommended that you should refrigerate Sneaky Pete's after you open the bottle. Consumers enjoy this beverage in many ways. Serve cold if you are trying to quench your thirst. Serve warm if you are looking for soothing comfort. Enjoy at room temperature for those of you who just can't wait to taste Sneaky Pete's.
And see, I am not the only one who loves it. My little girl absolutely enjoys drinking some All Natural Oat Beverage. Thank you, Sneaky Pete's for our delicious, healthy and thirst quenching drink! It's a healthy drink for the whole family to try. Visit their website today at
http://sneakypetesbeverage.com/
.
When you buy Sneaky Pete's Beverage, you will get a 15% off of your total purchase by using the code SNEAKYBLOGGER. Shipping is always free!
Like Sneaky Pete's Beverage on Facebook:
https://www.facebook.com/sneakypetesbev?fref=ts
Follow on Twitter:
https://twitter.com/SneakyPetesBev