Have you ever heard of
Glass Dharma
before? If not, then let me clue you in on what this company is all about. Read the information below.
"Since March of 2007 GlassDharma has been producing glass drinking straws. The GlassDharma mission is to create world-wide awareness about single use plastics and how damaging plastic straws are to our environment. Glass Straws provide an alternative that eliminates the need for straws made from plastic."
GlassDharma straws not only replace their plastic and toxic counterparts, but they can be used to bring a touch of elegance, conversation and lots of compliments whenever used. Fundraise for a worthy cause and help eliminate plastics from your diet, and our landfills and oceans.
Great for all hot or cold drinks
Perfect in specialty drinks – bubble teas, shakes and smoothies, iced drinks
Beautiful in cocktails – great accessory for any martini glass
Concerned about staining your teeth or decay? Use for wine, coffee and teas
About a month ago I had the chance to try Glass Dharma's glass straws in different shapes and sizes. I am absolutely impressed of all their products and at first I thought the glass straws would be made thin, but it actually is well made and thick. I also love the other straws with the decorative dots on it, I think it just adds character, it's festive, and something to talk about. My little girl loves the tiny red dotted straw because it is perfect for her size. She loves using it when drinking her milk, water or some juice.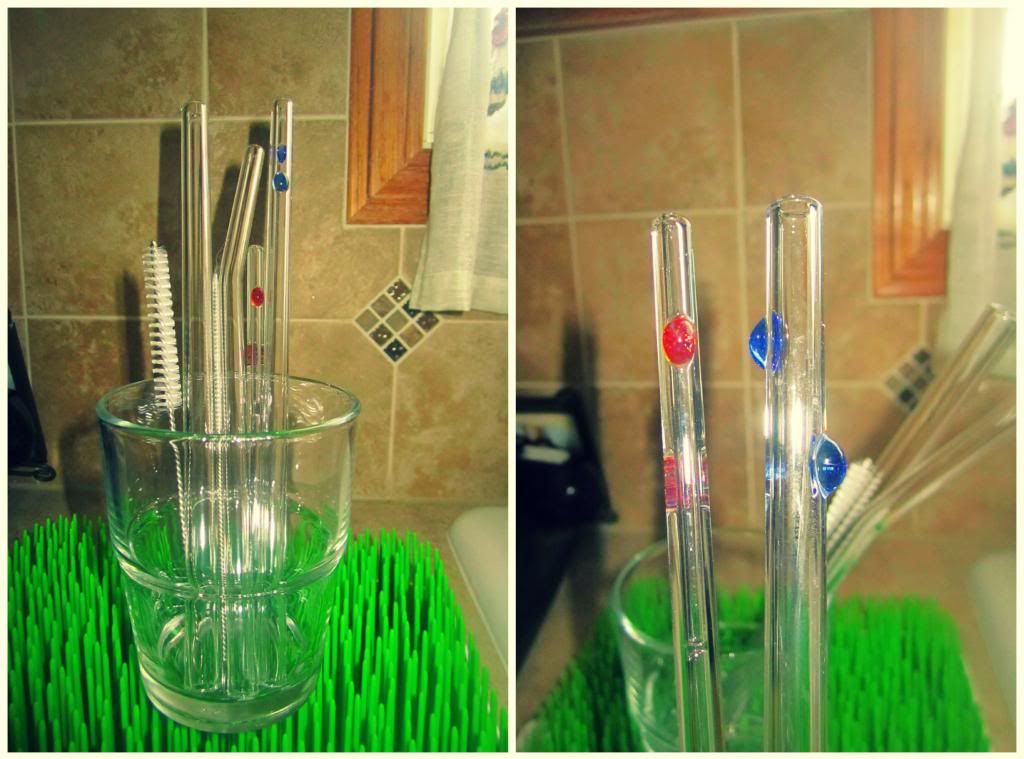 Wondering if you could take the Glass Dharma glass straw with you? Absolutely! It is nice to have your own glass straw whenever and wherever you need it. Just use one of their Hemp sleeves to carry your glass straws safely in your purse. The nice thing about the Glass Dharma straw is, is that it is reusable, handmade in the USA, and you know you are doing a wonderful thing for our environment by choosing the glass straw instead of the plastic one. These glass straws are easy to clean up with the use of their own brushes that you can buy from their website. Take note though, the brushes "do not automatically come with" all the Glass straw purchases so when you order some, don't forget to order the brushes as well. I personally like the glass straw myself and I have actually brought it with me on one of our trips.
Here are the types of glass straws available at Glass Dharma:
Simple Elegance


Just take a look at how well my little girl can use the glass straw. She definitely enjoys drinking her milk or her juice.
CAUTION
: Do not leave your child unattended using the glass straw or walk around with the straw in their mouth.
I think these glass straws would be perfect for when you are hosting a party. It comes in different sizes and shapes so everybody can have their own choice of glass straws to use.
To checkout the rest of their products, visit Glass Dharma at
http://glassdharma.com/
. Thank you!
And because we want you to have your own fun, festive and Eco-friendly glass straws as well, the wonderful people of Glass Dharma has offered a $25 Gift Certificate Gift Code to one lucky giveaway winner! Awesome! All you have to do is follow the steps below.
(One entry per person. You must leave me a comment telling me you did the entries and leave your contact information in case you are the winner.)
- Out of the three styles Glass Dharma glass straws have, which one is your favorite?
- Like Glass Dharma on
Facebook:
https://www.facebook.com/GlassDharma
- Follow on
Twitter:
https://twitter.com/glassdharma