I have mentioned in the past that I am not big on coffee, but from time to time I do drink. My husband on the other hand is a morning coffee drinker. I said morning coffee drinker because he only likes to drink it in the morning for his breakfast and that's about it. Just this month, we were fortunate enough to sample some Kicking Horse Organic Coffee that was sent to us for free for the review.
Even though I don't drink as much coffee as my husband does, but there is something about waking up in the morning to the smell of freshly ground coffee brewing in the kitchen. The smell alone can wake me up without even drinking it. It is heavenly!
Kicking Horse Coffee is Canada's #1 Certified Organic Fair Trade Coffee. Their Kicking Horse Coffee products range from Coffee, Tea, Chocolate to Gift Sets. Even though Kicking Horse Coffee is based in Canada, they are also available in lots of places across Canada and USA- like the grocery stores, cafe's and you can buy them online. Visit Kicking Horse Coffee's website now to find out what store and cafe's near you where you can buy their products.


A Brief History about Kicking Horse Coffee:
1996: Kicking Horse Coffee Opens In Invermere
"What are you two schmucks going to do with your lives? Sell coffee from your garage?" - Elana Rosenfeld's mother. And so in 1996 Leo Johnson and Elana Rosenfeld did precisely that. In the Rocky Mountain town of Invermere, B.C., Canada, they began roasting coffee in their skivvies when it was hot out, balancing babies and experimenting with different products.
2003: Kicking Horse Coffee Goes 100% Organic.
In 2003 Kicking Horse Coffee makes the conscious decision to discontinue all conventional coffee and focuses efforts only purchasing and roasting 100% Certified Organic coffee beans.
2007: Kicking Horse Coffee 100% Organic Fair Trade
By 2007, despite increasing pressure to source more green beans, Kicking Horse Coffee commits to discontinue the purchase of all non-Fair Trade coffee and develops our current 100% Certified Organic, Certified Fair Trade only, 21 blend product offering.
2009: Canada's #1 Organic Fair Trade Coffee 13 Years Running
With the help of a friend in high places, AC Nielsen confirms what our great customers and loyal fans have been telling us for years; Kicking Horse Coffee celebrates a 13th year as Canada's #1 selling Organic Fair Trade Coffee! Thank you, Canada!

The product we received is the Dark Kick Ass Coffee.
Product Description:
The name says it all: carpe diem, play to win, no regrets. Don't let this cute little donkey fool you- he plays for keeps. This take-no-prisoners roast is popular with athletes who'd rather enjoy a good cup of coffee than choke down and energy bar before a workout. A great mix of Indonesian and Central-American beans that is guaranteed to kick some sense into you.
Tasting Notes: Intense, full-bodied, dark-roasted attitude.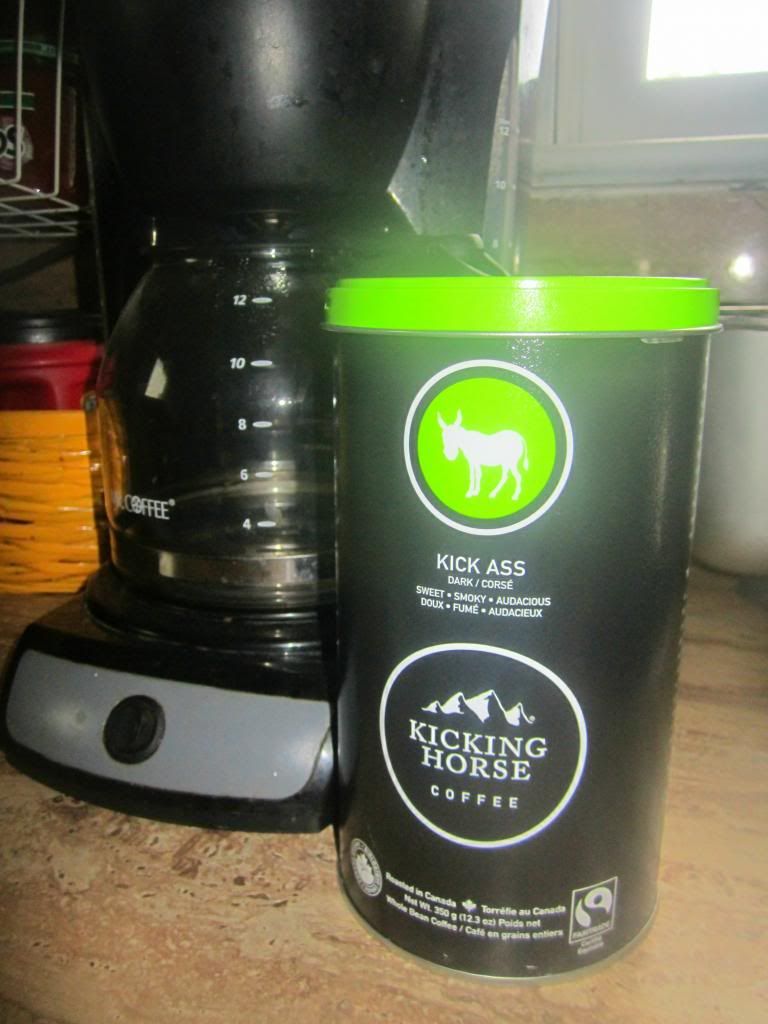 Our Review:
- We love the packaging, the color and the design of the can that the coffee beans came in with. It looks fancy that it makes you want to buy and try their product. Don't you think?
- Easy to open packaging. Once you have opened up the can, you will notice that the beans have oil on them. There is nothing to worry about it though because the oil is called "Coffee oil", which develops naturally during the roasting process and it does carry a lot of flavor. It says that there are more oils on medium and dark roasts than on the light ones.
- Deep, Dark roasted beans that not only smell heavenly, but great tasting too. If only my mother-in-law's still alive, she would have loved this kind of coffee because she loved it dark and intense. I mean, I am no expert when it comes to coffee, but I can still recognize what great tasting coffee is from the other.
- According to my husband, the Kicking Horse Coffee's taste is unlike any other. He loves it! It's a must-try. We hope you like it too!
- My husband enjoys waking up in the morning and grinding up some coffee beans. There's nothing like freshly ground beans brewing in the morning. To be honest, we can't get enough of how heavenly the aroma of the Kicking Horse Coffee is. We just keep sniffing it away.
- Go check out their website today at
http://www.kickinghorsecoffee.com/en/home
.
Thank you, Kicking Horse Coffee!
Alright! Enough with the review and let's move on to the fun part. The giveaway!
Any Coffeeholics out there who wants to win some Kicking Horse Coffee Goodies? Enter the Rafflecopter below. A few easy steps to win this giveaway.
Open to US and Canada only.
Thank you and Good luck, everyone!!!
a Rafflecopter giveaway
Rafflecopter Code:
http://www.rafflecopter.com/rafl/share-code/ZTU5OGU2MjA5MGQ3YTk0MjQ5NWJjZDU3Y2MzNTNlOjE4/