When it comes to making sure your iPad, laptop, or Nook is safe when you are traveling or going to school, and at the same time help save Mother-Nature, Engage Green has the product for you. About a few months ago, I received a product from Engage Green and I got the EG40 Slim Fit Case- Laptop Bag in Fuchsia. Upon receiving the item, I was very impressed by the quality of the material used to make this bag and how well it is made. The EG40 Eco-Friendly bag also comes in different colors in Charcoal, Ocean Blue, Aquamarine and Red.
- It has a lot of pockets for your gadget, knickknacks and what not.
- I love the adjustable straps where you can use it as a backpack, shoulder/cross body bag, or skip the straps and use the handle on the top like a briefcase.
- It has a good amount of cushioning yet not bulky (hence the name Slim Fit Case) and one sturdy bag.
- It is not made of cloth, but it is made from recycled plastic. A high-quality polyester fiber and the exterior is waterproof.
- Since it is made from 100% recycled plastic bottle, it helps save our Mother-Nature. Read below to learn more about this wonderful product.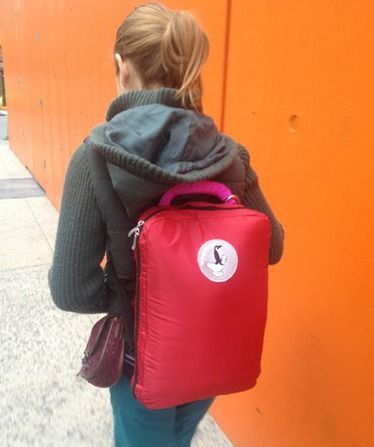 SLIM FIT CASE - LAPTOP BAG
$48.00
EG40 Slim Fit Case
The Engage Green Slim Fit Case is made from Recycled Plastic [PETE].
Engage Green Recycled Plastic is a high-quality polyester fiber made from 100% PETE bottles, post-consumer. The fabric is chemically and functionally nearly identical to those made from non-recycled fabrics. The difference is that Engage Green bags are made without depleting the Earth's natural resources, with properties of incredible strength, lightness, softness and waterproof.
Our popular Slim Fit Case can be anything you want it to be: Laptop case, iPad case, Mini Briefcase, slim backpack for traveling, for schools and colleges, etc.
Engage Green Slim Fit Case features:
Easy to carry: Detachable strap allows for three-way use: shoulder/cross-body, backpack or without strap as a sleeve to drop into another bag. Sturdy padded handle to hold by hand as a mini briefcase
- Silver metallic lining that evokes the sustainability of our future and keeps your Slim fit Case protected from scanning and temperature changes. Our lining is TSA approved for ultimate security.
- Inside zippered pocket and organizer divisions for easy access to your essentials and cables.
- Two padded spaces that fits iPad 1, 2, 3, the mini or other tablet and Laptop Case up to a 14" screen with extra room for folders and books.
- Back large zippered compartment.
- Easy cleaning/maintenance: Gently wipe with a wet cloth and soap to clean
- Bag dimension: 15.5" x 12" x 3"
- Five animal-free dyed colors/designs to choose from
- Waterproof exterior
Slim Fit Case- Laptop Bag by Engage Green is a perfect bag to have for students especially now that it is back-to-school season. And a wonderful bag to have for Eco-conscious people or for those who want to start going Green. Slim Fit Case is one Eco-Friendly, sturdy, and trendy bag to have. Don't forget to visit Engage Green's website at
http://www.engagegreen.com/
.
Thank you,
Engage Green!
For more update:
Like on Facebook:
https://www.facebook.com/EngageGreen
Follow on Twitter:
https://twitter.com/@EngageGreen