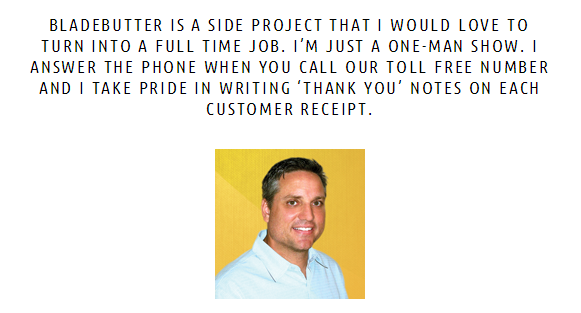 Are you tired of spending money on razors that get dull pretty easy? Don't have the budget to spend money on expensive ones? Please, stick around and read my review of a product that might just be the answer to your problem. Let's check out, Blade Butter. For some of you, you may have heard of this product before and may have even used it, but for some who haven't, let's get to know this product a little bit more.
A month ago, I received two complimentary products from Blade Butter in pink and gold for me and my dear husband to try and review. What is Blade Butter?
Blade Butter Story
Blade Butter was created when a man named Matt Green

(
owner of the Blade Butter company)
discovered something and turned out a bad situation into a positive one. About ten years ago, Matt Green worked for the founder of Worldwide Sports Nutrition. He taught him to develop nutritional products with the help of top-level formulators and reputable contract manufacturers.
His Blade Butter idea came from a problem solution they made when a line of protein
bars that tasted like a Snickers that had no sugar in them would stick to the inside of the wrappers, which wasted some of the bars. They then set out to solve the problem by infusing edible oils so the bars will no longer stick to the inside of the wrappers. During his research, he found that when he combined two types of filtration, the oil molecules became so small they soaked through every layer of the wrapper. That included the metal foil layer. Anyway, he stored that oil infusion into a jar and marked it #3 and sat it on the shelf in his office for future reference.
One day, he ran out of shaving gel and he was not excited about it. He remembered the oil #3 and thought of soaking his razor in it to make a bad situation a little better. According to him, he ended up enjoying one of the cleanest, closest shaves of his life. And thus, the Blade Butter was born.
To know more about the story of the Blade Butter, visit the website.
BladeButter FAQs:
* Is BladeButter all-natural?
- Yes. BladeButter is made up of all-natural oils, vitamins, anti-oxidants and astringents.
* How do you use BladeButter?
- Simply soak your razor for a few minutes before each shave. It's that easy. To maximize the benefit... let the excess oil drip back into the jar to conserve the supply and rinse your razor thoroughly after each use.
* Is BladeButter safe for my skin?
- BladeButter is safe for your skin. Once again, it's all-natural and it contains ingredients that promote healthy skin.
* How long does a jar last?
- It depends on how much and how often you use it. With regular use, a 1.5 oz jar of BladeButter should last 4-6 months. Remember, you only soak your razor prior to shaving.
* If I spill BladeButter on my clothing, will it come out?
- Yes, BladeButter comes out of clothing in the wash. It's a blend of natural oils so you can use Dawn to remove it from more delicate fabrics.
* Can women use BladeButter?
- Yes. The feedback from women has been terrific. They like its scent and they really enjoy the way it leaves their skin feeling smooth and soft.
* What does the product promise?
- It promises to preserve and protect your razor so it stays sharp for a longer time, which saves you money, saves your skin, and saves the earth by reducing your carbon footprint dramatically. Less razors meaning you'll be sending less waste into the landfills.
Soft and Smooth Pink

/

Rugged & Bold Gold
Contains all-natural micro-lubricants including pure white mineral oil, tea tree oil, Grape seed oil, Aloe Vera, vitamin E, and natural fragrance. Not a food product.
- We like how fast the shipping was and with no problem. The tub was easy to open with an instruction on the back on how to use the BladeButter.
- My husband is very thankful I found out about this product and that we got the chance to sample it because so far it has been a favorite of his. Because BladeButter is made up of all-natural oils, it leaves a calming and soothing scent when you shave. And it moisturizes your skin too!
- I have noticed from my husband that he doesn't have those frequent shave cuts anymore once we started using the BladeButter. For my own experience, once dipping the razor into the liquid prior to shaving, the razor smoothly glides on your skin. To be honest, I was surprised at how it left my legs smooth the whole day. And even the next day. I have this problem with after shaving where my skin tends to get dry and itchy and I get red bumps on my legs, but I have noticed I wasn't itchy at all when I used the product. That was because my skin was smooth and moisturized from the all-natural oils that are in this product.
- If you ask me if I use the BladeButter along with my own shaving cream? Yes, I do. Although, I did use the product just by itself without using any kind of shaving cream when shaving my legs and I was amazed at how it works. I don't have anything else to say, but it works for me and for my husband.
- It depends on how much you use it, it can last up to 4 to 6 months, but I have to say, it has only been a little over a month and my husband's already used up half of the liquid. He uses his oil a lot! I
think for women, it can last up to 6 months or even more because we don't shave like men do, but that's just what I think because I don't shave as often as my husband does.
- You do have to wait for at least five minutes prior to shaving and you let the rest of the oil drip back into the jar so that takes up just a little bit of your time. For some, it might be a bit of an issue time wise
(I think)
, but not for us.
- I don't have anything bad to say about the product except the jar can get really oily

(of course)

so be careful when you pack it on your trip. Although you can easily get it off of your clothes, you just don't want that to happen. I have not tried taking it with us on a trip so we don't know how well the jar can hold up without no leaking.
*

Where can you buy it?
- Order
here
.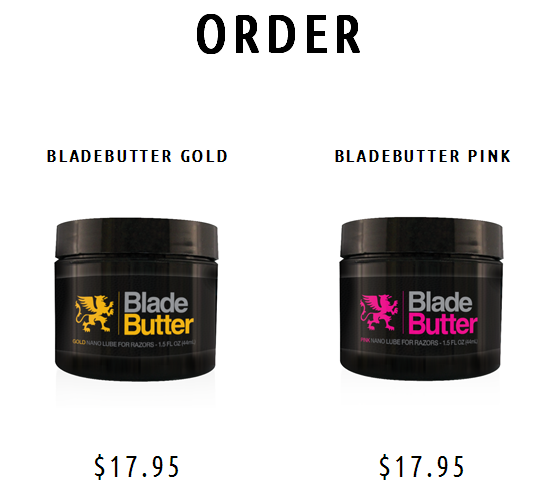 * How well does it achieve those goals?
- Based from our own experience, we are very pleased with this product. The BladeButter lives up to its expectation.
We hope it works for you too.
* Is it worth the price?
-

It is worth the buy considering your razors will last you longer and you don't have to keep changing or buying razors. Think about how much money you spend on razors each month?

Ever since we used the product, we have not changed our razors yet because it still is sharp and works great.
How about you, would you buy it? Do you think it is worth the money?
Don't forget to visit BladeButter's
website
today and read more to learn about the product. Thank you, BladeButter!
Like BladeButter on Facebook:
https://www.facebook.com/BladeButter
Follow on Pinterest:
http://www.pinterest.com/bladebutter/