Are you worried about ruining your tights while wearing your favorite pair of boots or booties? Having issues feeling uncomfortable while wearing tights with boots with all the slipping and blisters? Bootights might be the answer to your worries. Come on over, stay awhile and read my review.
What Is Bootights?
Tights are a thicker and denser form of pantyhose + Ankle height socks sewn into the bottom portion of tights.
"Like most women, I tend to sacrifice comfort for style. That's just the way we're built. "As long as it looks good, I'll make it work." While I've always loved wearing tights with my boots, I've hated the many problems that came along with it. The cold slipping feet that often resulted in blisters and snags was a constant frustration. My "make it work" solution of layering socks over my tights was far from perfect and usually led to even more problems. The most glaring being, what socks to use and where to get them? I'm a girl and I run in ankle socks. Who buys tube socks? Snatching the socks of whatever boyfriend I had at the time or pilfering from my dear old dad when I came home to visit became my modus operandi. Often with disastrous results. Trust me, word of getting caught going through your father's underwear drawer will liven up any family gathering once the booze starts to kick in.
While occasional family ridicule is to be expected, public indignation is not. Happily the latter came as a blessing in disguise when an incident at Chicago's O'Hare Airport turned an "Oh no" moment into an "Ah-ha" one. Still based in Chicago and flying to Fargo, ND for business, (not recommended for vacations) I made my way through a long security line in the company of a very engaging and very handsome man. Rockin' my short dress, tights and boots and feeling like I had some "game" I expected to continue our banter on the other side of TSA. Unfortunately, the look on the gentlemen's face when I slipped off my boots to expose my ugly pair of white "man socks", put an end to that idea. He was gone in a flash and I was left there feeling embarrassed and not quite as cool as I though I was a few minutes earlier. During the flight I wondered "why a gal can't have a stylish, quality tight combined with the comfort of a sock, all in one". By the time the plane landed, the idea for Bootights was taking off."
Luxe Microfiber Tight (Charcoal)
Price: $38.00
-- Super soft Luxe Opaque with attached ankle sock.
-- Pamper your legs and feet in pure luxury with our super soft Luxe Bootight with comfy -ankle sock.
-- Our most luxurious Bootight!
-- This is 80 denier opaque tight has control-top and is designed to support and feel like super soft against the skin.
-- Constructed with flat seams for a smooth silhouette, cotton gusset and a wider, soft non-roll waistband. The attached ankle sock that is moisture wicking with arch support and sculpted cushioning.
-- Contents: Tights: 90% Nylon, 10% Lycra, Sock: 95% Nylon, 3% Spandex, 2% Polyester.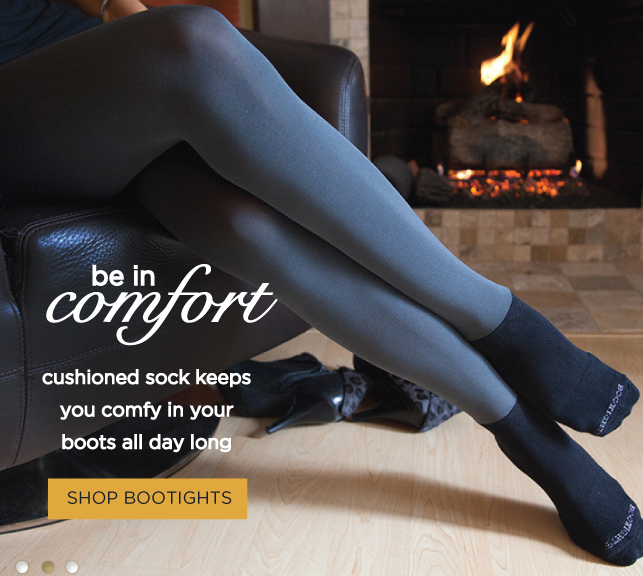 Just to show you what the bootights look like when wearing it with two different shoes.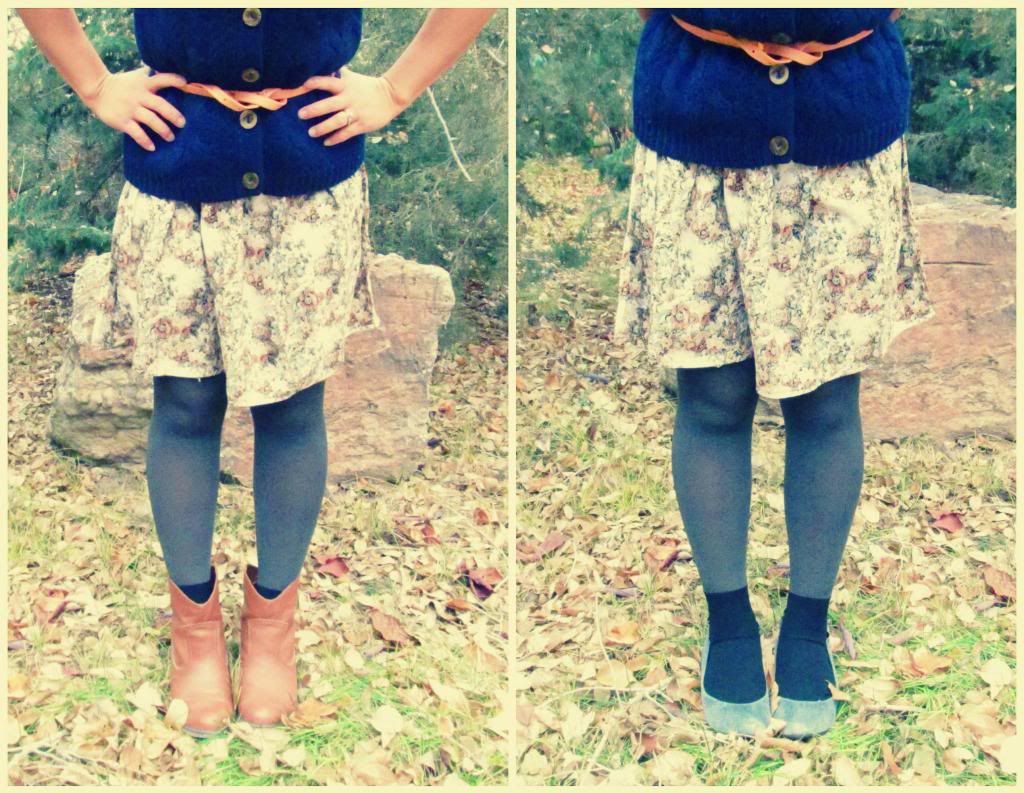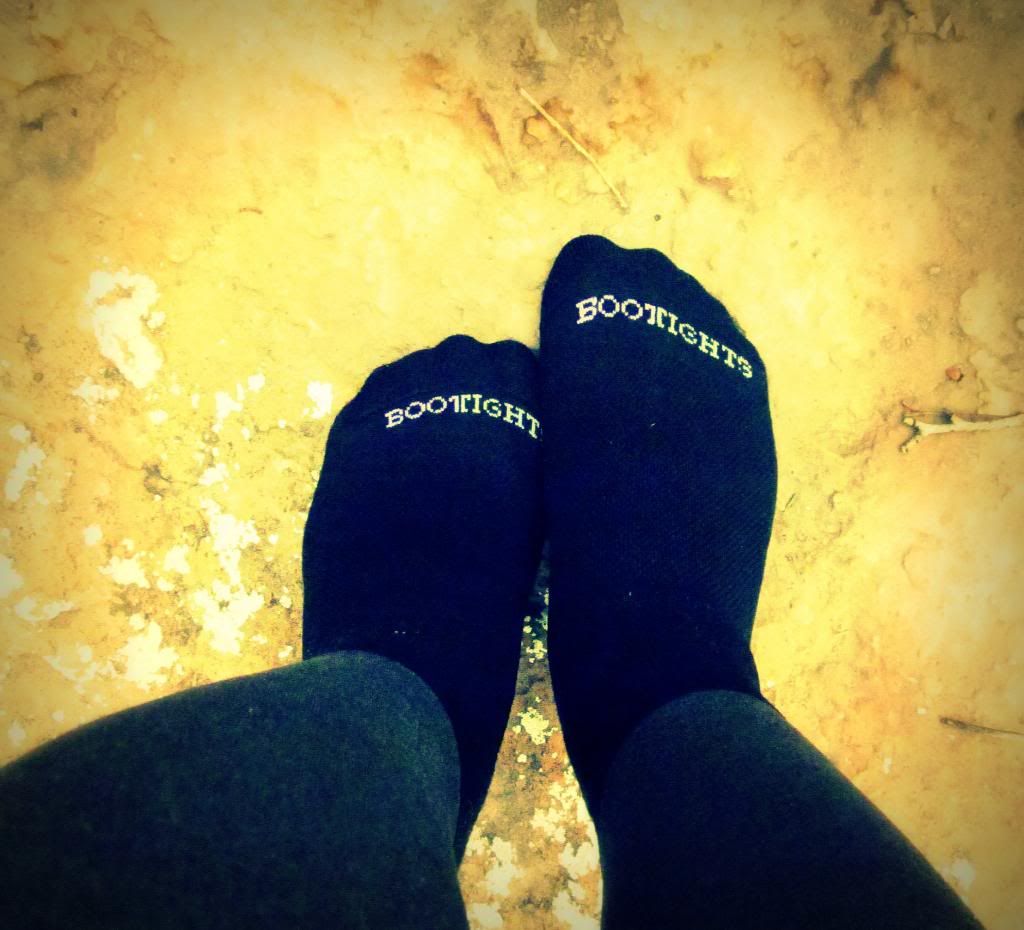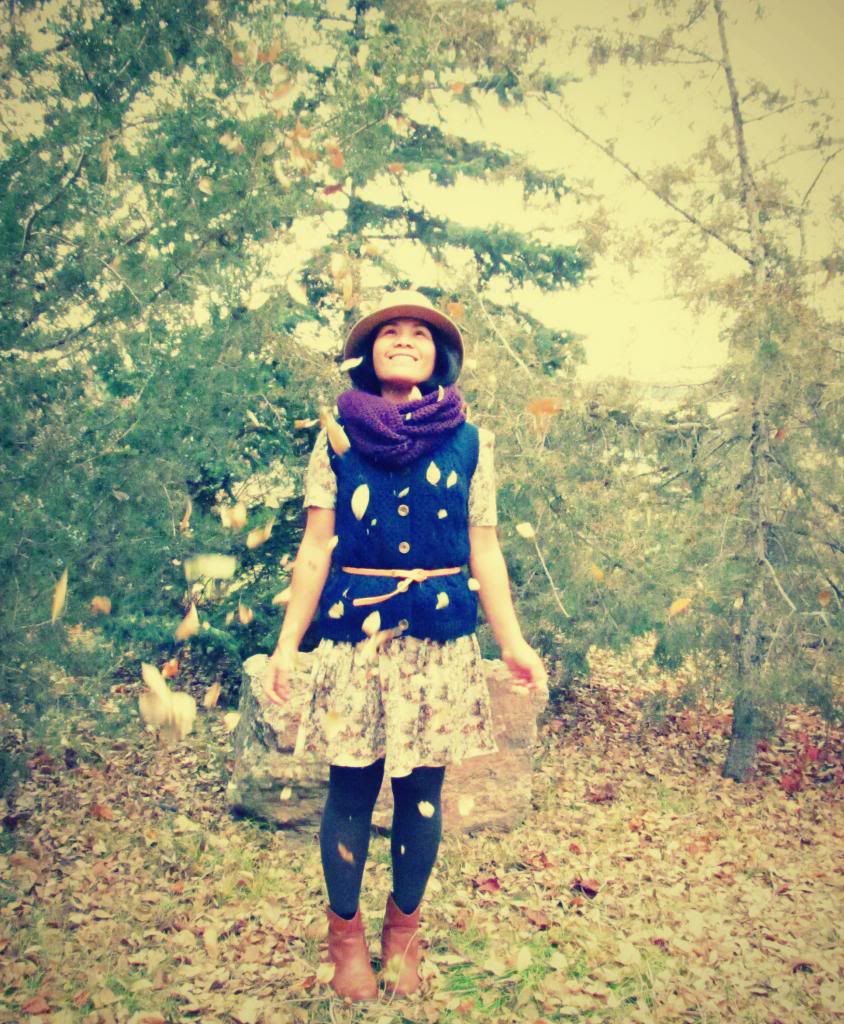 My Review:
-- It is the most comfortable pair of tights I have ever owned so far. Soft and not itchy. It is easy to put on and the addition of the socks is a great idea. In that way, I don't have to deal with two things; the tights, and then my sock on top. Sometimes, wearing a pair of ankle socks with my tights is a hassle because as I walk, the socks start to roll up and comes off my feet. Ugh! I hate that. When I saw the bootights online, I contacted the company for a chance to do a product review and glad I did. I want more of these tights in different colors and design.
-- For the price of $38, you get your money's worth because of the quality. I like how the tights feel on my skin when wearing, I feel like it shape my legs, and that wider, soft non-roll waistband works great. For me, it also serves as a tummy control. Most of the tights that I own roll up on the tummy area and that's not really comfortable, but with this one it doesn't.
-- As you may or may not know, I am short and with most tights, I have to adjust it to make sure it doesn't bunch up on the leg area, which is going to look odd. I have to either scrunch it from the bottom or from the top, but I still make it work. I am sure a lot of you fabulous shorty mama can relate with me on that part.
-- Tights are perfect to wear for colder months and my new Bootights will get a lot of use this fall and winter. Whether I am wearing booties or knee-high boots, I can now feel comfortable wearing both socks and tights together. And it doesn't bulk up.
-- What don't I like about the product? Nothing! Make sure to check out Bootights
website
today and shop around. Thank you, Bootights!