Last month, I received some complimentary Ducksday Rainsuits by Ollie and Stella for free in exchange of a dependable and fair review. For this review, first I want to talk about my little girl's Ace Rainsuit. I have read great reviews of their products and I thought it would be wonderful for my kids to have since we now moved to a much colder place than in Kansas. And it gets pretty windy here in Glendo, too. I contacted them and they agreed to work with me. When we got the products in the mail, I couldn't help, but giggle at how cute the suits are. These are not just your ordinary rain suits because these are packed full of thoughtful details that I think other parents out there will love. But before I go on with my own review, let's get to know the products and the company first.
What Does The Product Promise?
-- We're a family-based business in Ann Arbor, Michigan. Our focus is providing outdoor gear that plays the way kids play and helps families enjoy the outdoors.
The original Ducksday rainsuit. Our rain suits provide a flexible solution for any weather. A must have for little ones in the outdoors.
-- Waterproof (3000/3000)
-- Foldable into a pocket
-- Elastic Foot Stirrups.
-- Velcro on the sleeve cuffs (adjustable)
-- Velcro on the hood (adjustable)
-- Fluorescent strips for visibility.
Price: $69.00
Size Range: 12m to 4-5 years
Tested: 2-yr old girl
Location: Glendo, Wyoming (Hiking, Playing)
Best Use: Rain, Snow, Wind (Perfect for hiking/backpacking, beach play, snow play)
Fit: The suit is sized a little large to fit over clothing. Plenty of room so kids can move freely. By the time my girl turns three (3), she'll still be able to wear the suit.
It gets windy here in Glendo during the colder months and one time, my little girl and I went for a short hike and my butt was freezing cold and I was ready to head home. She on the other hand was up for more walking. She was not cold at all because the suit also works as a windbreaker so it kept her warm.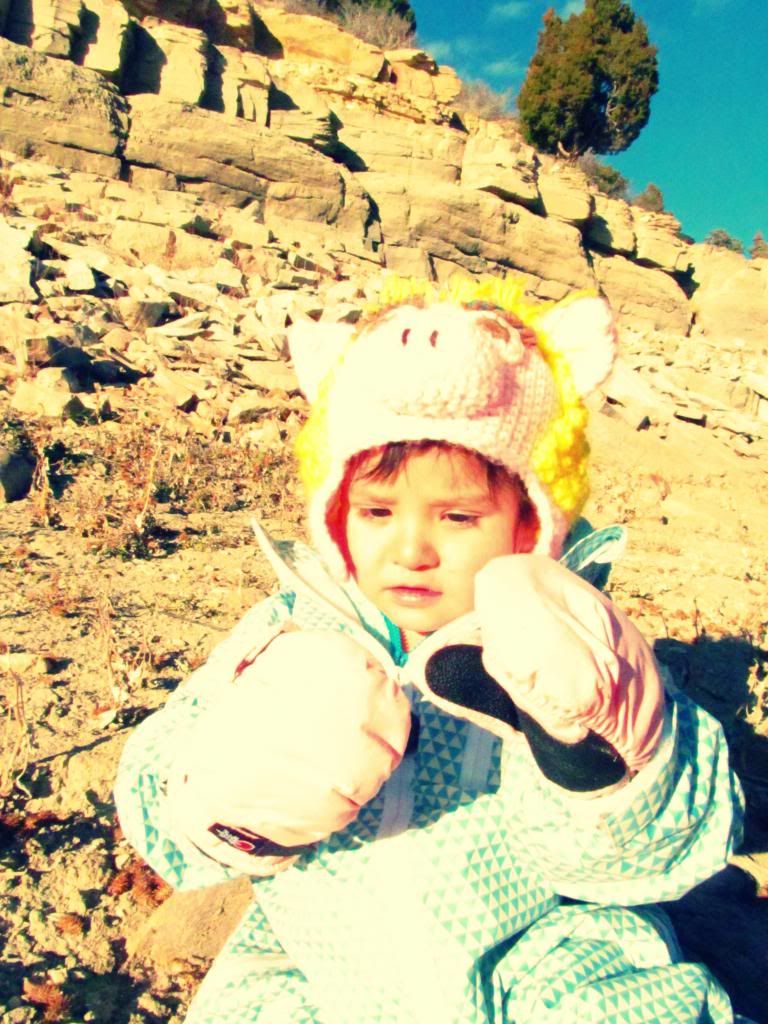 By looking at our photos, you can tell we use the suit a lot. She wears it during hiking, playing, and even during grocery runs when the weather is unpleasant.
Our Review:
What DO We Like About It?
-- First I would like to say that we received some compliments on both suits for my girl and my boy.
-- I like the bright color because you can easily spot your kid while out and about.
-- The Ducksday suit has tons of thoughtful details that are very helpful. It is designed to be a shell, with room to layer underneath. You can layer as much or as little as you like and it works great!
-- The hood piece is adjustable so it fits my little girl's head perfectly and is large enough to cover the entire head. We went on a windy hike yesterday and the hood did a great job protecting her head from the cold and wind.
-- The end of the sleeves has an elastic and adjustable Velcro so it stays nice and snug, keeping the warmth in.
-- The fluorescent strips work really well. We had some hiking trips where it was already dark on our way back to the vehicle and it was nice to be able to spot our kid easily.
-- The foot stirrups work well for keeping the suit leg down around the child's ankle and for keeping the snow out. It's funny because my husband and I had a little debate about where the stirrups should go. Does it go in or out of the boots? I said, it works both ways. The bottom of the pants also has elastic.
-- I have not experienced any problems dealing with the zippers. It zips up and down easily and the zipper pulls are so cute!
-- Ever since we got the Ducksday suit, we have not used her new coat that I bought a month ago because this has been our favorite.
What We DON"T Like About It?
-- Since this suit is designed as a shell and does not have enough insulation, it takes a bit longer to dress up my kid whenever we go somewhere during the colder days. Yes, it is easy to put on. But, I have to put her in layers of clothes, a pair of fleece pants and a fleece jacket, then the Ducksday suit on to make sure she is nice and warm. That's the only problem I have about the suit. All in all, I have a warm, dry and happy baby while playing outside and that makes me a happy mama.

NOTE: There is a new update on the Ducksday Snowsuit over at Ollie and Stella. They now have a one-piece insulated snowsuit available as of November 2013. Basically, it is the same windproof/waterproof suit yet breathable outer layer as their original suit and with 3M Thinsulate insulation. It would be wonderful to have it as it will cut down the time when I dress up my kid.


What is the suit best use for?
-- Best worn as water, snow and wind protection. Because this suit is a "one-piece" suit, it is easy to put on the child. It keeps snow up the back and rain down the pants. My little girl can have hours of fun outside without her getting cold or wet. It works great during our windy hikes. Every time we go somewhere, I always have the suit ready in the back of the Jeep or in the backpack just in case. I like that it is not bulky and heavy. Yes, it is worth the buy if this was my own money.
-- If you are a family who enjoys spending a lot of time outdoors during the colder months whether it be hiking/backpacking, skiing, snowboarding or just playing in the backyard, Ducksday suit is wonderful for kids to wear. I wish I had a suit like this.