About six months ago, my family received a complimentary product from Wraptastic for free in exchange for a product review. What is Wraptastic? Read below.

- Use with any wrap- Works with wax paper, plastic wrap, aluminum foil and more!
- Spring loaded- Easily pop wrap rolls in and out
- Safe- Stainless Steel blade is recessed to protect fingers
- Steady- Rubber feet hold in place on counters, tables, etc
- Easy to Store- Fits in most kitchen drawers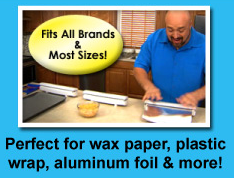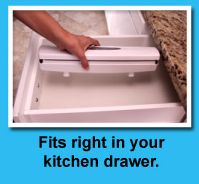 - Buy One Get One Only $10.99
Where to buy?
- I have also seen them available at Walmart so go check them out.
- If you leave in Canada and are interested, you can also order from their website.
What is included in the box?
- We will send you two (2) Wraptastic Dispensers and as our FREE Gift to you, we will also include a 50 foot roll of plastic wrap and a 25 foot roll of Aluminum Foil.
How can I use the Wraptastic Dispenser?
- Simply push the white adapters into each end of your rolls cardboard core, place your roll inside the Wraptastic dispenser, pull out the desired length, press down on the cover, and wrap!
Are there instructions included with the Wraptastic dispenser?
- Yes, we supply detailed, illustrative instructions with each Wraptastic dispenser.
What is so special about the Wraptastic dispenser?
- The Wraptastic dispenser makes it so easy to store leftovers and wrap foods. By eliminating the hassle of normal rolls in their flimsy cardboard containers, the Wraptastic dispenser works with any brand and standard size wax paper, plastic wrap, aluminum foil and more. The stainless steel cutting blade is recessed and hidden to protect fingers, and the rubber feet on the bottom will steadily hold the Wraptastic in place on counters and tabletops. The Wraptastic dispenser will even fit inside most kitchen drawers.
I really want to enjoy this product because I like the concept and the idea of Wraptastic. I know I am not the only one who has problems dealing with plastic wrappers and how it bunches up or sticks together when you use it or gets tangled up. When I stumbled upon Wraptastic, I was interested in their product and contacted them. They agreed to work with me and sent me one complimentary Wraptastic product.

Even though this product didn't really work for me, there still are a few features that I do like about Wraptastic.
What I Like About It?
- The safety of it. Wraptastic Stainless Steel Blade is recessed to protect fingers.
- I like how easy it is to load the rolls in. It is Spring Loaded so it easily pops the wrap roll in and out.
- Easy to assemble. It comes with stickers so you know what wrapper rolls you have in your Wraptastic.
- I also like how easily it is to store, just like storing your wrap rolls in your drawers.
- It also looks neat in your drawer when stored or just leave it on the counter.
- Wraptastic is not only good for plastic wrap use, but can also be used for wax paper, aluminum foil and more.
Be careful when you buy any wrapper rolls because you have to make sure that it fits in the Wraptastic. I have no problem dealing with aluminum foil, but if you want to use it for that, make sure that the ends of your cardboard core fit with the size of the adapters of the Wraptastic.
Now, if only they can work more on the functionality of their product, this would be a good one.
What I didn't like about it?
- The product doesn't work at all.
- It has made using the original box that the wrap rolls come in with easy to use than this device.
- They always make it look easy on their video, but the no slip rubber grip feet don't work at all!
- It does roll out the plastic wrap nice and easy, but when I cut it, it doesn't work.
- I may have gotten a defective one, but I searched around for other reviews and some of them doesn't work either.
Would I buy another one to see if it works the second time around?
No, I wouldn't.
Even with the sad experience I have with this product, I still want to thank Wraptastic for the opportunity. I hope this product worked for you if you have tried it before. Don't forget to visit their
website
today and learn more about the product. How about you? Have you tried Wraptastic before? Did it work for you?